One of the true gems of southwestern New York on Chautauqua Lake is the Chautauqua Institution. There you can find a blend of arts programming, educational and religious opportunities and recreational activities are available to those who visit the grounds during the year. And every few years, the music event Jazz at Chautauqua is part of the annual programming.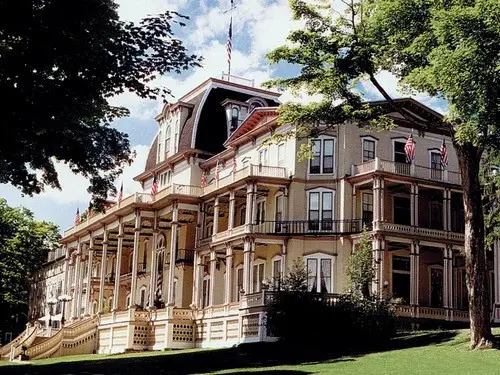 The Institution, originally the Chautauqua Lake Sunday School Assembly, was founded in 1874 as an educational experiment in out-of-school, vacation learning. It was successful and broadened almost immediately beyond courses for Sunday school teachers to include academic subjects, music, art and physical education.
Thanks to Jazz Lives, who consider Jazz at Chautauqua 2013 "another unforgettable interlude of music and friendship," we bring you a selection of ballads from the September 22, 2013 Jazz at Chautauqua performances. A medley of ballads began and ended the music-filled weekend, including "Easy Living," "Daydream," "Can't Help Lovin' That Man" and "I Know Why (And So Do You)." Featured players include Marty Grosz (guitar), Harry Allen (tenor sax), Dan Block (clarinet), Bob Havens (trombone) and Duke Heitger (trumpet).
Later, ballads including "My Funny Valentine," "Please," "Laura," "If We Ever Meet Again" (Horace Gerlach) and "Sophisticated Lady" seem to tell the full range of relationship through their titles. Selections are peformed by Randy Reiinhart (cornet/trumpet), Andy Schumm (cornet/trumpet), Andy Stein (saxophone), Marty Grosz (guitar), and Rossano Sportiello (piano).
From 2009, enjoy "Chinatown," performed by Pete Siers (drums), Frank Tate (string bass), Ehud Asherie (piano), Bob Havens (trombone), Dan Block (clarinet), and Duke Heitger (trumpet).