For headliners Iron Maiden, this was the 'World Piece' tour, supporting fourth album Piece of Mind.  Posters for this gig at Glens Falls Civic Center on August 23, 1983, labeled the show as "The British Metal Onslaught," which made more sense in weeks preceding the show, when the bill had been Brits Iron Maiden and Saxon, with Fastway opening.  By the time of this show, Saxon had left the tour, and while Iron Maiden are the quintessential British metal band, Fastway were half-British, half-Irish, and Coney Hatch were from Canada.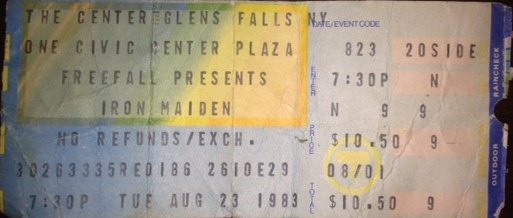 Opening band Coney Hatch were cool – they got a good reaction from the crowd, but outside of their native Canada they were not well-known, and this may have been their only visit to New York State.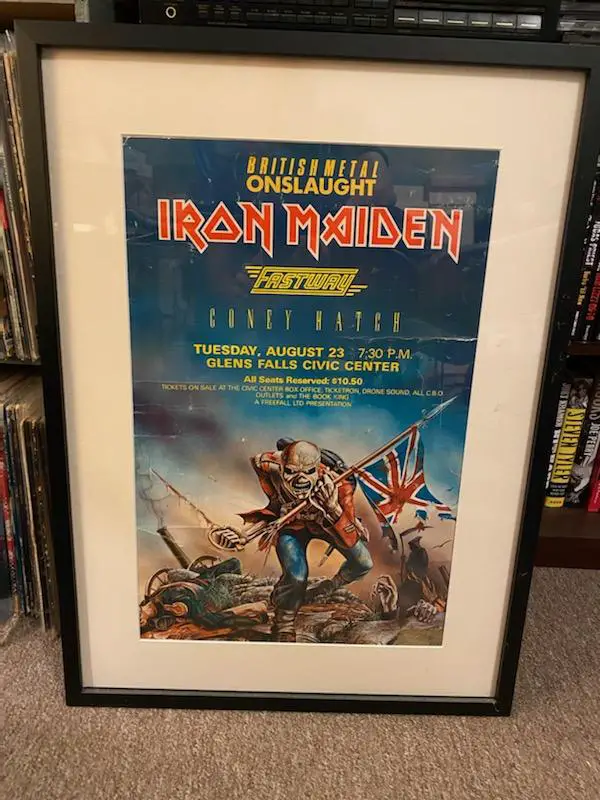 Fastway were great – the song "Say What You Will" was all over the radio at this time. Their then-current first album rocked and of course the band featured guitarist Fast Eddie Clarke from Motorhead, drummer Jerry Shirley from Humble Pie, bassist Charlie McKracken from Rory Gallagher's Irish trio TASTE, and then-teenaged Irish singer Dave King, who would go on years later (and still currently does) front Irish punk powerhouse Flogging Molly.
Fastway were excellent but Maiden were the kings that night. How can you argue with "Where Eagles Dare," "Sanctuary" and "Wrathchild" as the first 3 songs? They were at their peak, playing like heroes and were greeted as such by the sold-out Glens Falls crowd. 
Highlights included when a giant lobotomized version of Maiden mascot Eddie invaded the stage during "Iron Maiden," and when Bruce Dickinson made a long speech dissing author Frank Herbert before "To Tame A Land." The band had asked permission to title the song "Dune," after Herbert's sci-fi novel, but the author had said no, and Bruce, as reward, got the entire crowd to chant "Fuck Frank Herbert."  The band played a many Piece of Mind songs – an album which has aged pretty well, lo these almost 40 years since. The encore was then-hit "Run To The Hills," and this was the last tour they played 'Killers'-era classic "Drifter" (and the "eyo, eyo, eyo" sing-along), which ended the show.
Setlist: Intro/Where Eagles Dare, Sanctuary, Wrathchild, The Trooper, Revelations, Flight of Icarus, Die With Your Boots On, 22 Acacia Avenue, The Number of the Beast, To Tame a Land/solos, Phantom of the Opera, Hallowed Be Thy Name, Iron Maiden
Encore: Run to the Hills, Drifter