Grammy award-winning music producer and lauded field-recording trailblazer Ian Brennan will release his most personal album to date featuring the Sheltered Workshop Singers' debut album, "Who You Calling Slow?", on Friday, September 18.
Brennan is renowned for scouring the world in musically underrepresented regions to document singers in an uninhibited, authentic fashion. His most acclaimed recordings include artists such as Tinariwen, Zomba Prison Project, and Malawi Mouse Boys. Brennan's latest project "Who You Calling Slow?" brings him closest to home as he collaborates for the first time with his older sister, Jane — who has Down syndrome — along with her fellow workshop companions at a Bay Area adult-care facility.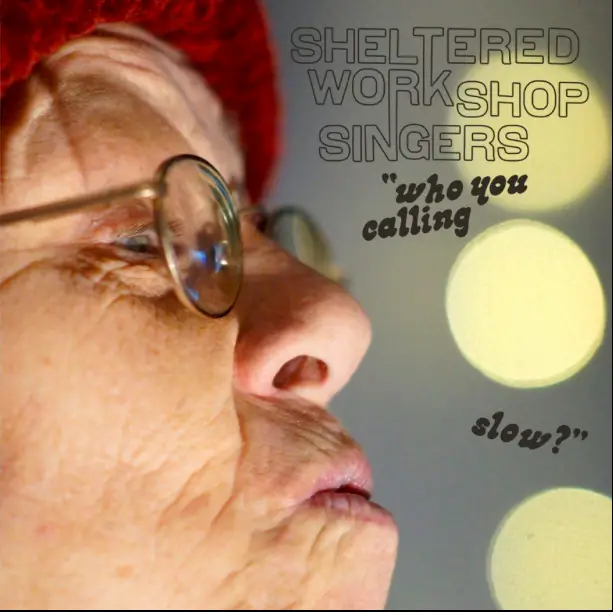 With Brennan's father on hand for this cherished experience as he battled stage-four cancer (and ultimately passed just two months after the recording was complete), an unparalleled recording session took place that the world now has the privilege to hear. A diverse group of over 20 people participated in "Who You Calling Slow?," ranging in age from early-twenties to sixties. Many of them had disabilities and no one had sung before into a microphone or attempted to play a stringed instrument.
While Brennan enters each recording project prepared not to release it, a moment of miraculous epiphany came to light when Janet began singing "I'm not afraid of anything" from her wheelchair. The album expresses the hurt, love, and bravery of these sheltered workshop companions.
Speaking about "Who You Calling Slow?" Brennan shares how his sister inspired him to make this album:
Growing up, I'd witnessed my sister's discomfort — eyes steered down sideways and hard, unable to contain her oversized tongue due to the shame — too many times to not remain vigilant and braced for a lifetime. I had little option but to make the right choice: to always side with those marginalized. Jane was diagnosed as 'severely retarded,' just one step above the lowest denomination of catatonic and mute. Our main connection was through music — joy expressed through dance, sadness and longing with melody. As her level of functioning has begun to diminish markedly in recent years, I knew the time was now or never to capture moments where music speaks volumes.