Although the Grateful Dead's track record with New York State is vast and varied, there's one borough in particular that doesn't get much love. And that's The Bronx. Mainly because there's only one show that was truly ever played there – Gaelic Park on August, 26 1971.
The performance is billed as a two-set show that really plays as three. A noticeably extended first set showcases some of the band's newer original songs at time blended with a flurry of classic cover selections. Included in all this is a song the Dead would only play twice ever. And as for historical significance, this would be the last show featuring only the five founding members of the band. Seemingly aware of this, they collectively deliver a show for the ages that more than aptly serves as a figurative "passing of the torch" from one era to another.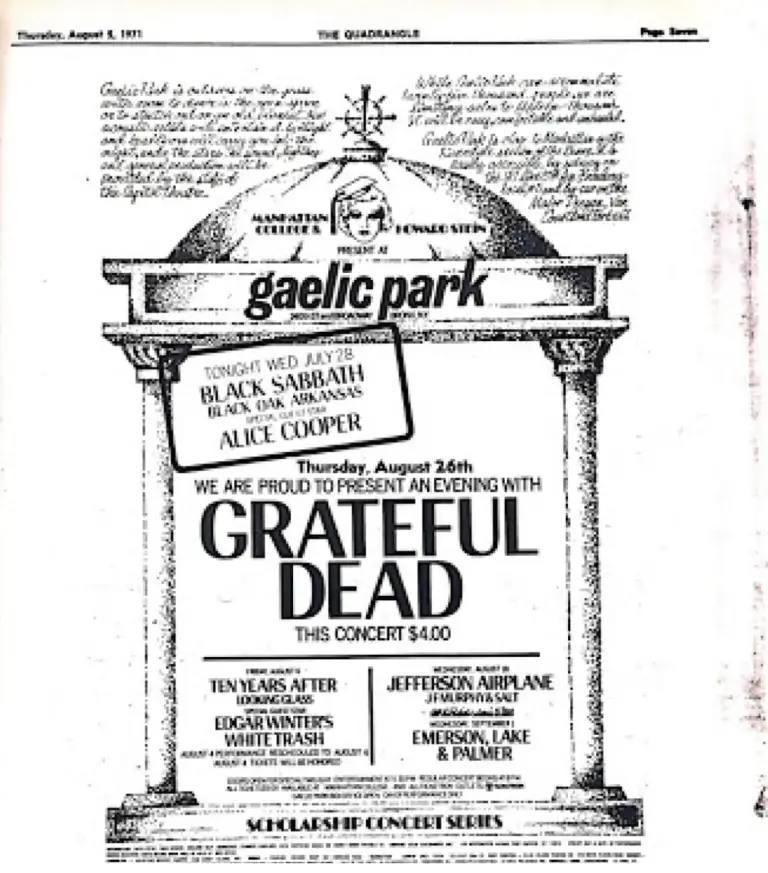 This show opens with a crisp yet standard version of "Bertha," a Dead original still in its nascent stages at the time. The early wave of originals would continue with a "Playin' In The Band" that had just made its debut earlier this year at The Captiol Theatre in nearby Port Chester. Even though this would be a regular selection at Grateful Dead shows for years to come, seeing it so early in the first set like this is a verifiable treat.

Pigpen gets his first chance to shine on vocals with a first set "Mr. Charlie," another new song that debuted just last month. Even though he was beginning to take on a lesser role in the band by this point in time, Pig's vocals are effusive and strong throughout this recording. This would be the last show before Keith Godchaux joined the band and assumed keyboard duties. So, fittingly, they give Pigpen plenty of the spotlight at this show and he takes it and runs with it.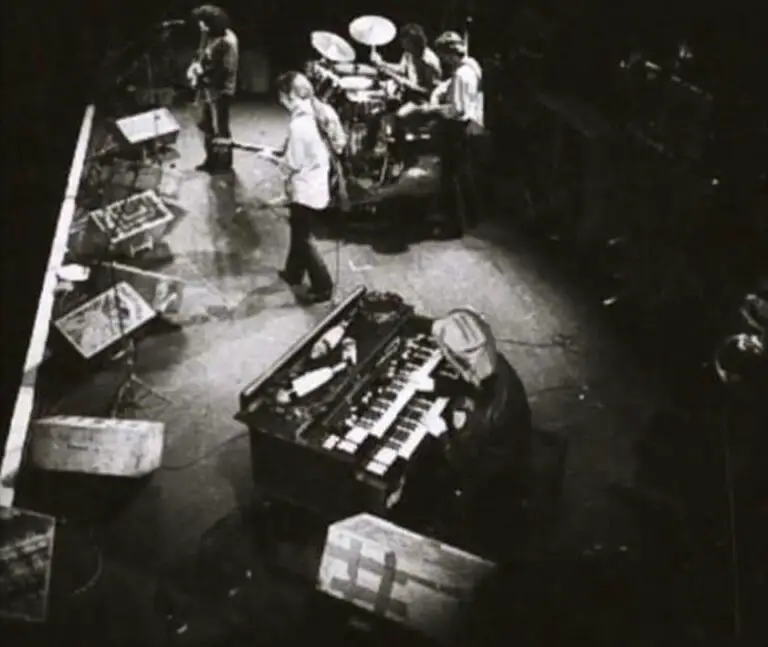 The run on cover songs then begins with "El Paso," a country-western ballad by Marty Robbins, sung smoothly by rhythm guitarist Bob Weir. "Big Boss Man" follows, a longtime Dead cover that was originally recorded by Jimmy Reed in 1960 and later popularized by Elvis in 1967. This gives Pigpen the chance to lead again and his blues-infused vocals ring loud and true throughout this one.
This first set also features a typically stirring "Hard to Handle," the Otis Redding tune that was one of staples of the Pigpen songbook and, perhaps, his signature song. Aside from a mild snafu with the recording, this version is terrific and sees the band fully locked in during an escalating funk-like jam before Pigpen's wailing vocals reenter. Sung with all of the soul and swagger he would always bring to this song, sadly, this would be the last one ever played with him on stage.
The set could have ended right there and few would take issue, but instead the band continues to motor on with "Beat It On Down The Line," yet another cover. Jerry Garcia then takes the reigns courtesy of "Loser" and his customary hauntingly beautiful guitar solo that goes with it.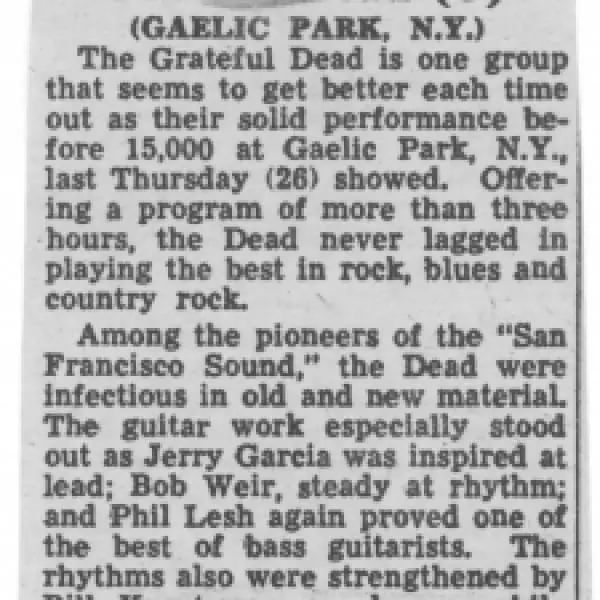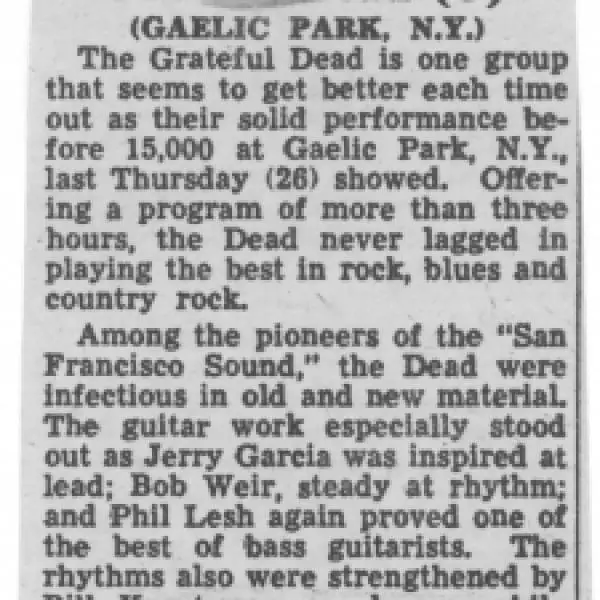 Soon after is one of the true gems of this show – the second and final performance ever of "Empty Pages," a song written and sang by Ronald "Pigpen" McKernan himself. It pairs his traditional crooning style with a slow blues jam that's nicely peppered with fiery guitar licks from Garcia. It's a true rarity and a shame that the band wouldn't be able to further develop this one.
The other first set highlight immediately follows with a smoking cover of The Rascals' "Good Lovin'." Pigpen remains strong on lead vocals as both he and the band get into some heavy improvisation on this one. Only the Dead can take a three-minute pop song like this and stretch it out to an almost ten-minute psychedelic journey.
They had such a fun time playing the first set that the second one begins with a rare "Me and My Uncle" placement, as if to keep the opening vibes going strong. Immediately afterwards, reality sets in with a joyous "China Cat Sunflower" that soon effortlessly blends into to its traditional running partner, "I Know You Rider." Bassist Phil Lesh, turned up particularly high in this mix, gets his turn to show off as he steers the band through the seamless transition.
There would be no extended "Drums" section this evening. Instead, the band collectively rips into the opening of "The Other One," fueled predominately by drummer Bill Kreutzmann. After a rip-roaring opening sequence, the jam composition quickly devolves into a meeting of the minds between Garcia and the rhythm section. Seemingly out of the blue, Weir interjects with his vocals right on point and the song is off and running.
For a quality listen to the transition into the opening of "The Other One," alongside some backstage photos, check out this great video courtesy of Sam Cutler, one of the band's early tour managers:
The powerhouse second set continues with a tidy version of "Uncle John's Band" and one of the last performances of "Saint Stephen" before it would be shelved for nearly five years and rearranged. The jam progresses into something that almost resembles "The Eleven" before immediately settling back down into the ending of "Saint Stephen."
And then, right on cue, the rhythm section is back in action with the opening drumbeat of "Not Fade Away," a Buddy Holly cover that the band had completely appropriated at this point in time. The Dead take one last swing and develop a passionate collective effort that once again flows right into "Goin' Down The Road Feeling' Bad" without batting an eye.
This closing sequence serves as the cap to a phenomenal show that's rich in both quality and legacy significance. It can be argued that the end of the Pigpen Era happened here. Amazingly, the only time the Grateful Dead would ever grace the "Boogie Down" Bronx. But talk about making the most of a single opportunity.

Set 1: Bertha, Playing In The Band, Mr. Charlie, Sugaree, El Paso, Big Boss Man, Big Railroad Blues, Hard To Handle, Beat It On Down The Line, Loser, Sugar Magnolia, Empty Pages, Good Lovin', Casey Jones
Set 2: Me And My Uncle, China Cat Sunflower -> I Know You Rider, Deal, Cumberland Blues, Truckin' -> Drums -> The Other One, Next Time You See Me, Me And Bobby McGee, Uncle John's Band, Saint Stephen -> Not Fade Away -> Goin' Down The Road Feeling Bad -> Not Fade Away
Encore: Johnny B. Goode