SummerStage Jubilee was announced by City Parks Foundations to benefit free programming in the park. The benefit will take place on September 17, 2020 at 8PM across different virtual platforms. The benefit will include performances from big names like Sting, Norah Jones, and Trey Anastasio and an appearance from Billie Jean King.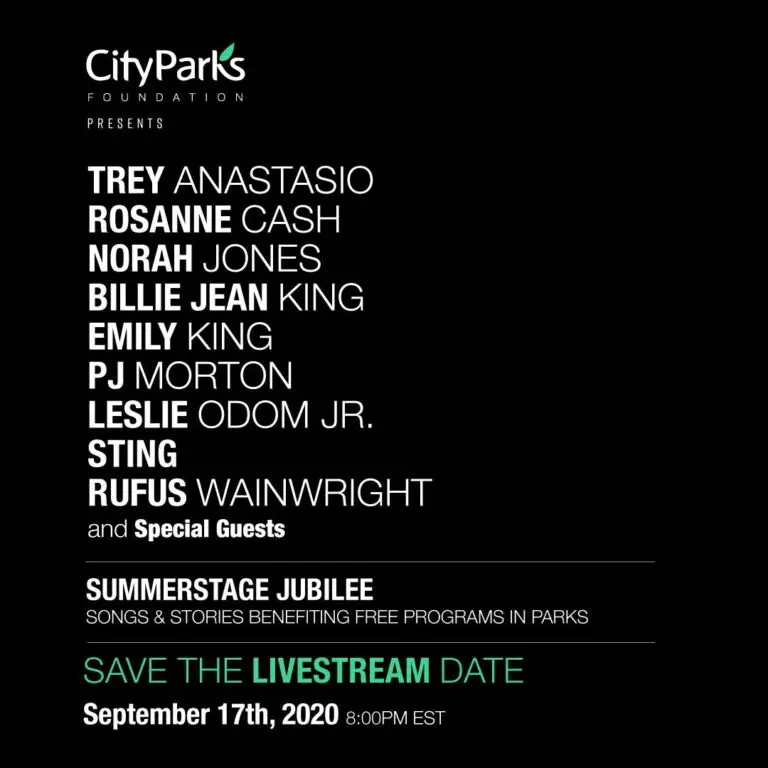 The 2020 SummerStage Jubilee Benefit Concert will help support the free parks programs and ensure they can continue. The City Parks Foundation is the largest presenter of free arts and cultural programs in New York City parks. They serve 300,000 New Yorkers each year through arts, education, sports and community building initiatives. The fundraising being done through the SummerStage Jubilee event will help fund free tennis and golf instruction, experiential, science-based lessons, buying tools and bulbs for volunteers to beautify local parks, providing training, microgrants, and coaching to facilitate their local advocacy. Donations will also help ensure SummerStage, New York City's largest free music festival, and SummerStage Anywhere, its virtual festival, will remain free and available to all New Yorkers. At a time when public programs have been upended, destroyed, and cancelled by the COVID-19 pandemic, the city's parks have remained open as some of the only public assets available to all still in these trying times. 
 David Barse, City Parks Foundation Board Chairman spoke about the SummerStage Jubilee Benefit Concert saying,  "This benefit concert will help support the important work that the City Parks Foundation does in every community, park and green space we serve in New York City. Although the concert is free, as is our usual SummerStage festival, we hope that viewers will feel motivated to support our work and make donations to keep that work going during these challenging times."
The benefit will last an hour and will highlight the various City Parks Foundation programs. SummerStage Jubilee will feature musical performances by Sting, Norah Jones, Trey Anastasio, Rufus Wainwright, Leslie Odom Jr., Rosanne Cash, Emily King, PJ Morton and others to be announced on top of notable advocates for CPF's work including tennis icon BillieJean King.
The benefit festival can be viewed  across all SummerStage social platforms (Instagram, YouTube, Facebook and Twitch) via live stream on Thursday, September 17 at 8PM EST. Donations can be made on the SummerStage website.
For more information on the event visit the City Park Foundations website.