Follow The Light virtual music festival was announced by We Banjo 3 in celebration of Irish traditions. The festival will take place on August 29, 2020 at 5PM EST. Festival Tickets, Artist Meet & Greets and Exclusive Festival Merchandise are on Sale Now at We Banjo 3's website.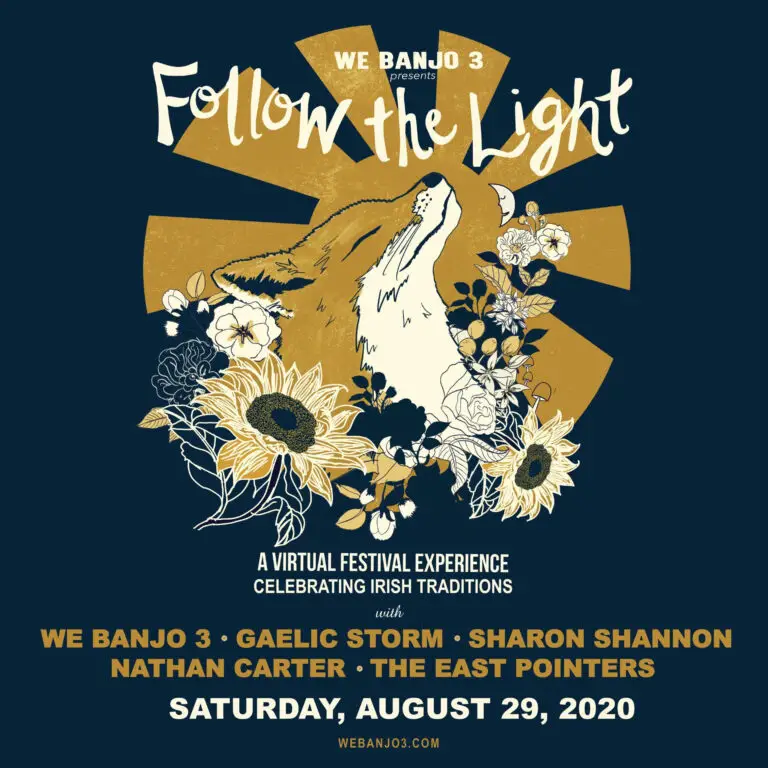 Follow The Light  virtual music festival will work as an ode to the We Banjo 3's Irish heritage. The festival will feature an evening of musical performances by Gaelic Storm, Sharon Shannon, Nathan Carter and The East Pointers, on top of We Banjo 3. The festival will also host non-music features throughout the evening.
We Banjo 3 debuted in the U.S. in 2012 and are Billboard Bluegrass chart-toppers. We Banjo 3 create a fusion of shared and varied traditions of Americana, Bluegrass, and Celtic music with pop-sensible songcraft to create a unique signature sound. The quartet is made up of Ireland and Nashville sounds and is composed of two sets of brothers Enda & Fergal Scahill and Martin & David Howley. 
We Banjo 3 has deep-dived into exploring alternatives to physically taking the stage due to the COVID-19 pandemic. They find connecting with fans through various online performances, fan Q&A's, live interviews, poetry and book excerpt readings, general banter about topics of interest, and more, gives them a personalized approach to creating fan experiences. Their hope with Follow The Light is to create this immersive experience to a wider audience while shedding the light to the rich Irish culture that they were founded upon. 
General Admission Tickets, Artist Meet & Greets Upgrades, and Festival Ticket/Exclusive Merchandise bundles are available now on We Banjo 3's website. The ticket purchase will give the buyer access to the stream for the festival. The stream will be supported on Chromecast,  Apple TV, Amazon Fire Stick. 
For more information on the Follow The Light Virtual Music Festival visit We Banjo 3's website.