Ryan Sutherland names his new album simply, Sutherland. It's a perfect title, as that is just what you get: a man, a guitar and a simple drum kit.  Sutherland uses tempo changes to unbalance the listener, while throwing in bluesy and forlorn lyrics that tie the songs right back together. This can be seen on the first track "Gideon's Bible." It's a great opening track and sets the mood for what this self titles record is. Bluesy garage rock and a simple take that brings you and the artist together.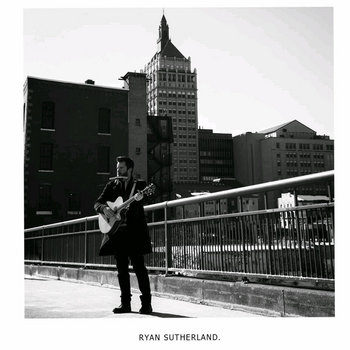 The second track, "Sludge," has that same heavy blues like a young Elvis Presley took over lead vocals for the White Stripes, singing "Can't Put My Finger On The Pain/It's there to remind me of the rain/No lullaby, no fleeting glimpse/No blood on your fingertips…"
"(Dead) Don't Die" also contains many tempo changes and seems like a stream of consciousness song.  Almost like how Bob Dylan recorded Another Side of Bob Dylan. It works as a slick, quick witted track with the changes and catchy repetitive lines as well.
A lovely instrumental, "It Ain't Too Far," has an introduction that fades into beautiful slide work, reminiscent of the Allman Brothers; one could even imagine Greg and Duane sitting out back writing the beginning parts of a hit. It provides a nice interlude, placed perfectly on the record.
"Keep Burning Down," comes in hot with great harmonica work, growing slowly distant as the song takes on a driving blues. It's almost like listening to early Black Keys records and the train rumbling through a gritty city. Another Dylan-esque interlude as the tempos rise, fade and then rise again and Sutherland weaves emotional lyrics in.
"Black Cats On The Moon" has a little bit more of a folksy feel as it slowly rocks, almost a lullaby to bring the record to a close.  In all this seems like a very intimate, yet also experimental album.  If you close your eyes and listen it could take you from a smoky bar in West Texas, to an Upstate New York BBQ on the lake, to a back room underground poker game.  Sutherland sets a mood, he sticks to it and tears down the standard timing of a blues song, while inserting a presence that you can feel in the room with you as you listen. This reviewer can't wait to see what he puts out next.
Key Tracks: Keep Burning Down, It Ain't Too Far, Sludge