The Bronx Music Heritage Center has announced that they will continue their concert series through their online programs: Bronx Music @ Home Concerts and Percussion Discussion. This week's topic will feature Puerto Rican cultural themes, as this would normally be the week of activities that culminate with the National Puerto Rican Day Parade.
Bronx Music @ Home Concerts will be held Fridays at 8PM EST on Bronx Music Heritage Center's Facebook page. The concerts will kick off with singer, actor, and poet Rachel Kara Perez on June 5. Other artists set to perform include: Yalisza Suren on June 12, Luz Soliz on June 19, and Valerie Capers on June 26.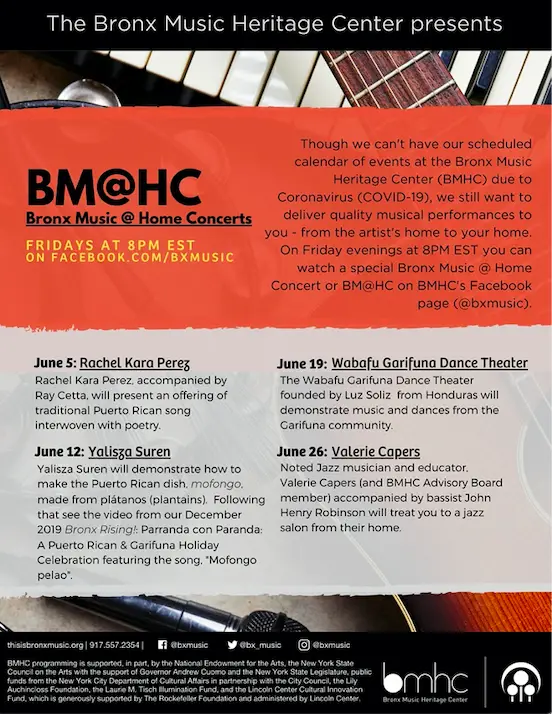 Bronx Music Heritage Center's weekly percussion program will feature mini-clinics, talks, and lessons from noted Bronx drummers and percussionists, led by the BMHC Co-Artistic Director, 8 time Grammy nominated bandleader drummer percussionist and educator Bobby Sanabria. Each episode will premiere on Bronx Music Heritage Center's Facebook page on Wednesdays at 8PM EST.
The percussionist featured that week will be available through the comment section of the video post to reply to any questions or comments. The percussion program will include performances from Norka Nadal Hernandez, director and founder of the Afro Puerto Rican group Bámbula on June 10, Lucianna Padmore on June 17, and Bobby Sanabria on June 24.