NYC-based indie folk artist Hayfitz releases debut album Capsules, which debunks the value of time and nurtures brief yet defining experiences into lush songs.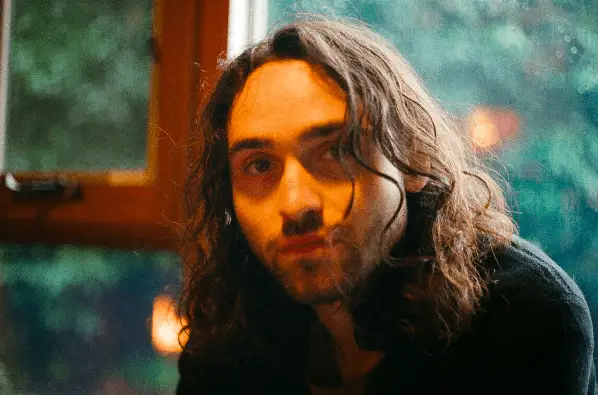 The foundation of Capsules was recorded over eighteen days in a Seattle home surrounded by idyllic views of the Puget Sound and the region's mountains and evergreens. The setting brought Hayfitz the emotional space to deliver the record with resolve, bringing intentional details to each song and distilling the franticness of a Brooklyn lifestyle.
Capsules took on its current shape in a secluded winter cabin in Parker, Pennsylvania where friend turned collaborator, Patrick Gregg, hosted Hayfitz for two separate week-long periods. Each inspired by contemporaries like Andy Shauf and Chad Vangaalen, Gregg and Hayfitz collaborated to bring a range of woodwinds to the recording process, with Gregg playing everything from bass clarinet to saxophone. Gregg's added aptitude in both modular and analog synthesis formed the underlying soundscapes that created a cohesive record, running Hayfitz's demo midi sequences through various vintage synthesizers.
The album opens up with the song "Pinpoint," an illustration of Hayfitz's complicated and perplexing emotions towards a girl. Throughout the album are songs like "Daylight," that display Hayfitz's fear and susceptibility and "Hold On," which demonstrate Hayfitz's perseverance to have strength and hope in his darkest moments. The song "Kitchen," relates to today's current situation, making it the perfect quarantine reflection:
"Kitchen" is about being left alone with someone you've just met and quickly becoming enamored with them. We hardly ever have control over the circumstances of these first moments we share with a stranger and it's utterly terrifying to think about what's going through their head. It's oddly coincidental that my song about being unexpectedly trapped in a kitchen is coming out during a time where we now all find ourselves in isolation, without having planned for it. We're finding expedited and deeper connections with those who we're sharing our small spaces with and being forced to adapt immediately to this new way of life.
People have experienced feelings of fear and uncertainty due COVID-19, but Hayfitz's album communicates that all we have to do is just "Hold On."
Key tracks: Pinpoint, Daylight, Hold On