Prince, William.
That's one of the hardest working commas you will see, and this isn't a post about drama with the British Royals. Juno-winning singer-songwriter, William Prince, sprinkled plenty more punctuation throughout his two-set show for Honest Folk at Restaurant Good Luck in Rochester, on Monday night.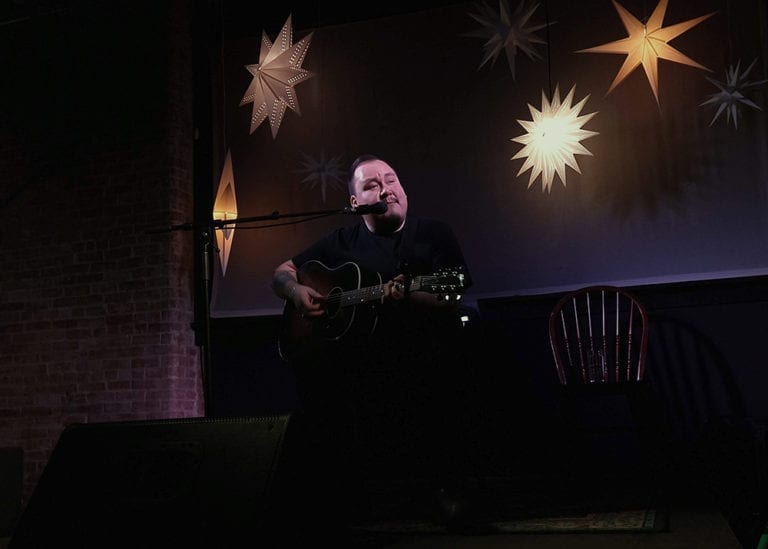 It started with a question mark. "Does anyone know who I am?" he asked in singsong banter before opening the night with "Young," a song he wrote only two days prior. "Yours are the first human ears to hear that song," he remarked. It was an unusual start for a musician who is touring ahead of his sophomore album release, due out February 8. But Prince would prove to be someone who plays by his own rules. He opened the second set with another new one written within the last two months.
After an album is created he just continues to write new music, he explained. It isn't surprising. The man is oozing music. Songs drifted in and out of each other with ellipses. His banter was sung, spoken over a picked guitar, or both, and was as engaging as the very personal, emotionally attached music. It served to enhance the songs meaning, bring the crowd into his life and turned an already intimate show into virtually one-on-one conversations with each audience member.
Many incredible words were bracketed by quotation marks throughout the night, both in song and out: from the funny, "if you have marijuana, meet me outside at the break," to the wise, "You can sit in a garage all you want, but you'll never turn into a car." Or the insightful, "Flesh and blood needs flesh and blood, and where there's blood there's pain."
Prince's rich voice, fluid guitar picking, and the tenor of his songs, combined for a sound that sat squarely in the most traditional folk music. Unlike much from the genre, his lyrics found optimism, hope and love in even the darkest times. So much of his writing centered on the love of family, his parents, partners, and his son.
Songs of his parents became songs about his parenthood, songs of his childhood became songs about his child. Passed down like his heritage as descendant of First Nations people in Canada. Songs about his departed father weren't steeped in sadness, but concentrated more in loving memory. Even songs about his ex were happy and loving. He preferred not to dwell in the negative, putting positive spins on some of the lower points in life and simple misunderstandings alike.
The show-opening question mark was answered with a resounding exclamation point by show's end, with multiple standing ovations and a mutual admiration from musician and audience.
Honest Folk might be batting 1.000 when it comes to eliciting an expression of amazement from the artist upon announcing the next show. And so it was with the announcement that Joe Pug would be playing Good Luck February 17. Early bird tickets are on sale now.