Winter Jazz Fest continued at Brooklyn Bowl last night with the worldwide debut of The Bogie Band featuring Joe Russo. Opening for Joe Russo Presents Hooteroll? + Plus!, this "no strings attached" powerhouse of wind instruments and drums featured Stuart Bogie on tenor sax fronting a nine-piece band: one flute (sometimes three), two saxophones (tenor and baritone), two trombones, two trumpets, one tuba, one percussion, and one octo-Russo on drums. One minute into the opening set, it became clearly evident that crossing the Verrazzano on a Sunday night after a long and exhausting weekend would be supremely worth it. Stuart Bogie has such an easy way about him, and he was perfectly comfortable on a stage he's graced many times before, as this collection of Brooklyn's finest musicians took the stage in front of an eager audience, both respectful and rabid in equal measure.

Just as I was starting to recognize this local all-star troupe of musicians from Antibalas (Jordan McLean), Rubblebucket (Adam Dotson), and Reverend Vince Anderson's Love Choir (Smoota, real name Dave Smith), the band toyed with a seemingly appropriate take on the All in the Family theme song. Bogie jumped back and forth between tenor sax and flute, while also playing band director on more than one occasion, both with the crowd and his eponymous band. At one point, he addressed the crowd, "You got one part. It's to say hey. We're going to cultivate and nurture a collective force. It could prove useful for more than just this song," as he coaxed the crowd to join in a deep and guttural heyyy in time with the song's climax. During a few softer moments, Russo moved from his signature savagery on the drum kit to a xylophone of sorts, stainless steel rectangles on an egg crate, highlighting the beauty of the quieter and more delicate jams. 

While this debut set was highly anticipated, I perhaps underestimated how hard the music would coax me to dance and sweat. Stuart Bogie is a musician who creates and takes risks, and this one paid off hand over fist. As the 45-minute set came to its unfortunate end, the musicians left the stage single file, in a slow march to Russo's waning bell play. I'm very much looking forward to seeing more of The Bogie Band featuring Joe Russo, and feeling very grateful to have had the chance to write these words and cover this spectacular debut performance.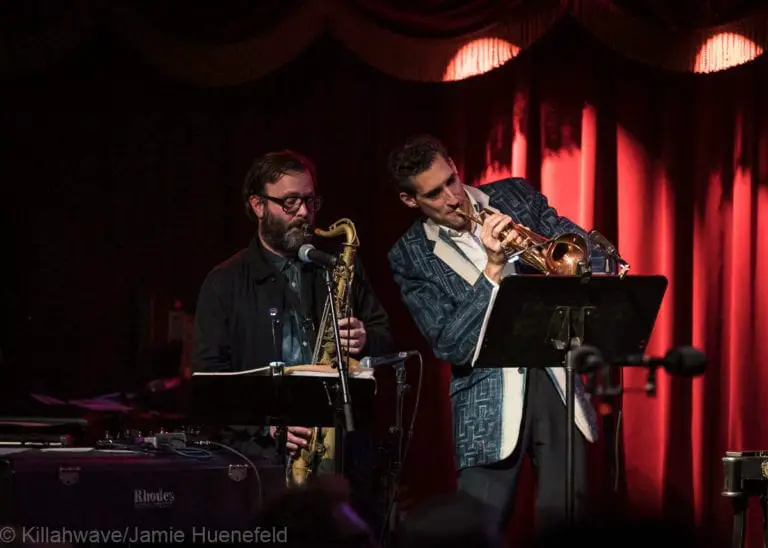 Check out Headrush, Pt. 1, a recently released single on spotify, with a full album coming soon.
Joe Russo Presents Hooteroll? + Plus!, exploring the works of Jerry Garcia, Howard Wales and others, was the featured set of this Winter Jazz Fest installment. Another all-star cast of musicians featuring Stuart Bogie (tenor sax), Erik Deutsch (keys), Jonathan Goldberger (guitar), Dave Harrington (bass), Kevin Kendrick (vibraphone), Jordan McLean (trumpet), and Joe Russo (drums) recreated Jerry Garcia's 1971 Hooteroll? album. As Russo would later explain after one of the + Plus! selections, "We're going to play the whole Hooteroll? record plus. This last song was the Pherboney Love Theme, the first track off my new record. We wanted to intersperse the record with songs that make sense." Um, good choice, Joe! 

Last night's set, and the album upon which it was based, was a master class in guitar-shreddy acid jazz, cut with blues and highly danceable rock 'n roll, all set to the tempo of Russo and Harrington's world class rhythm section. Erik Deustch played the role of Howard Wales, Garcia's partner and mentor of sorts on this storied album, as he graced the crowd with the gorgeous sounds of his vintage Fender Rhodes and Hammond B3. Goldberger melted faces, as he is wont to do, with a variety of stunning solo work on both the electric and acoustic guitars. Kevin Kendrick's contributions on the vibraphone gave the music an ethereal feel, soft and beautiful. If music satisfied the sense of touch, then Kendrick's contribution was swathed in velvet. Bogie and McLean's horn play was the bacon on this jam sandwich, making everything better as it occasionally stole the spotlight. Speaking of spotlights, there were none. Everyone shone. Focus may have drifted from one musician to the next as subtle flourishes highlighted this or that musician, only to realize that the full band was firing on all cylinders at all times.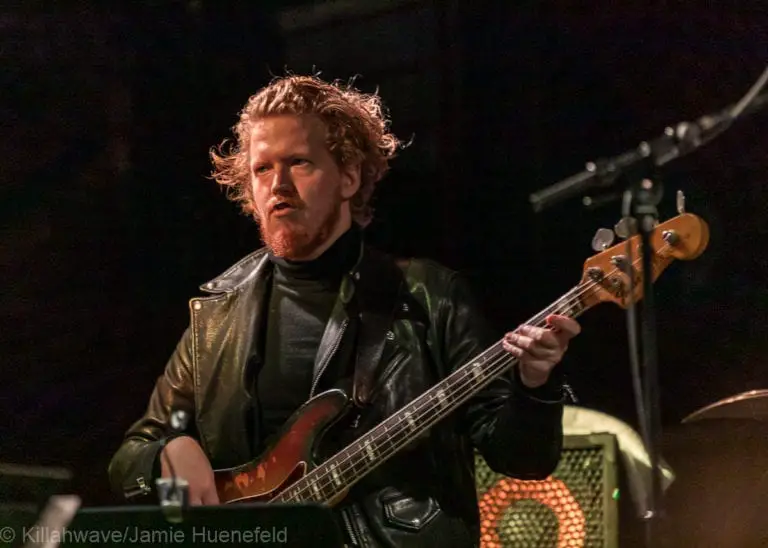 Dave Harrington. Just… WOW. I mean, he's a guitar player, and a bass is technically a guitar, but he rarely, if ever, plays bass. Maybe it's like his secret talent. In fact, I don't know of the last time (which doesn't mean it didn't happen) since April of 2017, when this same ensemble recreated Hooteroll? in Port Chester's Capitol Theatre. Wait, …, what?!?! Dave Harrington may have stolen the show if this wasn't such a collective project. Tucked behind Russo, he seemed to be soloing all night, never playing the same riff, as his fingers ran up and down the bass with unthinkable speed and dexterity. My hips could barely keep up as my jaw hung open. What he did last night was something special; when this guy picks up a bass again, miss it at your own peril!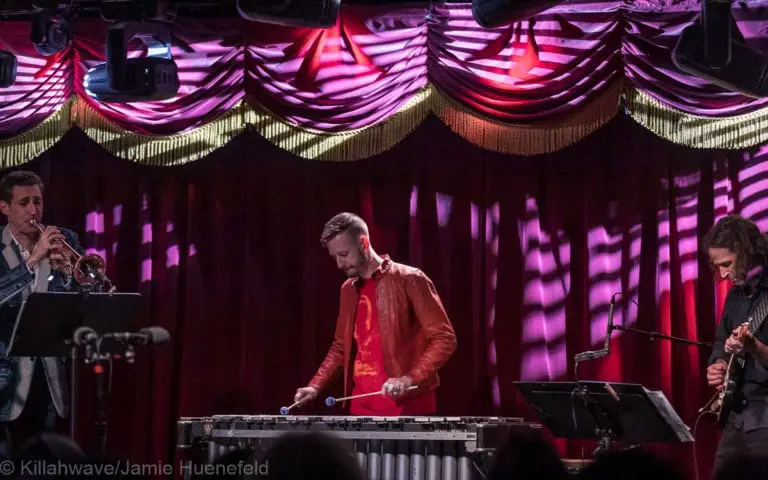 In addition to the awesome musicianship and shared love for Jerry Garcia and this incredible record, the level of trust in the room was a tangible phenomenon that was perhaps the defining factor that put last night's show into the record books. Let's remember that Russo, Kendrick, Deutsch and Goldberger all share history with Fat Mama. Harrington and Russo are regulars on the improvisational NYC circuit. Bogie and McLean both play in Antibalas. Bogie plays with JRAD from time to time. Everyone plays with everyone all over the local scene. The comfort and joy that these musicians shared was a joy to behold and manifested itself in every peak and, even more so, quiet valley. From the listener's perspective, the crowd, too, displayed perfect trust, as we were patient, present, and secure in the knowledge that wherever the music took us is where we were supposed to be. And the band clearly enjoyed the crowd enjoying them, as the room's energy was in a constant state of reciprocal motion.
A hundred minutes later, at the culmination of yet another monster jam, Russo just shrugged and gave The Bogie Band mates an "I think we're done here look," returning to thunderous applause for a fifteen-minute encore that would bring the show to the two-hour mark, capping off this all-too-rare project for the ages.