The Saratoga Performing Arts Center together with The Philadelphia Orchestra have announced a celebration of the 250th birthday of Ludwig van Beethoven to take place in 2020. In a concentrated four-night event, August 12-15, 2020, The Philadelphia Orchestra and Music Director Yannick Nézet-Séguin will present Beethoven's Complete Cycle of Symphonies in dialogue with music by composers of today.  The Philadelphia Orchestra has commissioned works that reflect on the relevance of Beethoven's legacy today by its Composer-in-Residence, Gabriela Lena Frank, and a diverse group of composers from her Creative Academy of Music – including Jessica Hunt, Carlos Simon and Iman Habibi.   
"Traversing the complete Symphonies of Beethoven is a profound and deeply moving musical experience.  To hear them under the baton of the great Yannick Nézet-Séguin, in such a concentrated period, will be an artistic experience unlike anything we have ever presented at SPAC," says Elizabeth Sobol, President and CEO of the Saratoga Performing Arts Center.  "Though Yannick and the Orchestra will also be performing the cycle in Philadelphia and at Carnegie Hall, only at SPAC will audiences be able to experience the symphonies in this immersive and virtually unprecedented manner."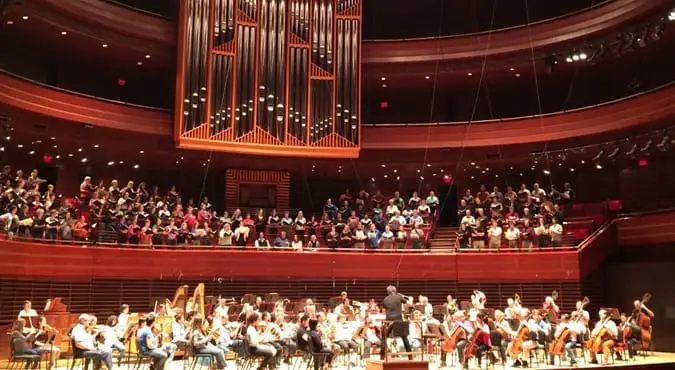 "We are incredibly excited to share the majesty of Beethoven's masterpieces in four consecutive nights with our beloved fans in Saratoga," said Philadelphia Orchestra Music Director Yannick Nézet-Séguin. "By pairing his groundbreaking works with new companion pieces, we look forward to creating fresh perspectives on Beethoven's legacy today. It will surely be an exhilarating and deeply moving experience unlike anything we've ever presented before at SPAC."
Beethoven 2020: The Philadelphia Orchestra Beethoven Cycle at Saratoga Performing Arts Center August 12-15, 2020
Wednesday, August 12th
Conductor: Yannick Nézet-Séguin
Carlos Simon: Work in Dialogue with Beethoven – PHILADELPHIA ORCHESTRA COMMISSION
Beethoven: Symphony No. 8
Beethoven: Symphony No. 4
Beethoven: Symphony No. 7
Buoyant and humorous, the Eighth Symphony belies none of the composer's worsening health issues or what had to be the devastating end of a love affair, detailed in a famous letter written around the same time to his "Immortal Beloved." Perhaps the least known, the Fourth was widely admired: Schumann compared it to "a slender Greek maiden" between the two "Norse giants" of the Third and Fifth; Berlioz insisted it was the work of an angel. And Tchaikovsky described the triumphant Seventh as "full of unrestrained joy, full of bliss and pleasure of life." The exhilarating and familiar second movement is said to have been so inspiring at the premiere, an encore was demanded instantly.
Thursday, August 13th
Conductor: Yannick Nézet-Séguin
Jessica Hunt: Work in Dialogue with Beethoven – Philadelphia Orchestra Commission
Beethoven: Symphony No. 2
Beethoven: Symphony No. 3 ("Eroica")
Beethoven was just beginning to go deaf when he wrote his Second Symphony and though he was losing his hearing, he was finding his voice. He could have composed a manifestation of despair, but instead gave the world one of his most ebullient and life-affirming works. The Third Symphony was groundbreaking, a turning point in the composer's oeuvre and a watershed in musical history. A vast ode to heroism, revolution, and freedom, the "Eroica" is considered by many to be the greatest not just of Beethoven's symphonies, but of all time.
Friday, August 14th
Conductor: Yannick Nézet-Séguin
Iman Habibi: Work in Dialogue with Beethoven – PHILADELPHIA ORCHESTRA COMMISSION
Beethoven: Symphony No. 5
Beethoven: Symphony No. 6 ("Pastoral")
The indelible four-note opening of Beethoven's Fifth Symphony lays the foundation for a truly fateful symphonic journey. Written in 1804, and on the program when The Philadelphia Orchestra gave its first concert in 1900, it's an epic tour de force that resonates in 2020. Following its rousing conclusion come the verdant valleys and sweet smells of the woods and the Austrian countryside, an exposition of Beethoven's love of nature. Composed and premiered at the same time, the "Pastoral" offers a striking contrast to the assertive Fifth.
Saturday, August 15th
Conductor: Yannick Nézet-Séguin
Chorus: Albany Pro Musica Concert Chorus
Frank: Work in Dialogue with Beethoven – PHILADELPHIA ORCHESTRA COMMISSION
Beethoven: Symphony No. 1
Beethoven: Symphony No. 9 ("Choral")
Beethoven was just 25 when he wrote his First Symphony. Delightful and high-spirited, floating on strains of Mozart and Haydn, it's a fascinating glimpse of the greatness and genius to come—all on full, glorious display in the climactic Ninth. Written just a few short years before his death, "Beethoven's profound ode to brotherhood, salvation, and pure joy reminds us why we are here as an orchestra," says Yannick, "and why we constantly try to make our world better by playing music."
For more information visit Spac.org