Images by Killahwave/Jamie Huenefeld
Greensky Bluegrass brought their signature bluegrass with a jam twist to a sold out crowd at the elegant Pier 17 Rooftop in lower Manhattan. Residing in Michigan, the band members include Michael Bont (banjo), Dave Bruzza (guitar), Paul Hoffman (mandolin), Michael Devol (bass) and Anders Beck (dobro). The country boys felt right at home against the iconic NYC backdrop of the Empire State Building and Brooklyn Bridge.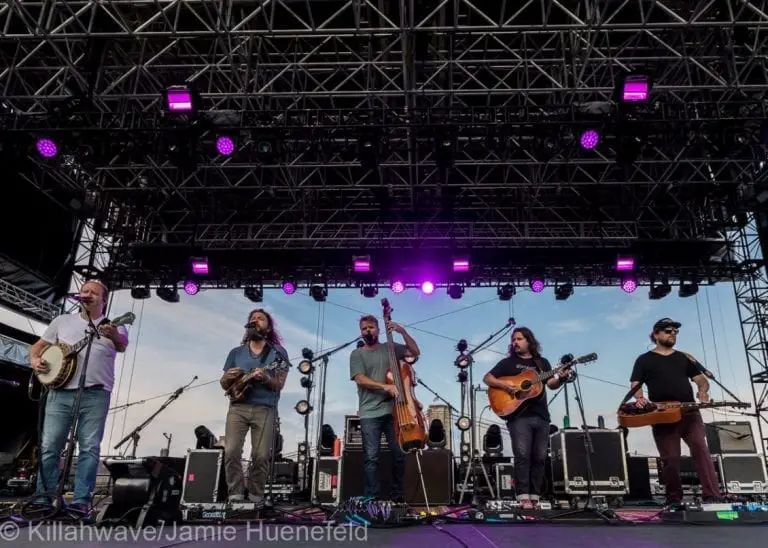 "Past My Prime" from Shouted, Written Down & Quoted kicked off the first set. More originals followed with "No Idea," "Living Over," also from Shouted, and All for Money's "Like Reflections" and "What You Need." The band channeled the great Paul Simon and delivered a tasty bluegrass cover of "Gumboots" from the Graceland album. Next up was a more traditional cover of "White House Blues" by Charlie Poole. The set wrapped up with a well executed segue of Tuesday Letter's "Broken Highways" into "It's Not Mine Anymore."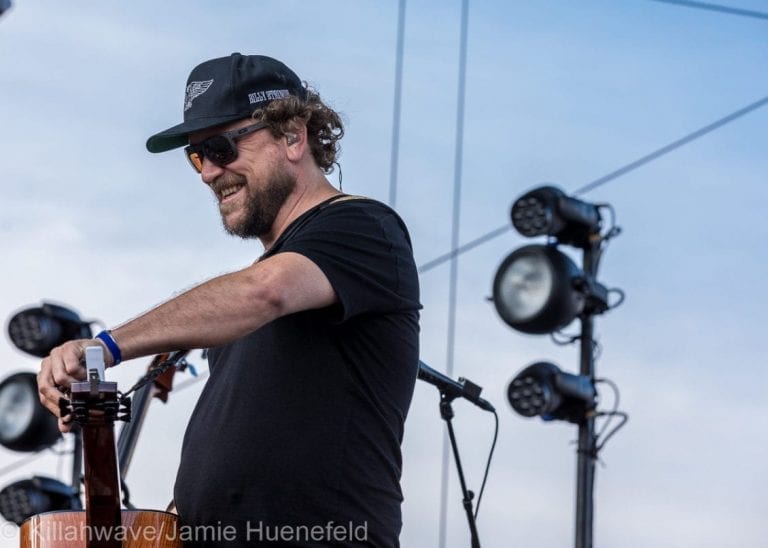 Set two opened with more delicious originals like "For Sure," "Uh Huh," and "All for Money" from the album of the same name. Live at Bell' s "Old Barns" preceded a nice sequence of old and new songs with "Broke Mountain Breakdown Reprise" segued into Jimi Hendrix's "The Wind Cries Mary" before revisiting "Broke Mountain Breakdown Reprise." Another All for Money tune, "Ashes," was played followed by "Hit Parade of Live." Guitarist Scott Metzger joined the band on stage, adding mind numbing depth to "I'd Probably Kill You" and "Don't Lie."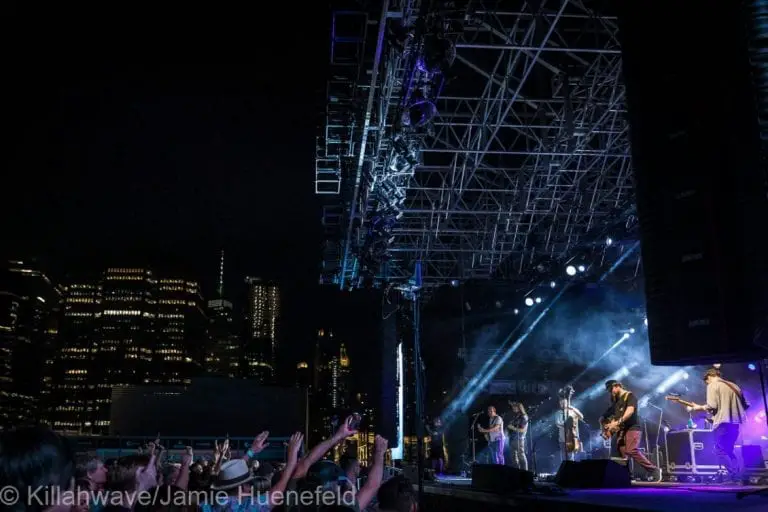 The band closed out the night with an encore of "Just to Lie" into Billy Joel's "Big Shot" and had their fans yelling for more. They are one skilled team of traditional bluegrass musicians who aren't afraid of new territory or a big city. Greensky Bluegrass will be back in New York State at the Borderland Festival in East Aurora, NY on September 22. Head over to their website for tickets and information.
Setlist
Set One: Past My Prime, No Idea, Living Over, Like Reflections, What You Need, Gumboots (Paul Simon cover), White House Blues (Charlie Poole cover), Broken Highways > It's Not Mine Anymore
Set Two: For Sure, Uh Huh, All for Money, Old Barns, Broke Mountain Breakdown > The Wind Cries Mary (Jimi Hendrix cover) > Broke Mountain Breakdown Reprise, Ashes, Hit Parade of Love, I'd Probably Kill You*, Don't Lie*
Encore: Just to Lie > Big Shot
Notes:
* w/ Scott Metzger