As Lúnasa winds up their North American spring tour, it would be remiss not to take an opportunity to sing their folk praises. The sextet had quite the reputation to live up to, even as a first time attendee, after being quoted by New York Post as the "Hottest Irish Acoustic Group on the Planet." With special guest Natalie Merchant, we would expect nothing less.
For those of you who have not heard of Lúnasa, they are an award winning Traditional Celtic band from Ireland. Touring extensively over the course of the last 22 years, the band brings the highest level of musicianship.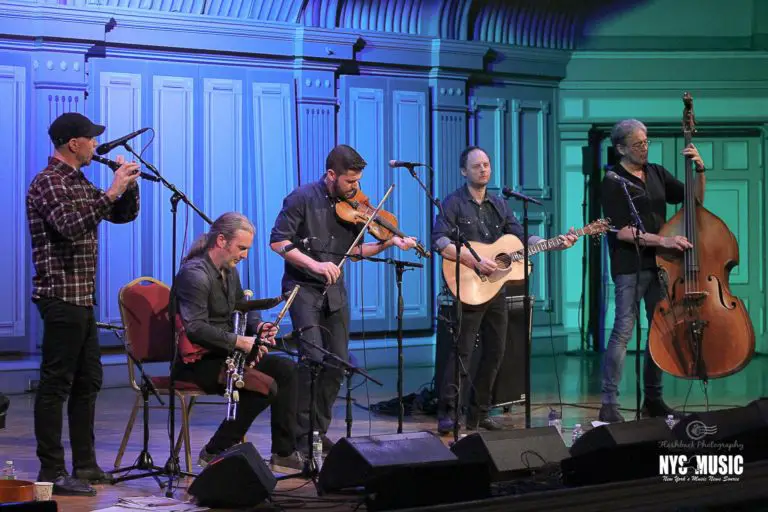 With Kevin Crawford on flute/whistles, Trevor Hutchinson on bass, Cillian Vallely on Uilleann Pipes/whistles, Colin Farrell on fiddle, and Ed Boyd on guitar, this group melds together perfectly, bringing  a flawless sound to their audience.
The setting for the evening was Troy Bank Music Hall. Living in Troy a short period of time back in the early 90's, I don't recall this charming neighborhood of brownstones, little pubs and shops with such grand architecture all around. It was the perfect setting for a perfect evening of music. The venue itself is a work of art, with the most amazing lighting and acoustics. You couldn't ask for a better place to see Lúnasa.
Performing two full sets of music from their extensive library, Crawford would occasionally set up the songs with a personal story about who wrote the number, what inspired it and what the audience would be in store for. He was witty and charming, making the audience feel comfortable from the start. It was a personal insight that would invest you even more into the evening.
Later they were accompanied by the acclaimed Natalie Merchant, lead singer of 10,000 Maniacs.  Her voice is sultry and smooth, with lyrics that speak to your soul. As she took the stage with the band, she spoke of joining them last year on a tour of Ireland, sharing how they came to work together. While working on a collaborative album, Merchant was looking for some of the world's leading musicians to join her, she did not hesitate to invite them, and the rest they say is history.
Ironically, was fun to hear that the first time she ever saw Lúnasa was in this very venue, pointing to the row and seat she sat in. Unbeknownst to the band, she longed to join them on stage that evening. Fast forward a few years later and the chemistry they share on stage is a true synergy.