Antibalas return to their Brooklyn roots this weekend for their 20th anniversary tour's final U.S. shows. They'll play two nights at Brooklyn Bowl, with Innov Gnawa joining them on Friday, March 15, and Poetic Thrust starting the night off on Saturday, March 16.
The musical collective known as Antibalas (Spanish for bullet-proof or anti-bullets) was conceived of in Mexico City and formed in Brooklyn in the late '90s. The early formation of the group was composed of the band's founder Martín Perna and later included several other members (Gabriel Roth, Michael Wagner, Del Stribling aka Binky Griptite, Victor Axelrod, Fernando Bugaloo Velez, Anda Szilagyi) from the Soul Providers / Dap Kings band. performing their first show in May 1998 at St. Nick's Pub in Harlem NY.
The music of Fela Kuti is well represented in the Antibalas sound, and was part of the band's early connection with percussionist Amayo, who grew up in Lagos, Nigeria who was fluent in the music of Fela. Within months of his first show with the band at The Cooler, he began composing and performing lyrics and assuming the role of the group's lead vocalist / frontman.
Antibalas recently released their sixth studio album on Daptone, Where the Gods are in Peace.  Though recognized for their fluency in Afrobeat and funk music, the band is known to collaborate with diverse groups and artists, from Angélique Kidjo to Jovanotti to Medeski Martin & Wood to Public Enemy, and served as the house band at Carnegie Hall in 2014 (Music of Paul Simon), 2015 (Music of David Byrne & Talking Heads) and 2017's Music of Aretha Franklin.
Join Antibalas and guests Innov Gnawa and Poetic Thrust this weekend at Brooklyn Bowl and celebrate 20 year's of Afro-Cuban funk and rhythm.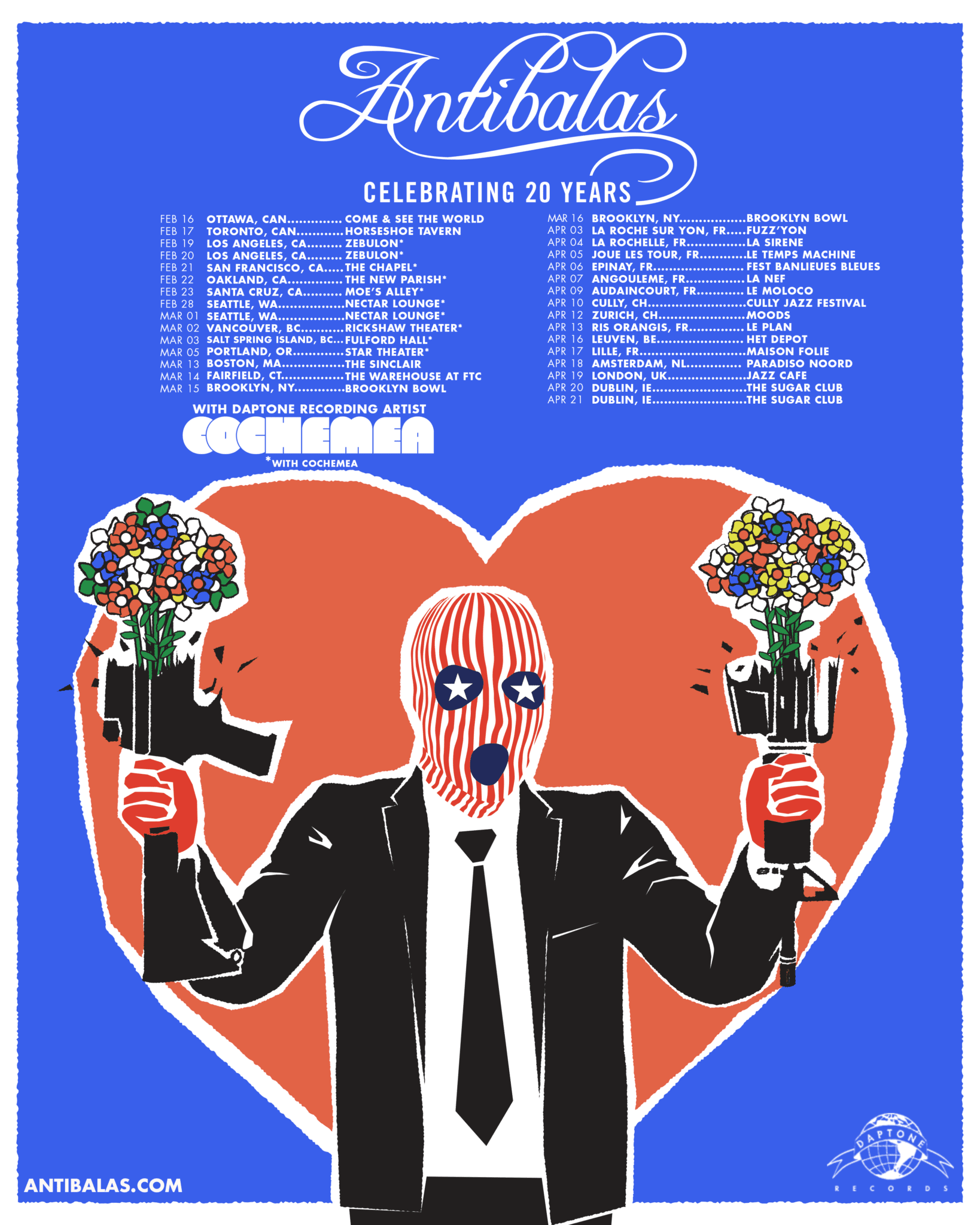 Check out the rest of Antibalas' 20th Anniversary Tour Dates.
March 14 – The Warehouse at FTC – Fairfield, CT
March 15 – Brooklyn Bowl – Brooklyn, NY
March 16 – Brooklyn Bowl – Brooklyn, NY
March 30 – The Shrine – Lagos, Nigeria
April 3 – FuzzYon – La Roche Sur Yon, FR
April 4 – La Sirene – La Rochelle, FR
April 5 – Le Temps Machine – Joue Les Tour, FR
April 6 – Festival Banlieues Bleues – Epinay, FR
April 7 – La Nef – Angouleme, FR
April 9 – Le Moloco – Audaincourt, FR
April 10 – Cully Jazz Festival – Cully, CH
April 12 – Moods – Zurich, CH
April 13 – Le Plan – Ris Orangis, FR
April 16 – Het Depot – Leuven, BE
April 17 – Maison Folie – Lille, FR
April 19 – Jazz Cafe – London, UK
April 20 – The Sugar Club – Dublin, IE
April 21 – The Sugar Club – Dublin, IE