In Big Flats, New York, there isn't necessarily a lot to see, but it has the Tag's Budweiser Summer Stage bringing in people from all over central New York. On June 2, the stage was packed with fans of Dropkick Murphys and Flogging Molly with both bands stopping there on their summer 2018 co-headlining US tour.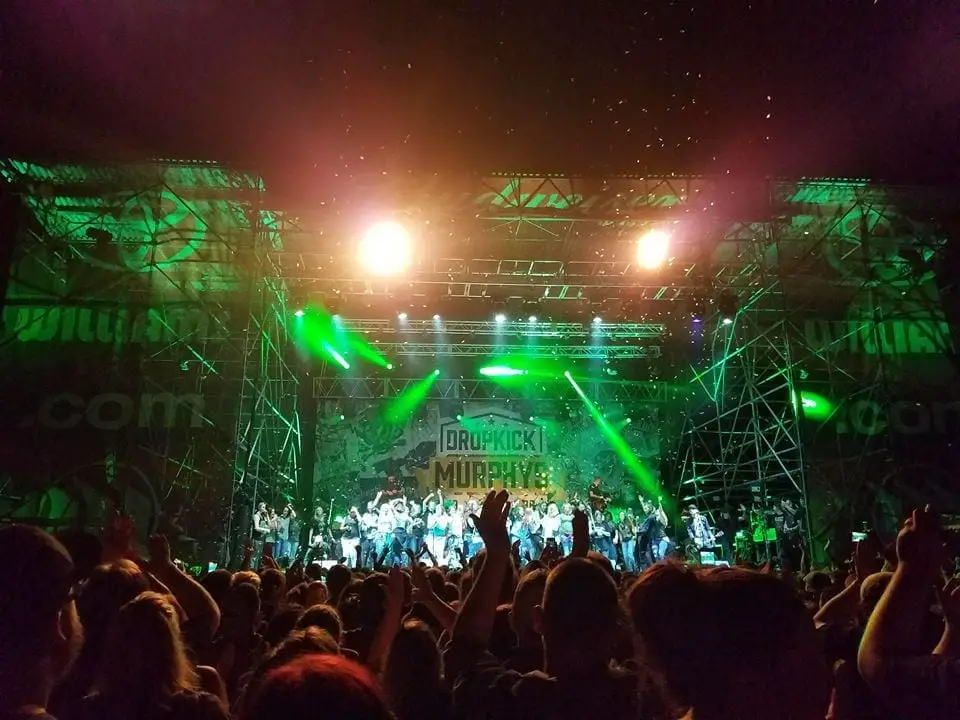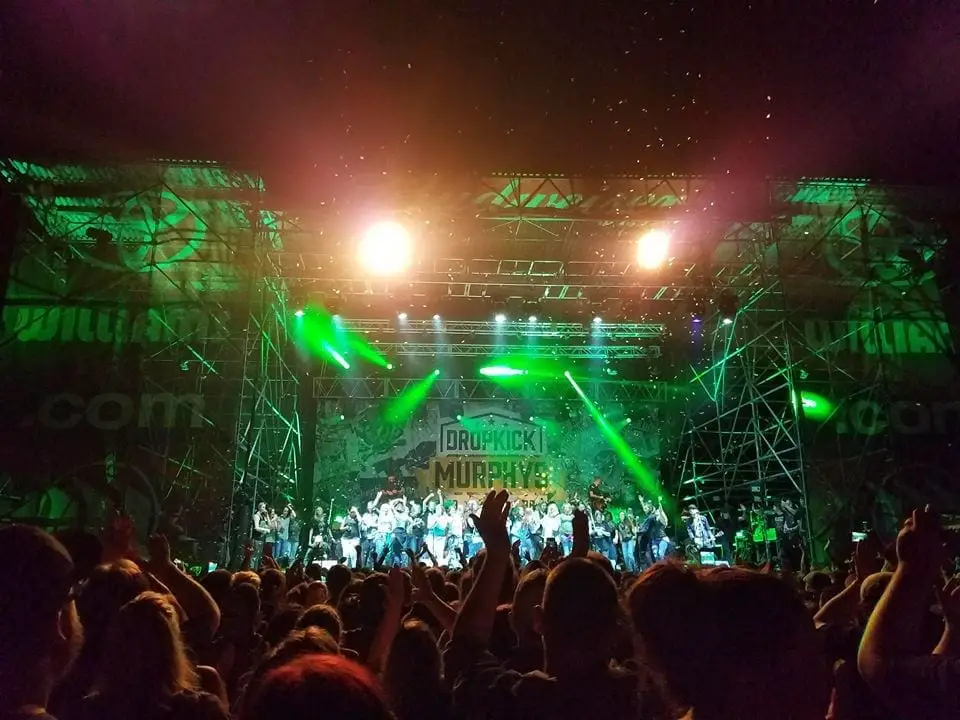 Flogging Molly performed first with the Dropkick Murphys following, but nothing about the line-up made it feel like the two bands weren't equals. During both of their sets, they were constantly boosting each other up and dedicating songs to each other. The set-up of Tag's Budweiser Summer Stage aided to this sense of equal partnership. The merch was equal, the stage set ups were equal, the excitement from the the crowd was equal.
Flogging Molly pulled out an array of classics including, "Devil's Dance Floor," "If I Ever Leave This World Alive", and "What's Left Of The Flag," but also included new music in their performance that the crowd really seemed to enjoy. Dropkick Murphys also played many fan favorites like "Rose Tattoo", "I'm Shipping Up To Boston", and "The Boys Are Back" which the crowd went wild for, and did a multi-song encore, even bringing out some of the members of Flogging Molly on stage with them and pulling up members from the crowd.
For a pile of punk rockers, the crowd was as pleasant and polite as can be and so were the bands. It was all smiles, laughs and mosh pits. Ken Casey, who is usually the bass guitarist (he wasn't playing bass during the show due to his recent back surgery, just singing) and co-lead singer and songwriter of Dropkick Murphys, explained to the the crowd the rules of mosh pitting at his shows. Right in front of the stage, it's an anything-goes, mosh-pit-frenzy, where you can get a sneaker to the face and that's totally acceptable, but if he sees anyone going too crazy in the outer areas of the crowd, like where there were kids, he made sure that the crowd knew, to use his language, that anyone who starts something where they shouldn't be has the right to have the shit kicked out of them.
It was one of the politest crowds and band combinations I've seen at a show like this and would be something I would definitely look to attend again. Dropkick Murphys and Flogging Molly continue their 2018 summer tour throughout June and show dates can be found below.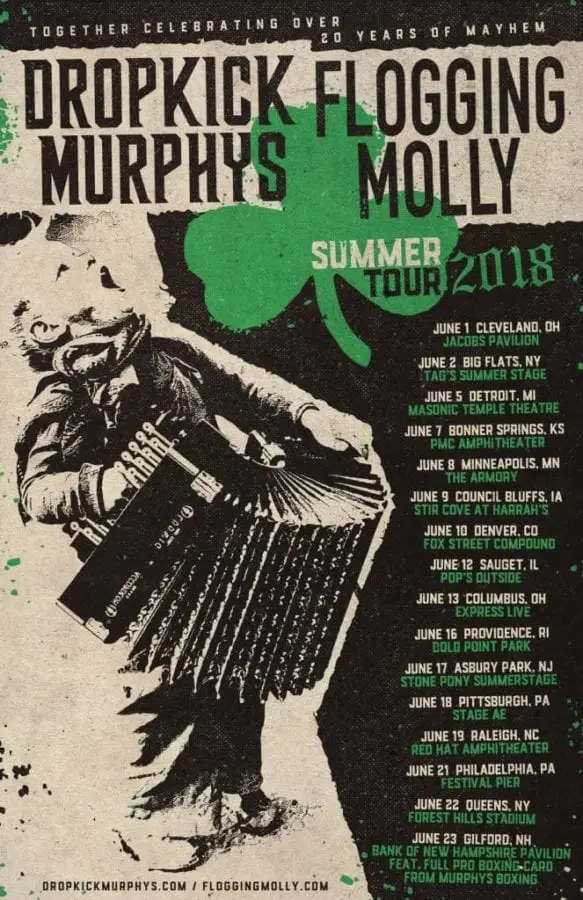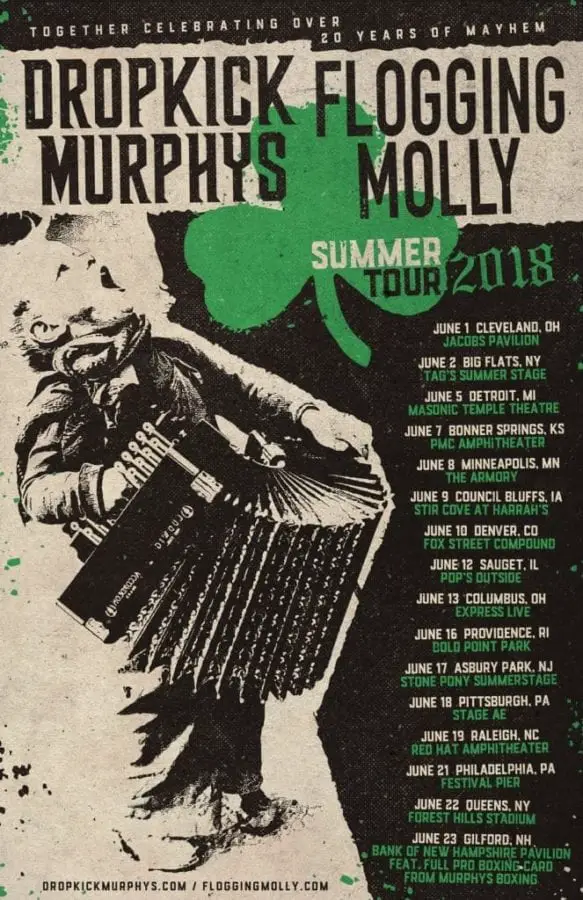 Show dates:
June 5 – Masonic Temple Theatre – DETROIT, MI
June 7 – PMC Amphitheater -KANSAS CITY/BONNER SPRINGS, KS
June 8 – The Armory – MINNEAPOLIS, MN
June 9 –  Stir Cove – COUNCIL BLUFFS, IA
June 10 – Fox Street Compound – DENVER, CO
June 12 – Pop's Outside – ST LOUIS/SAUGET, IL
June 13 – Express Live! – COLUMBUS, OH
June 16 – RI Bold Point Park – PROVIDENCE, RI
June 17 – Stone Pony Summerstage – ASBURY PARK, NJ
June 18 – Stage AE – PITTSBURGH, PA
June 19 – Red Hat Amphitheatre – RALEIGH, NC
June 21 – Festival Pier – PHILADELPHIA, PA
June 22 – Forest Hills Stadium – QUEENS, NY
June 23 – Bank Of New Hampshire Pavilion featuring Professional Boxing – GILFORD, NH