With ten years in the rear view mirror since his last visit, Andrew Bird finally returned to The Egg Performing Arts Center in Albany for a nearly sold out, intimate performance for an all-ages crowd. Making a comeback to the acoustically enchanting venue, the violin-wielder set up a cozy shop on stage for an uninterrupted show, complete with ample finger plucking and whimsical whistling for an evening of nature-inspired bliss.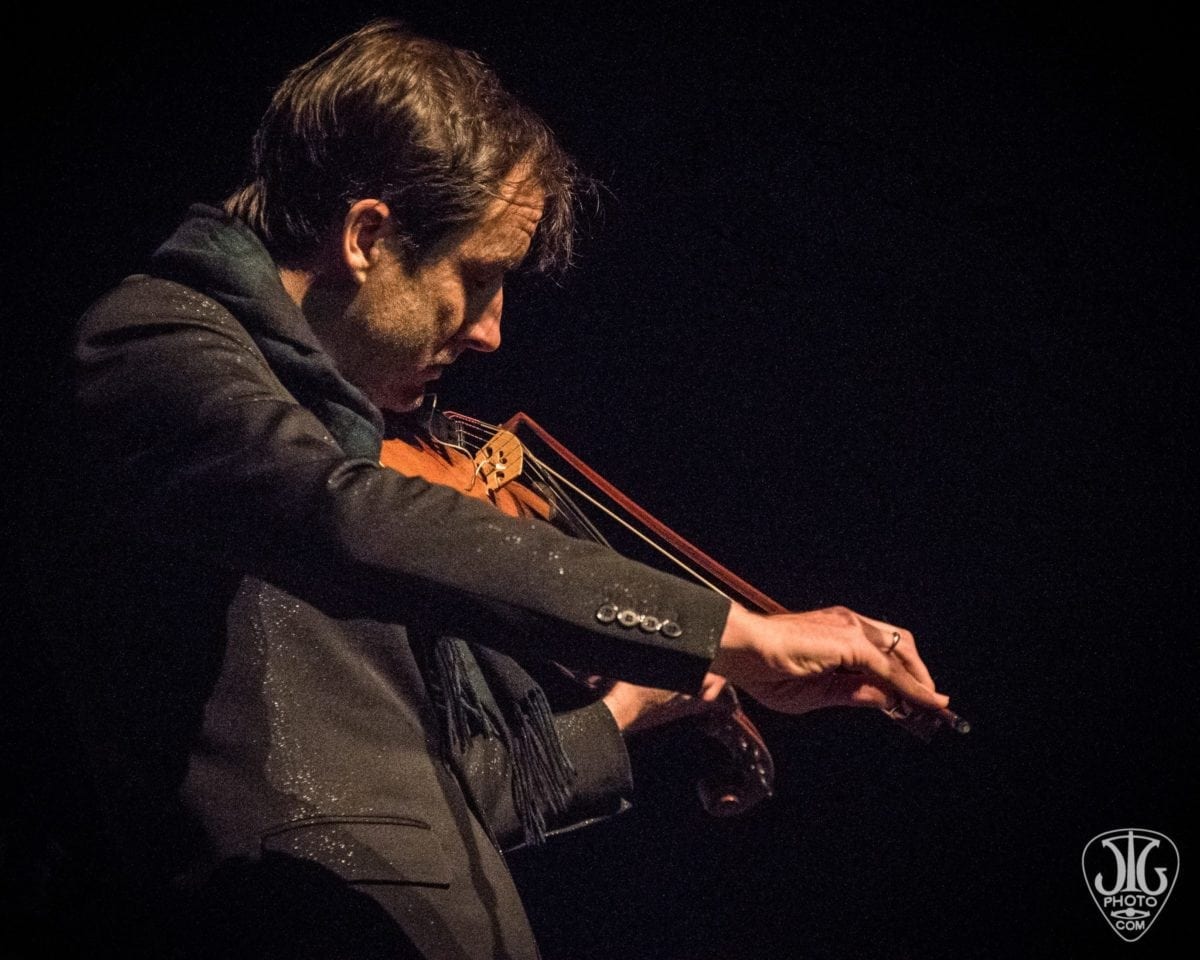 A dapper Bird took the stage solo to unleash an eclectic mix of live music and cinematic visuals to "River" and "Canyon" from his 2015 and 2017 albums, Echolocations. Combining the delicate sounds of nature, alluring violin compositions and "visuals generated from USGS Topographic Imagery of Los Angeles River and Coyote Gulch, Utah," the ethereal musician was able to bring the great outdoors to a chillingly quiet audience, ready to absorb the emotion ahead. With previously captured video of Bird strumming along to the rhythmic flowing of canyon water while barefoot, the audience felt like they too were ankle-deep in the same stream Bird splashed around in.
Showcasing his talent and vulnerability as a solo artist, the Chicago native proved that one instrument and a few foot pedals can provide endless looping and musical possibilities. With a main backdrop and two smaller screens off to the side of stage left and right, visuals of vast canyons of wonder and trickling rivers worked in tandem with Bird's musically replicated sounds of nature, creating a sensory highway for the masses. The film footage, captured by Tyler Manson, allowed Bird to duet with himself for a harmonious delivery and even seemed stunted to the larger scope of the musician playing on screen behind him.
As the visuals subsided, the tranquil music was paused for three bandmates, a drummer, bassist/guitarist and pianist/guitarist/bassist to hop on stage. While the fans remained glued to their chairs with wide eyes, Bird didn't refrain from rocking out in front of an illuminated, color-changing backdrop. The whistling wizard and his band began with a mini throwback off the 2005 album Andrew Bird & the Mysterious Production of Eggs (fitting for the venue), "A Nervous Tic Motion Of the Head to the Left," which brought exuberant energy to the spherical theater. While maintaining the up-beat tempo the band supplemented on stage, Bird partook in some witty banter with the crowd admitting he was "… shredding so hard" as he ripped loose hairs off his shedding bow.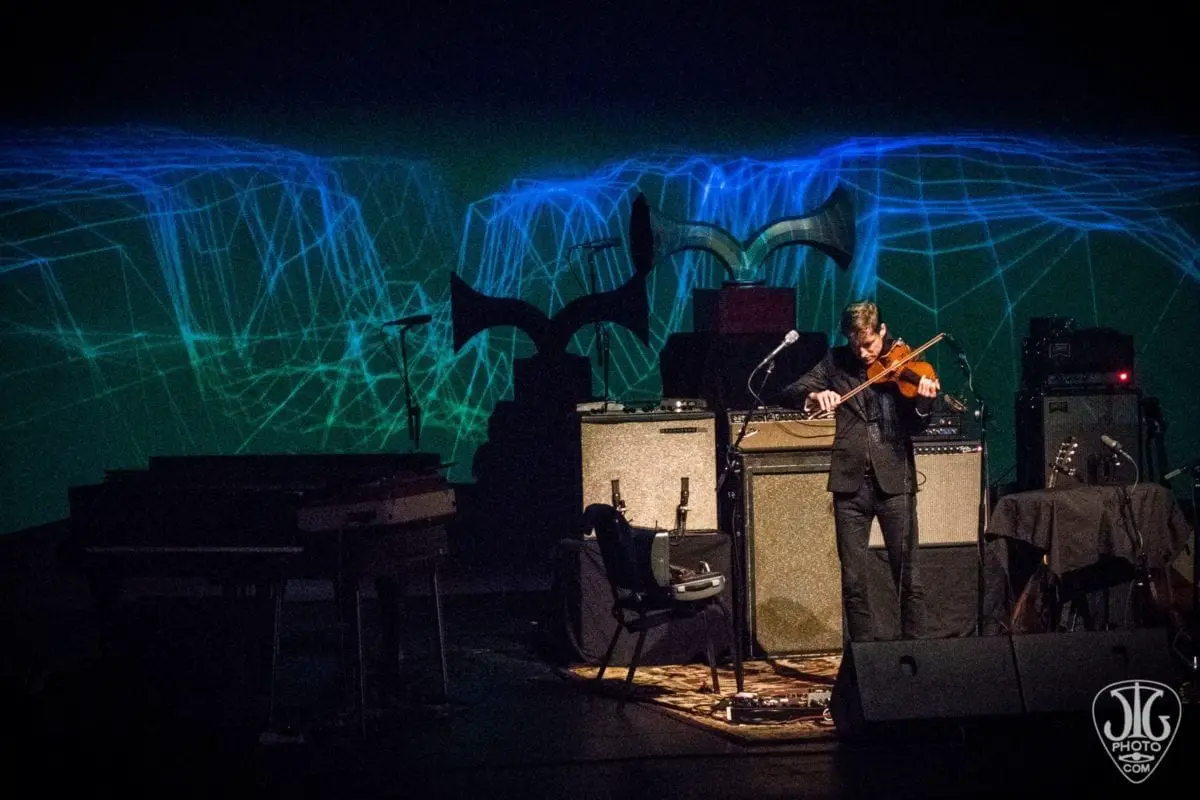 After "working out some frustrations" to the song "Are You Serious," he and the band scaled back to play acoustic tunes with all four musicians circled around one booming mic. The 44-year-old musician collected a group of fantastic artists to play alongside him, as they were able to swap instruments to perfectly compliment each song's energy. Among xylophone solos and a spinning double horn speaker, a fan-favorite treat of the night came in a flawless cover of Neil Young's "Harvest" during a three-song encore.
With acoustics bouncing off the wall and striking internal emotional chords, Monday night's story was illustrated through a perfect amount of sensory creativity and topographical genius for the audience to talk about for the foreseeable future.
Andrew Bird was set to wrap the tour on March 7 at Kingston NY's Ulster Performing Arts Center, but due to an impending storm, it's been rescheduled for Friday, June 22.
Setlist: Intro, Down Under the Hyperion Bridge, Gypsy Moth, Sweep the Field, Nervous Tick Motion of the Head to the, Left, Capsized, Bloodless, Why?, Truth Lies Low, Are You Serious, Roma Fade, My Sisters Tiny hands (Handsome Family Cover), Orpheo Looks Back, Give it Away, By any Means, Three White Horses, Archipelago, Pulaski at Night, Danse Caribe
Encore: Harvest (Neil Young cover), Sisyphus, Weather Systems