It's March and that means it's time for NYS Music's 2018 March Madness, Round 1! We have brought together 64 of New York State's up and coming bands for a friendly tournament-style competition throughout the month of March. Some of these bands you may know, some may be unknown – and that's a good thing! These artists who hail from the Empire State are a sampling of the next generation of artists and come from all corners of the state, from Buffalo to Binghamton, from Plattsburgh to Patchogue and all points in between. Discover your new favorite band and vote for your favorites!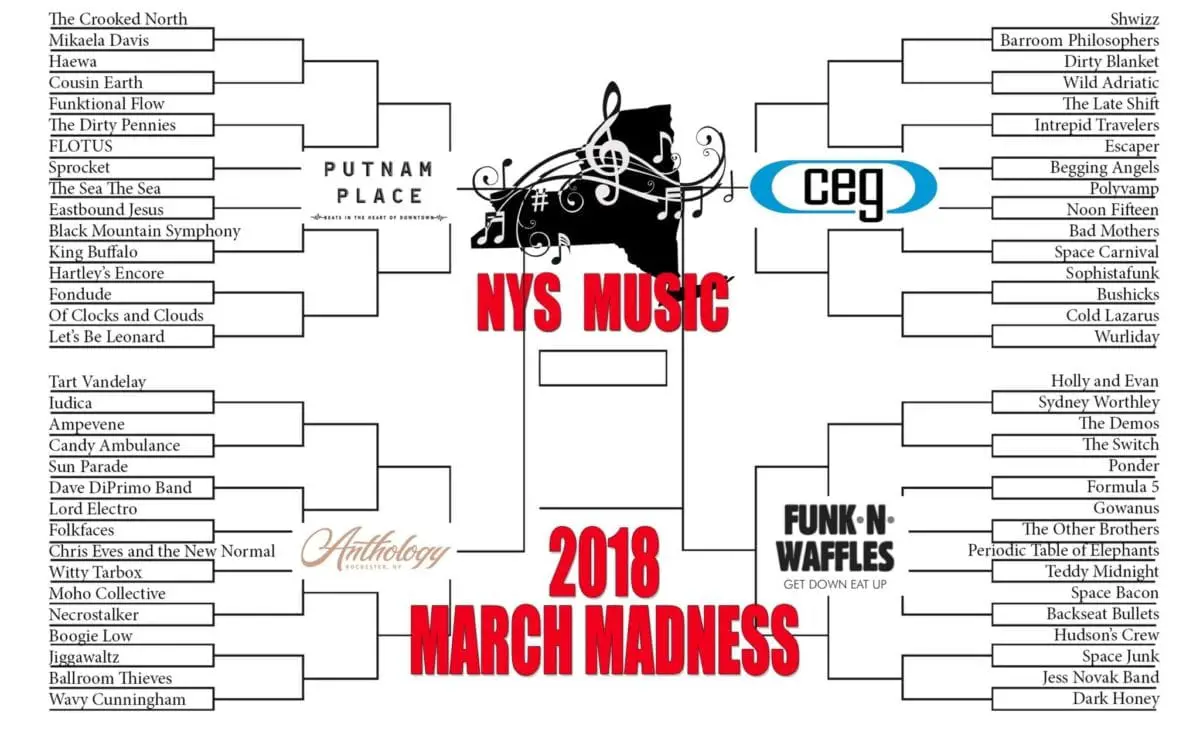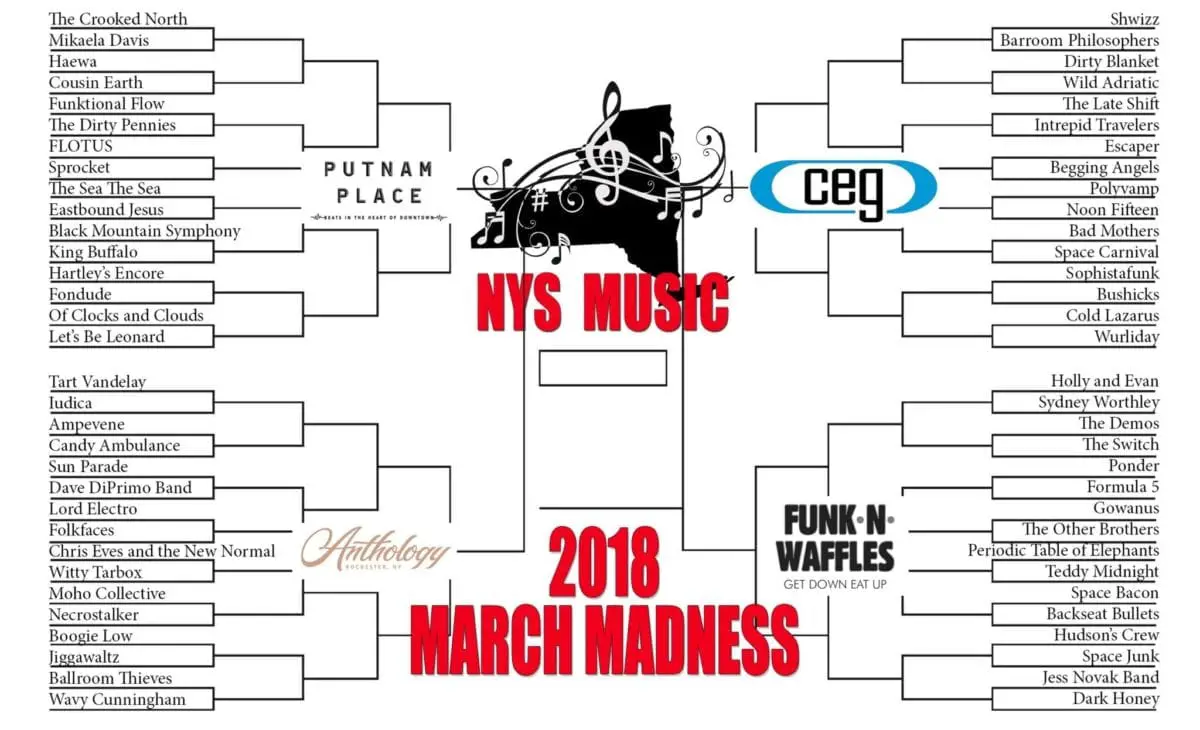 These are 64 bands you might not know about, but should. NYS Music March Madness is a great way to discover a new and upcoming band in your area and show your support and love for bands you see often. We'd like to thank our regional sponsors Putnam Place, Anthology, Funk n Waffles and CEG Presents. These venues and promoters are small businesses and a sample of the backbone of the statewide New York music scene that helps artists grow and reach ever-widening audiences.
Vote now for your favorites and discover some of the great up and coming music that New York State has to offer!
Get to know the 16 artists in the Putnam Place region and vote below
The Crooked North (Americana/bluegrass) vs Mikaela Davis (singer/songwriter)
Haewa (fusion rock) vs Cousin Earth (ukulele rock/folk)
Funktional Flow (jam/rock/funk) vs The Dirty Pennies (indie rock)
FLOTUS (funky rock hop) vs Sprocket (high power technical jam)
The Sea The Sea (indie folk pop) vs Eastbound Jesus (Northern rock)
Black Mountain Symphony (symphonic groove pop) vs King Buffalo (psychedelic rock)
Hartley's Encore (funk/dance) vs Fondude (groove/jam)
Of Clocks and Clouds (psychedelic/electronic rock) vs Let's Be Leonard (jam/jazz fusion)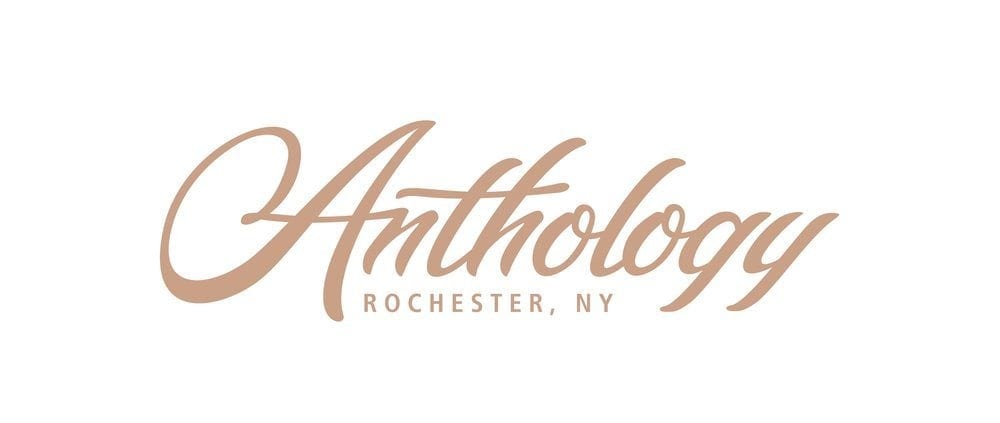 Check out the 16 artists in the Anthology region and vote below
Tart Vandelay (indie pop) vs Iudica (alternative/grunge)
Ampevene (experimental prog rock) vs Candy Ambulance (alternative/grunge)
Sun Parade (grunge power pop) vs Dave DiPrimo Band (alt-folk)
Lord Electro (electronic/house) vs Folkfaces (roots folk/jazz)
Witty Tarbox (indie/surf groove) vs Chris Eves and the New Normal (jam rock)
Moho Collective (creative instrumental) vs Necrostalker (extreme death metal)
Boogie Low (acid rock reggae fusion) vs Jiggawaltz (funk metal)
Ballroom Thieves (alternative rock) vs Wavy Cunningham (New wave hip hop)

Here are the artists in the CEG Presents region. Check them out and vote below
ShwizZ (progressive funk rock) vs Barroom Philosophers (reggae/rock fusion)
Dirty Blanket (bluegrass/newgrass) vs Wild Adriatic (rock n roll)
The Late Shift (rock) vs Intrepid Travelers (funk/jazz/rock)
Escaper (space funk psyche rock) vs Begging Angels (alt-country)
Polyvamp (funk and rock) vs Noon Fifteen (progressive soul)
Bad Mothers (groovy grunge) vs Space Carnival (psychedelic groove rock)
Sophistafunk (funk/hip-hop) vs Bushicks (rock n roll)
Cold Lazarus (reggae jam rock) vs Wurliday (soul funk)

Get to know the 16 artists in the Funk n Waffles region and vote below
Holly and Evan (blues alt-rock) vs Sydney Worthley (pop/folk/rock)
The Demos (indie power pop) vs The Switch (rock/funk/blues)
Ponder (alt rock) vs Formula 5 (jam/rock/fusion)
Gowanus (jazztronica) vs The Other Brothers (soul/funk/R&B)
Teddy Midnight (electro dance funk) vs Periodic Table of Elephants (garage/punk)
Space Bacon (electronic rock jam) vs Backseat Bullets (punk/shoegaze)
Hudson's Crew (alt rock) vs Space Junk (progressive jam trance)
Jess Novak Band (blues/rock/soul) vs Dark Honey (indie pop rock)
First Round voting begins at 10AM EST on Monday, March 5, and closes at midnight on Wednesday, March 7. Second Round begins at 10AM EST on Thursday, March 8 with the remaining 32 artists. Vote now for your favorites and discover some of the great up and coming music that New York State has to offer!