With thousands of artists releasing new music daily thanks to technological advances which allow musicians to record a song and share it with the world in the matter of minutes, performers must be more creative than ever to break through the clutter and establish a name for themselves. Some tour relentlessly to get their name out, a few incorporate jokes or magic into their act to entertain audiences on multiple levels, and others go out and slap a "Magic Pipe" until their fingers bleed. Mike Silverman, or That 1 Guy, happens to do all three, as well as much more. On Thursday, February 28, the one-man traveling circus graced the stage in Buffalo at Mohawk Place for an unforgettable night of music, laughs and wizardry.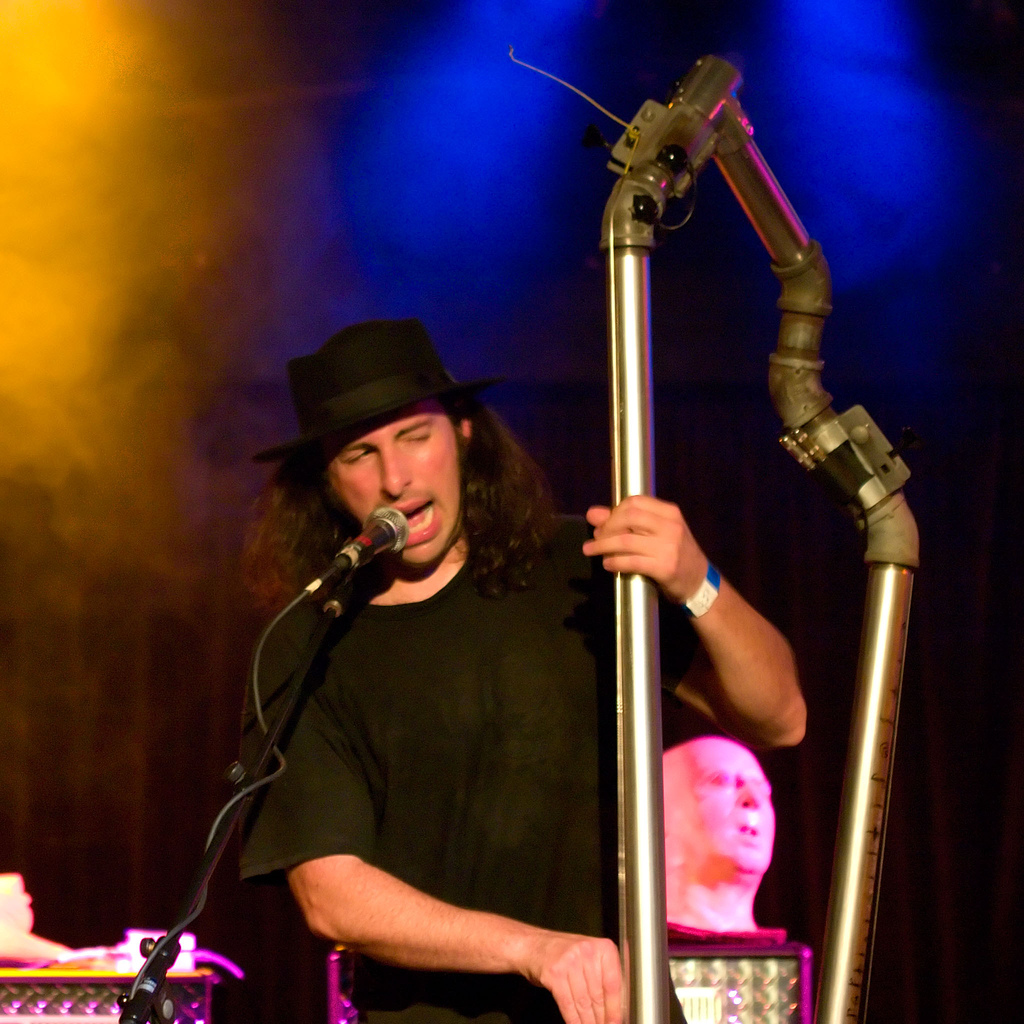 Like most nights with live music at Mohawk Place, the crowd was split between people who had marked their calendars the day the performance was announced and causal music lovers seeking their Thursday night fix. Things were a bit different that night, however, as those who arrived with the intention of winding down after a long day of work to some relaxing tunes were exposed to far more than they bargained for. The imminent weirdness presented itself as soon you made your way to the stage and observed the large, Festivus-esqe, pole standing atop a raised grate in front of three jumbo screens. The large pole Silverman dubs the "Magic Pipe," is a homemade, electronically rigged pair of machined aluminum pipes connected by adjustable phosphorus bronze joints, with each pipe hosting an orchestral bass string.
Waiting for the absolute last possible second to go on before the crowd exploded in anticipation, Silverman hopped on stage, pulled out a double-bass bow, and began playing a hauntingly beautiful melody on the smaller pipe. The instrument's unique tone sounded like a combination of Vivaldi and Pink Floyd, as the screens behind displayed psychedelic images that morphed in unison with each note played. As he hit lower notes, the room trembled with the heavy bass, and audience members could feel spiritually cleansing vibrations run through their chests. The orchestral vibes would not last long, however, as Silverman's bolstering creativity wouldn't allow him to stick with one genre at any point in the night. The world-class street performer quickly shifted gears to an African tribal rhythm as he played around with his numerous foot pedals, combining the infectious rhythm with a top layer of EDM beats and deep, bluesy vocals.
Two songs and the audience had already time traveled around the world and back. The performance oozed with surrealism as Silverman continued his set featuring a duck sock-puppet on one song, a cowboy boot rigged to play like Congo drums on the next, and a whimsical song about a great whale race that took place just before our very eyes to complete the trio.  In between each song the incredibly talented entertainer told jokes, performed magic tricks, and spoke to the crowd as if they were friends in his living room.
Those who had seen That 1 Guy before added another dimension to the performance as they called for specific songs and yelled out phrases that were obvious inside jokes between Silverman and his audience. Aside from his own kooky songs and singing quotes from passive-aggressive Airbnb reviews he received, the renaissance man performer mixed in popular songs from Rush's "Tom Sawyer" to jazz standards, and kept the crowd on their toes with whatever classic rock riffs came to his mind.  That1Guy is the kind of virtuoso musician you'd imagine would be playing the Lincoln Center today if the hippies won (or even fought) the war.
To cap off a wildly entertaining performance, Silverman finished the night with some jazz. He told the audience he saved the jazz songs for the end as an attempt to influence a younger generation to listen to the genre. Once he had everyone buttered up with EDM and rock and roll, he played jazz standards to subconsciously influence a generation of music listeners to seek out a genre that has mostly disappeared from popular music today. When it was all said and done, the set was nearly two hours long, despite it only feeling like a few minutes. From stunning visuals to bizarre compositions you cannot hear anywhere else on the planet, That1Guy is a show all music lovers should seek out immediately. Thankfully, that should not be too difficult as the one-man circus averages an astonishing 150-200 performances a year around North America in an effort to spread joy and weirdness around the continent.