Future Rock & Roll Hall of Famers Sevendust returns, as the band posted on social media that they will hit the road this spring in support of the band's upcoming twelfth studio album, All I See is War. The album will be released on May 11 through Rise Records.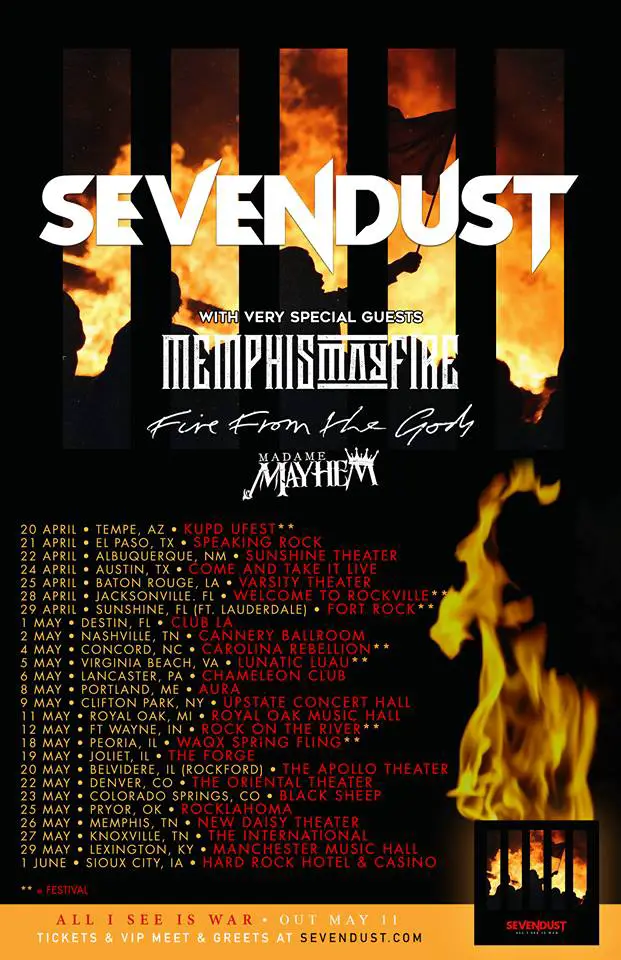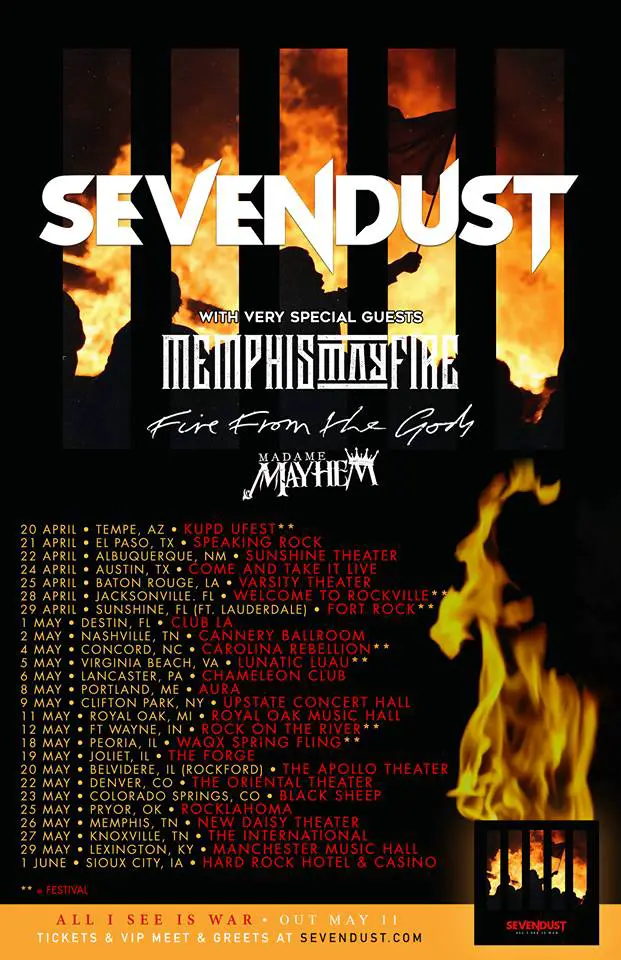 The band's "All I See is War" tour, will mix with several festival appearances Sevendust will make, including Welcome to Rockville, Fort Rock, Carolina Rebellion, Lunatic Luau, Rock on the River, Spring Fling and Rocklahoma.
Kicking things off in Tempe, AZ at UFest on April 20, the tour will see support from Rise label mates Memphis May Fire, and Fire From the Gods. Manhattan-born singer/songwriter Madame Mayhem, will open shows during the run.
New York will have one stop during the band's 26-city run, in what seems to have become a home away from home for the band, at Clifton Park's Upstate Concert Hall on May 9. Tickets go on sale March 2, and cost $20 in advance, and $23 at the door. VIP Packages are also available.
Sevendust formed in Atlanta in 1994. They released twelve studio albums, including their first acoustic effort Time Travelers & Bonfires in 2014. Their music has been featured in several movie soundtracks, television, and video games through several different avenues, including WWE (World Wrestling Entertainment), ATV Offroad Fury, 2001 film Down to Earth, Mortal Kombat soundtrack, and Celebrity Deathmatch.
"All I See Is War" Tour Dates:
April 20 – KUPD Ufest – Tempe, AZ*
April 21 – Speaking Rock – El Paso, TX
April 22 – Sunshine Theater – Albuquerque, NM
April 24 – Come and Take it Live – Austin, TX
April 25 – Varsity Theater – Baton Rouge, LA
April 28 – Welcome to Rockville – Jacksonville, FL*
April 29 – Fort Rock – Sunshine, FL*
May 1 – Club LA – Destin, FL
May 2 – Cannery Ballroom – Nashville, TN
May 4 – Carolina Rebellion – Concord, NC*
May 5 – Lunatic Luau – Virginia Beach, VA*
May 6 – Chameleon Club – Lancaster, PA
May 8 – Aura – Portland, ME
May 9 – Upstate Concert Hall – Clifton Park, NY
May 11 – Royal Oak Music Hall – Royal Oak, MI
May 12 – Rock on the River – Ft. Wayne, IN*
May 18 – WAQX Spring Fling – Peoria, IL*
May 19 – The Forge – Joliet, IL
May 20 – The Apollo Theater – Belvidere, IL [Rockford]
May 22 – The Oriental Theater – Denver, CO
May 23 – Black Sheep – Colorado Springs, CO
May 25 – Rocklahoma – Pryor, OK*
May 26 – New Daisy Theater – Memphis, TN
May 27 – The International – Knoxville, TN
May 29 – Manchester Music Hall – Lexington, KY                                                                                                 June 1 – Hard Rock Hotel & Casino – Sioux City,
* Festival Date,