Dead & Company kicked off their 2017 Fall Tour on Sunday night at Madison Square Garden in Manhattan, NY. This was the first time back to the famous venue since their inaugural Fall tour in 2015. Dead & Company members Bob Weir, Mickey Hart, Bill Kreutzmann, John Mayer, Oteil Burbridge and Jeff Chimenti took the stage shortly after 7 p.m.
With the crowd excited to see what the band was going to open with, they started the night off with a unique "Shakedown Street." Next, Dead & Company finally debuted "Greatest Story Ever Told." The crowd erupted, making it one of the highlights of the night. This was followed by "Bertha," giving John Mayer his first chance to sing. After a jam filled "Cassidy," the band gave birth to the live debut of "Beat It On Down The Line" which was led by Bob Weir.

Following the live debut was "They Love Each Other." Towards the end of the the song, the band had a hiccup. It took them about a minute to figure out where to transition from the end of the song into "Cumberland Blues." Once they were fully into the song, they shook off the cobwebs and went ahead leaving the awkward moment in the dust.
Dead & Company started off the second set with the familiar combo of "China Cat Sunflower">"I Know Your Rider" followed by "Ship of Fools." Next was an electrifying "Terrapin Station," leaving the Rhythm Devils to follow with their regulatory "Drums" > "Space." The second set ended with "Casey Jones" giving the crowd another chance to sing along. With the crowd roaring for more, Dead & Company took the stage for a double encore featuring "Samson and Delilah" and "Werewolves of London" where Mayer and Weir traded verses.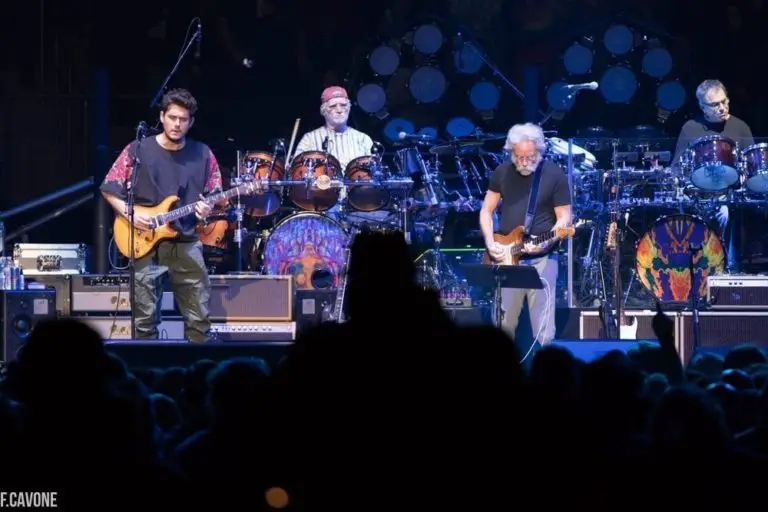 Setlist:
Set 1: Shakedown Street, Greatest Story Ever Told, Bertha, Cassidy, Beat It On Down The Line, They Love Each Other, Cumberland Blues
Set 2: China Cat Sunflower > I Know You Rider, Ship of Fools, Terrapin Station > Drums > Space > Standing on the Moon, The Other One, Casey Jones
Encore: Samson and Delilah, Werewolves of London