Tart Vandelay is as fun and feisty as their name. With bopping beats and catchy choruses, they've been winning the hearts of music lovers in Western NY and beyond with their live shows over the past year. Next month, they'll be playing two sets during Rochester Fringe Festival.
Charismatic couple Katie Halligan and Martin LoFaso started the project while studying at Berklee College of Music, and have since added band members Pete Zamniak on bass and Christopher Dubuc-Penne on drums. Last fall's EP Frontier Pioneer is a zesty little delight. Blending art with inspiration, the collection of songs are the acoustic equivalent of a novella which celebrates the triumph of the human spirit over adversity.
NYS Music met up with Halligan and LoFaso at Village Gate, an eclectic multi-use community in the heart of Rochester's Neighborhood of the Arts. We talked about the joy of making music, and they created a playlist of some of their indie faves.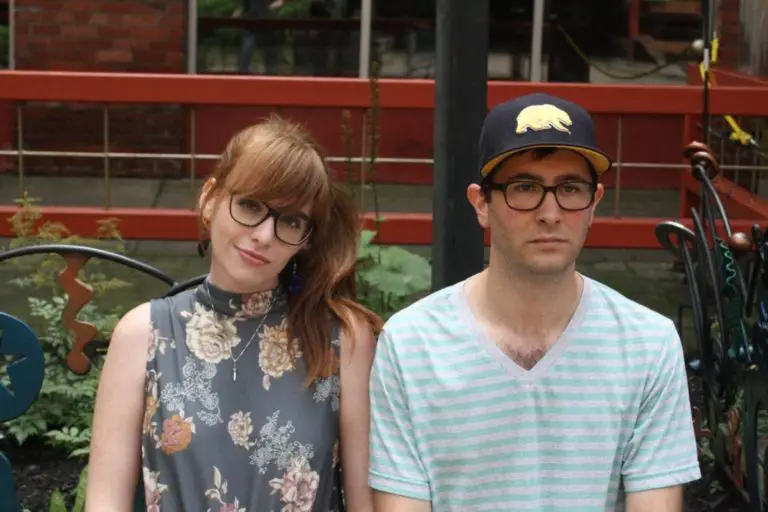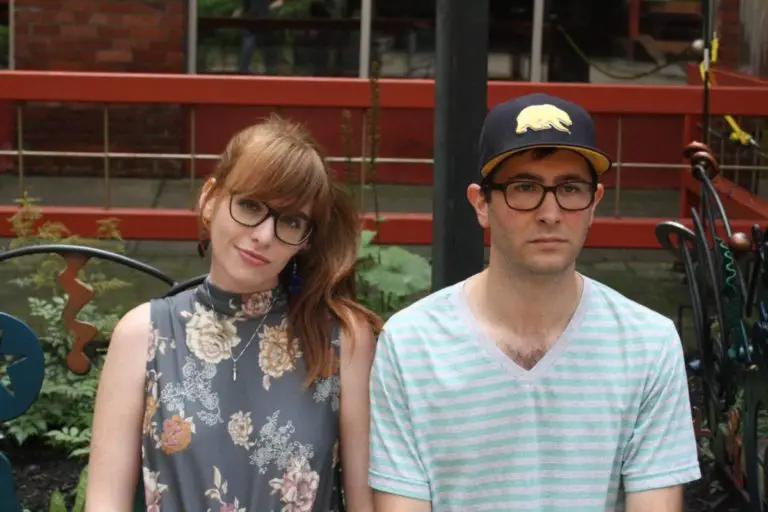 Paula Cummings: The name Tart Vandelay, does everyone get that it's a Seinfeld reference, or are there people who don't?
Martin LoFaso: They either do or they don't. If people are too young or their parents didn't watch Seinfeld, they don't get it. But they still appreciate it, it's still kinda goofy for them, so they still like it. But I was raised on Seinfeld, and I always loved the name Art Vandelay. George is my favorite character. He's the despicable person who stands out in a group of despicable people. Even compared to other despicable people, he's bad. It's just funny to watch and I was always into that name. Luckily, Kate suggested Tart Vandelay.
Katie Halligan: I thought that adding a letter in front of it, and changing it slightly would just make it a fun play on words.
PC: What instruments do you play?
KH:  I sing. I also have a looping station that I use, and I play ukulele and auxiliary percussion – different types of shakers.
PC: When you use the word "sing" you also mean vocalizations, not just words.
KH:  I loop vocal percussion, and then I add harmonies on top of myself to fill out the sound and make it sound like there's a chorus.
ML: You also play bass and keys and sax, but not for the band yet.
KH:  I play a lot of other instruments. The next one I will be incorporating into the live performances is keys, the piano.
ML: In the band, I just play guitar and do backing vocals. I can play other instruments – bass and keys and the drums. She likes being a multi-instrumentalist, and I really like guitars. Any of the writing I do is on guitar. It's just the instrument that speaks to me the most.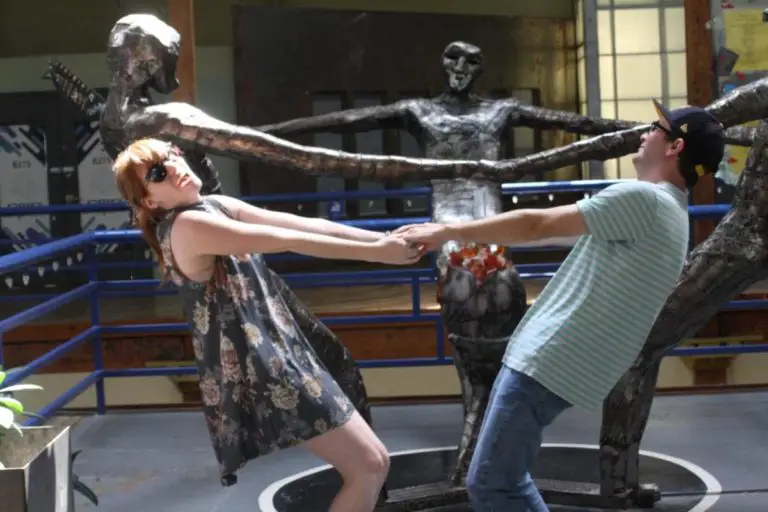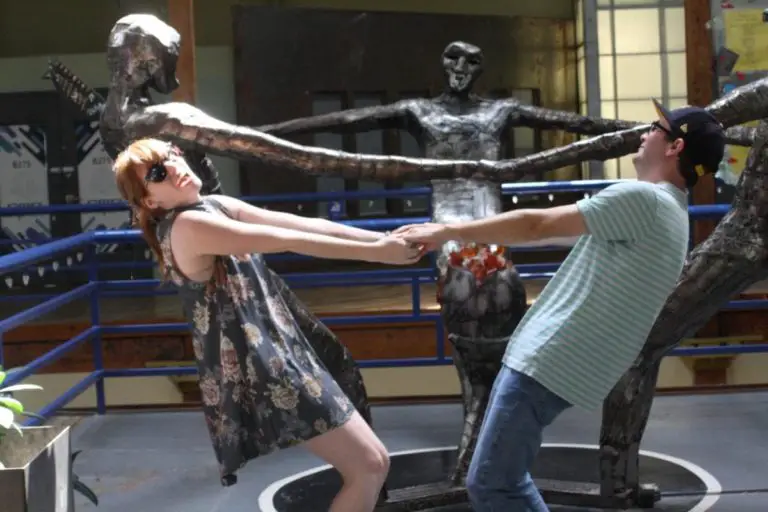 PC: I've seen you on stage, and it looks like you're having so much fun.
ML: I'm glad that comes across. What's interesting about the live show is trying to communicate that feeling. That's what bands are selling. The good ones are selling a specific feeling at a live show, and it changes based on the band. Have you seen our full band?
PC: Not yet. That is one of my questions, the difference between playing as a duo and as a full band.
ML: There's a lot more energy as a full band, but we still try to retain the cheery disposition. Just having fun. But I think a lot of our songs, especially as a duo, become very meditative. I think we still try to retain that with the full band because that's the feeling that we're selling, this sort of transcendence. As opposed to if there was a band that was heavier and wanted to sell more of like an angsty feeling, an aggression feeling. There's nothing wrong – there's no wrong feeling to feel. It's just different bands sell you different feelings. And maybe that's the feeling that we're trying to get across.
KH:  Definitely transcendence, with all our music. Being honest about the human experience. We're trying to translate that on stage. Hopefully people in the audience not only enjoy it, but explore a lot of different feelings.
ML: I think making people cry is the best. Especially if you're going out to a live show. A lot of people have built up defenses about being that vulnerable in public in front of people. I can totally understand that – a room full of strangers watching you bawl your eyes out. But really, we've been able to get through to people like that before just with a song, the message cuts so deep for them. That's the thing, it's just such a deep connection – it's the deepest I think – to create that vulnerability, get people to feel the most raw that they can feel.
KH:  But not always in a sad way.
PC: You have a song "Alien" that speaks to a lot of people about feeling out of place in the world.
KH:  You're taught from when you're young that the nail that sticks out gets hammered. But we really try to embrace that because what else do we have but our differences? It's a beautiful thing. I definitely wrote that pretty autobiographical. I'm glad that it speaks to other people. How could somebody not feel the same way at some point in their life and somehow relate to it? And I like the groove, too. That was one of the songs that wrote itself.
ML: It was the first one you finished.
KH: Yeah, that was the first. The first Tart Vandelay song.
PC: So were you in the dorm room at Berklee when you wrote that?
ML: We had an apartment along the subway line. Yeah, I wrote the guitar part.
KH:  It started as a project he was doing.
ML: That's usually our writing process – I'll get the skeleton as far as the guitar line and bass of the song. Then it goes to her to write lyrics and rearrange.
KH:  If I feel it needs a bridge or something, I send it back to him.
ML: Like Katie said, that one was autobiographical. I think they all are in a way. I think we've made a concerted effort as far as the writing itself. If we're really after something that's universal to the human condition and at the root of something that everyone is able to go through, then it should resonate even if it comes from an individual standpoint. The universal timeless things we all go through, existential questions and stuff like that. We don't have to write for other people. We write for other people by writing for ourselves. It's just a matter of getting people to surrender, to go to the feelings that deep.
PC: You have some creative pursuits outside of music as well?
KH:  Right now, I'm a professional henna artist. Also, in my spare time I enjoy drawing and painting.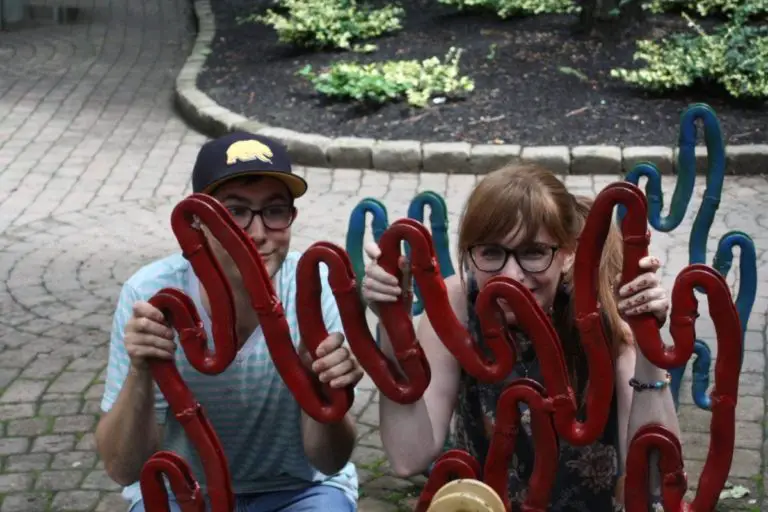 PC: What do you like to listen to?
ML: This year in September will be the 20th anniversary of my favorite album. It's called Dots and Loops by the band Stereolab. I can appreciate their music, but I really only listen to that album. Some of our other favorite bands are Wilco…
KH:  My Morning Jacket-
ML: Grizzly Bear, St. Vincent-
KH:  White Denim, Dirty Projectors. We've been compared to Dirty Projectors.
ML: Tune-Yards.
PC: How do you like to listen to music?
KH:  Usually in the car, because we're always on our way to someplace else.
ML: I've been using Spotify. I have mixed emotions about Spotify. As a consumer, it's just so easy.
PC: And easy to curate playlists.
ML: Which is mostly what I do, make a bunch of playlists.
KH:  It's mostly through Spotify that we listen to stuff. Sometimes we still use CD's and mix tapes that we've made.
ML: Sometimes radio. Rochester has amazing radio stations. Both WRUR and WITR are great. 95.1 WAYO is great. WBER is an institution. Both of our jazz stations. We listen to local radio in Rochester, but if there's nothing on at the moment that I like, I'll go back to Spotify.
PC: If you made a playlist right now, which songs would you include?
ML: I would grab maybe the song "Diagonals" from Stereolab.
KH:  I would grab "Touch Me I'm Going to Scream, Part 2" by My Morning Jacket.
ML: That one's great. I've been really digging Wilco's album they put out last year. It's called Schmilco. It's pretty low key and acoustic. I would probably put "If I Ever Was a Child" on that.
KH:  My next song would be "Huey Newton" by St. Vincent.
ML: "Unto Ceasar" by Dirty Projectors.
KH: I just thought of one. We didn't mention the band earlier, but the song, I love it so much. "Great Curve" by Talking Heads. I love Talking Heads.
PC: What would you name this playlist?
ML: We might call it something like "Summer Slummer." We usually aim for cheesy puns when naming things. More fun that way.
PC: Let's talk about Fringe Fest. You will be playing at Java's. Have you played there before?
KH:  No, this will be our first time playing there. We love going there, so it will be nice to play there. I think our music always translates well in a coffee shop setting. Especially because Java's is artsy and perfect for Fringe Fest.
You can Tart Vandelay on the "Summer Slummer '17" playlist on Spotify, and the EP Frontier Pioneer on Bandcamp.
Tart Vandelay will perform as a duo at Java's Cafe in Rochester on Sunday, September 17 at 5 pm and Thursday, September 21 at 9 pm as part of Rochester Fringe Festival. Both shows are free and open to the public. Attendees are encouraged to arrive early for seating/standing room.
They also have upcoming shows at Butapub in Rochester on August 5 and The Daily Planet in Buffalo on August 11. Follow Tart Vandelay on Facebook for updates.