Phish is doing something unprecedented at Madison Square Garden. They're in the midst of a 13 show residency that is more than your average run of shows. This isn't just a residency: it's a historic Rock 'n' Roll experience that is falling under the radar as Phish often does. But what they're doing deserves attention from music fans of all ranges.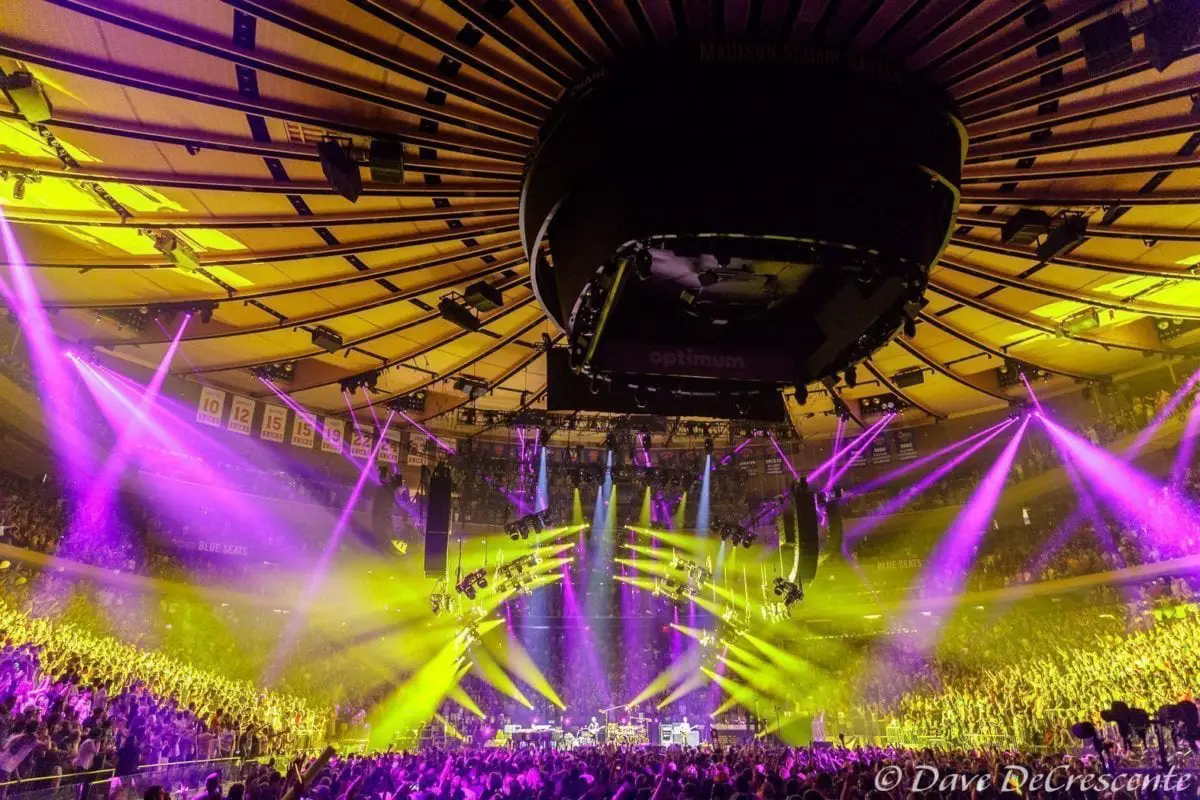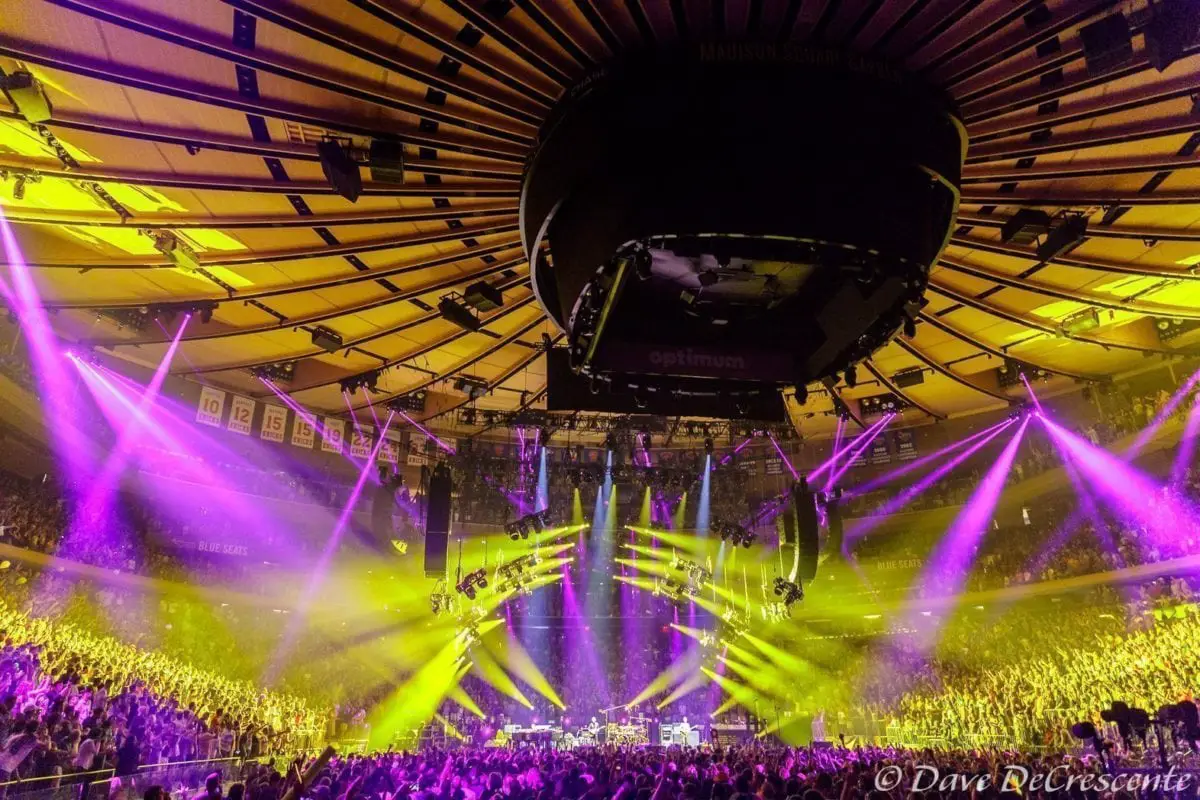 With this 'Baker's Dozen' residency, Phish will have performed 53 times at The Garden in their career, dating back to 1994. As of Sunday, they will only be behind Elton John and Billy Joel for most times played at MSG. The band has played New York State more than any other state in the country, with a large chunk of their shows now in one building. The national media have been taking notice and giving credit where it is due to the band.
After 8 nights of shows since July 21, Phish has performed 141 different songs, debuted 11 covers and originals, played 9 20 minute+ jams and have left the audience wanting more. The final 3 nights of the run coming up this weekend have become a ticket as sought after as New Year's Eve at The Garden, if not more so. The energy at the shows emanates through the bars and music venues that Phish fans populate daily before and after each show, building a beautiful buzz that grows each time Phish takes the stage. In short, Phish is doing something few rock bands can do during a residency of this nature, let alone play 13 shows at one venue, not get the slightest bit rusty and improve as the run progresses.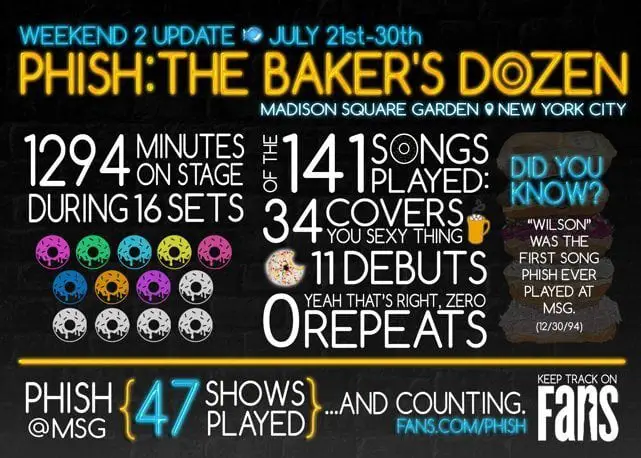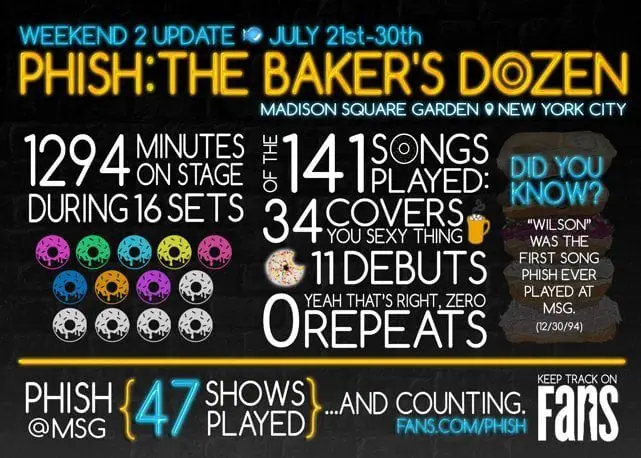 The Themes
Each night, donuts that are handed out for free, courtesy of Philadelphia's Federal Donuts, and the donut flavor is reflected in the setlist each night. On Velvet donut night, two Velvet Underground songs were played, "Sunday Morning" and "Sweet Jane." On Strawberry donut night, "Strawberry Fields Forever" and "Strawberry Letter 23" were debuted. On Chocolate donut night, "Chocolate Rain," and on Powder donut night, Neil Young's "Powderfinger" debuted, to the laughter (chocolate) and awe (powder) of the crowd. With so many flavors of donuts, fans are anticipating song selections while avoiding the predictability that Phish eschews. With Maple Glazed donuts on Night 9 of the residency, fans wonder if they can expect "Maple Leaf Rag" by Scott Joplin and how that will play into the band's themed set for the night. Keeping the theme of the run going each night, not just with physical donuts but music to accompany them, the band is giving their fans a treat in more ways than one.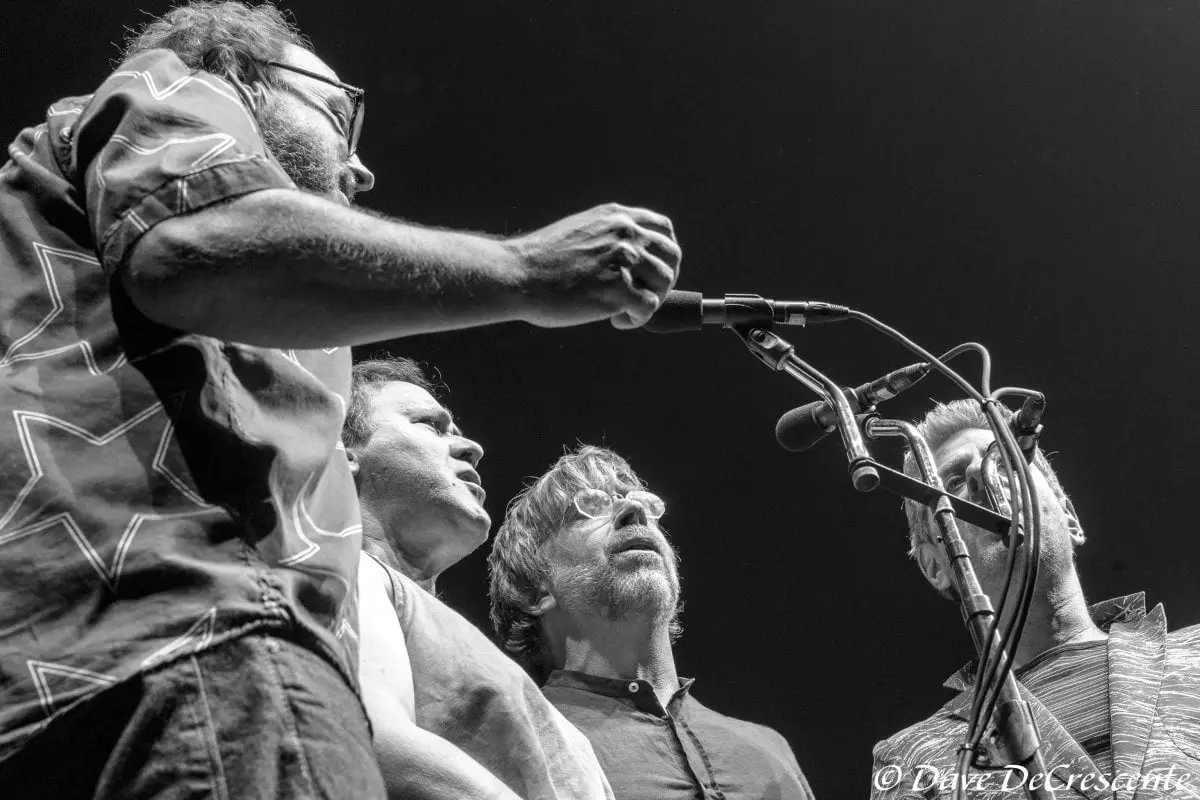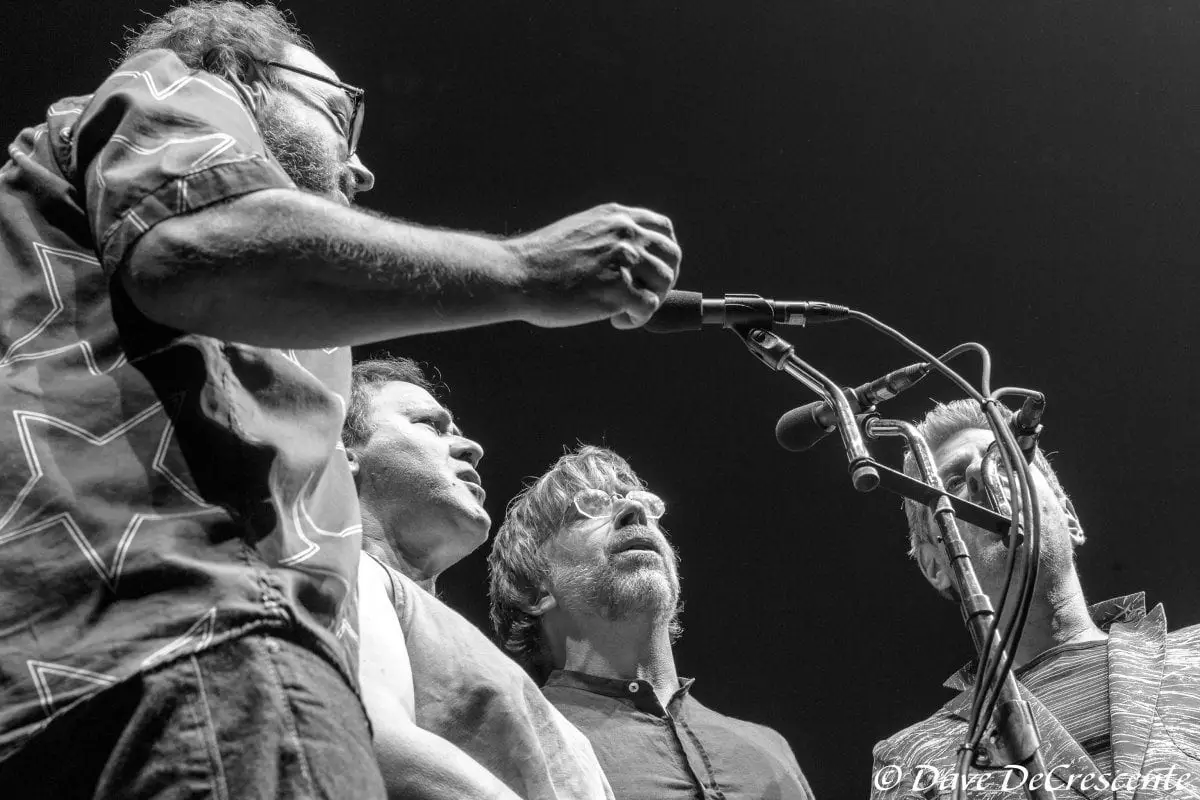 The Jams
All time jams have been performed by Phish at MSG before, but during the residency, this has not been your typical jamming. We're talking hallmark jams that can stand the test of time. The typically 3-4 minute lounge lizard "Lawn Boy" was performed for 30 minutes on July 25, and in the second set that night, Talking Heads "Crosseyed and Painless" hit the 33-minute mark. Upon listening back to these jams, you don't notice time passing as the jams continue to build and escape the noodly uncertainty that improvisation can lend itself to. Versions of "Chalkdust Torture" (24 minutes), "Down With Disease" (20 minutes), "Fuego" (20 minutes), "Blaze On" (23 minutes), "Drowned" and "A Song I Heard the Ocean Sing" (40 minutes combined) as well as "Tube" (15 minutes) are just a some of the standouts in the first 8 shows. Phish is jamming on typical jam vehicles and non-traditional songs as well, keeping the audience on their toes. Expecting the unexpected is part of the Phish experience, but that has never been truer than during The Baker's Dozen.
Debuts
Phish has debuted originals from side projects, seemingly as part of the effort not to repeat any songs during the run. The Trey Anastasio Band song "Mr. Completely" returned for the second time this year and only third version since 2003, while Mike Gordon Band's "Waking up Dead" appeared on July 30 to the surprise and delight of fans. The Story of the Ghost closing track "End of Session," was performed for the first time ever on Jam-filled donut night. Digging into their side projects and giving them the Phish treatment rarely turns out to be less than impressive, as the new twist reintroduces the songs to fans. You can expect more tunes from side projects to appear as the band (unofficially) attempts to deliver on a no-repeat run of shows.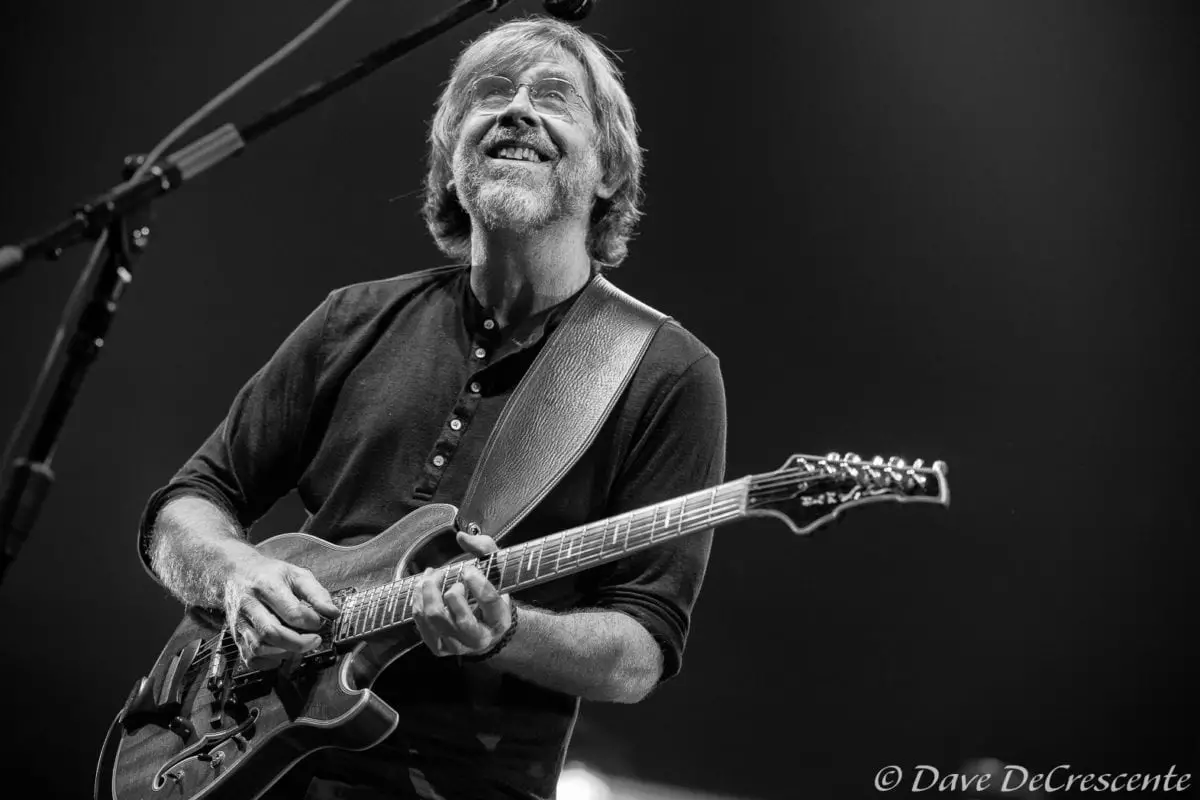 The Covers
Name a classic rock artist and Phish has covered them this run. The Beatles. Velvet Underground. David Bowie. Led Zeppelin. Neil Young. The Who. Ween. Talking Heads. Then add in some funk via Prince, Hot Chocolate, and Deodato, with Tay Zonday and Fleet Foxes catching fans off guard on separate nights with acapella renditions of their originals. The list will continue to expand as Phish stretches well out of their comfort zone and surprises fans with a dose of something out of left field.
No Repeats
As of Sunday night, Phish has performed more than 140 unique songs with 5 nights to go. The band is on pace for close to 230 total unique songs by the end, without a single song repeated. There is no band performing today with a catalog that deep who could perform at this level for 13 shows over 17 days.
You may or may not be a Phish fan, but the musical history being written inside Madison Square Garden is worth paying attention to as the run comes to a close this week.