With 2017 underway we already have seen so many great releases in the metal world. We had Kreator's Gods of Violence, Obituary's self-titled album, and even Overkill with their thrashing hit The Grinding Wheel. Now it is time for perhaps the most anticipated sludge and progressive metal album this year. If you are a fan of those genres then you know exactly which album I am speaking of! Mastodon's seventh studio album Emperor of Sand released March 31 has given many people a metalgasm! Might need to clean yourself up after checking out this album review.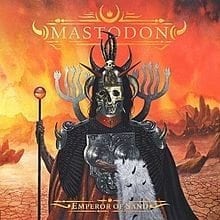 Emperor of Sand (released via Reprise records) is a follow up from the band's 2014 hit Once Around The Sun (released via Reprise). This album has started an uproar since it was teased with such singles like "Sultan's Curse" and "Show Yourself." As the clock hit midnight and my phone notified me it was ready to be viewed on Google Play Music, damn skippy I played it as soon it was ready for my puny mortal ears to binge on. The album continues the progression the band has been going with for sometime with more audible vocals approach and a more lean guitar sound. It has created a great energy of soothing jams like "Show Yourself" and "Steambreather" taking center stage for this formula in perfect harmony. The combination of Brent Hinds and Bill Kelliher's vocals really shows the band's strong suit making catchy song structures while keeping the skilled technical foundation strong. This album is perfect for those who enjoy bands like Red Fang and Baronness. American sludge progressive metal bands like these are slowly taking over the metal scene once again.
Sure the album may have some mellow songs, but these guys still know how to get some sweet aggressive playing going on. "Clandestiny" is the dose of heavy sludge that the doctor ordered! With the great drumming work of Brann Dailer and the bass playing from Troy Sanders it is one solid heavy sludge tune. It is for the fans that need some progressive in their life mixed with some heavy licks to get them stoned or drunk. Hey perfect tune to try to drink the Mastodon beer to! Cheers! This album is pure awesome with a side of bad ass and it will quickly climb to the top of the metal charts and hard rock. It would not shock me if it becomes the number one release in it's genre. I will put money on that! You can say all you want about the boys, but they will always remain a steamroller force of pure genius!
This album gets a solid 5 out of 5 from Black Metal Steve. Go buy the album from your local record store or from the band's website.
Key Tracks: Show Yourself, Sultan's Curse, Steambreather