Swedish rock band Ghost has announced dates for Imperatour, a trek across North America that features Atlanta metal band Mastodon as a special guest.
The tour, which is in promotion of their fifth album released in March, Impera, begins August 26 in San Diego and finishes September 23 in Green Bay, WI. This includes a stop at Belmont Park's UBS Arena in Elmont, NY on September 10.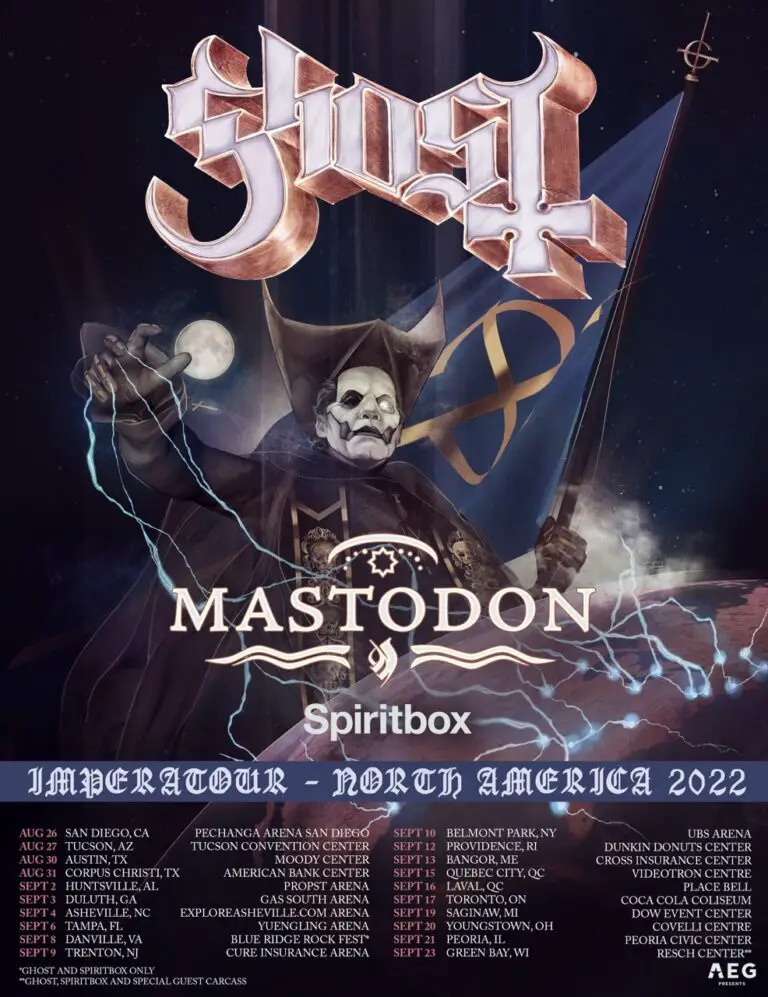 Information regarding tour dates and tickets can be found on Ghost's website.
Produced by Klas Åhlund and mixed by Andy Wallace, Impera's subject matter focuses on the fall of empires. Upon release it swept album charts internationally, debuting at number one in five different countries including Sweden and coming in at number two in the U.S.
Singles from the record also found commercial success, with "Call Me Little Sunshine" and "Hunter's Moon" both hitting number one on Billboard's Mainstream Rock Airplay chart.
Mastodon has had recent success of their own as well. Their ninth album Hushed and Grim, released in October 2021, debuted at number one on Billboard's Hard Rock Albums chart and number 20 on the Billboard 200.
Ghost Imperatour Tour Dates:
Fri Aug 26 – San Diego, CA – Pechanga Arena San Diego
Sat Aug 27 – Tucson, AZ – Tucson Convention Center Arena
Tue Aug 30 – Austin, TX – Moody Center
Wed Aug 31 – Corpus Christi, TX – American Bank Center Arena
Fri Sep 2 – Huntsville, AL – Von Braun Center's Propst Arena
Sat Sep 3 – Duluth, GA – Gas South Arena
Sun Sep 4 – Asheville, NC – ExploreAsheville.com Arena
Tue Sep 6 – Tampa, FL – Yuengling Arena
Thu Sep 8 – Danville, VA – BLUE RIDGE ROCK FEST*
Fri Sep 9 – Trenton, NJ – CURE Insurance Arena
Sat Sep 10 – Belmont Park, NY – UBS Arena
Mon Sep 12 – Providence, RI – Dunkin Donuts Center
Tue Sep 13 – Bangor, ME – Cross Insurance Center
Thu Sep 15 – Quebec City, QC – Videotron Centre
Fri Sep 16 – Laval, QC – Place Bell
Sat Sep 17 – Toronto, ON – Coca Cola Coliseum
Mon Sep 19 – Saginaw, MI – Dow Event Center
Tue Sep 20 – Youngstown, OH – Covelli Centre
Wed Sep 21 – Peoria, IL – Peoria Civic Center Arena
Fri Sep 23 – Green Bay, WI – Resch Center** 
*Ghost and Spiritbox only **Ghost, Spiritbox and special guest Carcass