Holly Bowling is back on the road in March and after hitting Syracuse this week, she heads to a little known venue The Whisper Dome on Friday, March 24. The venue is a unique round room, perfect for jazz performances, and Bowling is excited to revisit the Capital Region as she does quite frequently, bringing with her classical reimaginings of the music of Phish and the Dead. Bowling chatted with NYS Music recently about the integration of Grateful Dead music into her setlists, performing with Everyone Orchestra and the musical handshakes that resulted.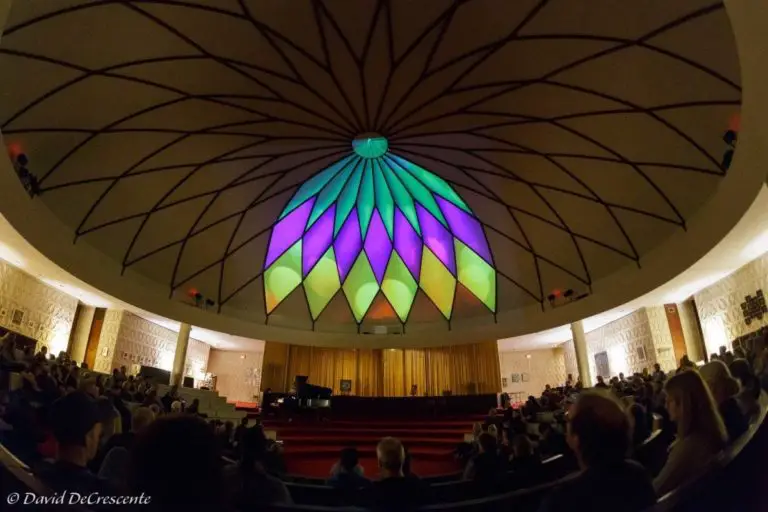 Pete Mason: How has integration of the music of the Grateful Dead and Phish changed since you began integrating the two and since you released Better Left Unsung.
Holly Bowling: The setlists have gotten a little more Dead heavy. When I introduced Grateful Dead songs, the album wasn't out yet, and it worked itself into the setlists gradually. The Dead have such a deep and extensive catalog and I continued to dig into that and add things to my repertoire. In general, the shift from playing all Phish and then Phish and The Dead together has opened up a whole new arc to each show and each set. As you know, as much as the two bands get compared to each other and lumped together, the music in truth is really, really different. There are some really touching and beautiful songs in the Dead catalog, and if you juxtapose a Dead song between a Phish song, you have to ease into each song in order to cover more stylistic ground in each show and make room for improvisation and bridging the space between the two bands and the place the music takes you.
The other change is that adding in the Dead's music, I've noticed the chord progressions are beautiful but they're not incredibly complex. Some of those have been the hardest ones to work on. Having that in my catalog and adding into sets has taught me the importance of leaving space. Some songs in the Dead's catalog are truly emotional for me – "Stella Blue," "Wharf Rat," stuff like that. There can be these delicate, very emotional moments and you can't fill up all the space there. I'm really enjoying the variety that is coming with working with these catalogs both at once. It gives the shows more of an ebb and flow and opens the door for a good arc or storyline in each set. I try to put the sets together with a particular shape to it and you end up having more tools to work with in that way. There is still a balance between the two. I love the bands both very deeply.
PM: In addition to your solo shows, you have been playing with the likes of Joe Marcinek Band and Everyone Orchestra.
HB: I just played two shows with Everyone Orchestra in Charleston, SC and Asheville, NC. We played a bunch of Dead music together with Oteil Burbridge on bass (Dead and Company), Ian Neville on guitar (Dumpstaphunk), Natalie Cressman (TAB), Claude Coleman Jr. on drums (Ween), Wallace Mullinax (Dead 27's), Mike Quinn, and Jeff Mosier on banjo (Blueground Undergrass), and we did an afternoon set called Everyone's Dead with Matt Butler on drums, Anders Osborne, Oteil and myself. It was a great experience all around.
PM: How have those experiences with Everyone Orchestra challenged you and affected your playing?
HB: It feels natural. I hadn't played with anyone in that lineup before. Matt will write a theme on his dry erase board and sometimes one specific instrument gets to lead a tune and make up the theme with Matt's suggestion. To play a theme and meet these musicians through a musical handshake allows you to get to know people through performance, you start to hear everyone's voice come through. Whoever starts out the song, you find out 'This is your style, your voice' and we find out what we sound like together. Then you hear their voice and you figure out how to add to it or complement it.
The other things that was really cool about it is that no one is ever announcing what they're going to do next, the most you can do is telegraph a chord change in a certain progression; if everyone moves to the 5, you know you'll move back to the 1. It's kind of a surrender, and instead of a group think and do the same move at the same time, if one person decides to go off in one direction, the group moves in that way. It's different when you have a conductor and they're at the controls of going to the B section. It's unique and with someone calling the shots and conceptualizing where you want the show to go is a very different experience and it was really cool.
PM: How did you come across The Whisper Dome?
HB: We are always looking for piano rooms and also looking for unconventional spaces for a show. This happened in Portland at The Old Church and people walked out having never heard of the place and wanting to return. I like venturing outside the usual circuit of rooms that get played within our music scene. The style of music, by necessity, is a hybrid of different sounds so playing in jazz clubs, churches, clubs is reflects the variety of music. I think we found a picture of The Whisper Dome online from a jazz series they help and being called the Whisper Dome, it intrigued me. I think it's good to change it up and give people an opportunity to have this grounding experience in a real quiet space can be really cool. Spaces like The Whisper Dome and really conducive to that kind of environment and listening atmosphere.
PM: Todd Stoops (RAQ and Electric Beethoven) recently moved to the West coast and your hilarious airplane photo rivalry…
HB: We're gonna open an airline together. It'll be expensive though, one customer per plane. (laughs)
PM: Do you see yourself performing more with Todd now that he's out west?
HB: I feel like piano players don't get to play together very often – sometimes there are two guitars in a band but rarely double keys. There's an amazing movie Piano Players Rarely Ever Play Together that I highly recommend watching. It's got Tuts Washington, Allen Toussaint, and Professor Longhair. You gotta check it out! But I digress. I'd love to play with Todd. Actually, I have side by side pianos in my living room currently – Todd, if you're reading this, come over and play one of 'em! Double piano jams!
Tickets are on sale now for Friday's show at The Whisper Dome.