There is nothing like experiencing music in its original form and in its original setting first hand.  Whether it's Johnny Cash or Patsy Cline at the Ryman Theater, Peter Gabriele at The Roxy, the Beatles at Shea Stadium or Simon and Garfunkel in Central Park, seeing and feeling it live in the moment far exceeds anything you can possibly hear through a recording.
A fan of Celtic music, it has been a lifelong dream for this music photojournalist to be able to take the trek to Ireland one day and experience the music scene first hand. After all, the traditional Celtic sound is a cornerstone to my beloved bluegrass and country music which I tend to gravitate towards back here in the states.  When the opportunity came to travel together with my good friends and musicians, The Elders and The Moxie Strings, as they took their annual trip with family and friends, I jumped at the chance.  Working together with these bands for years now, it was the perfect introduction to Ireland.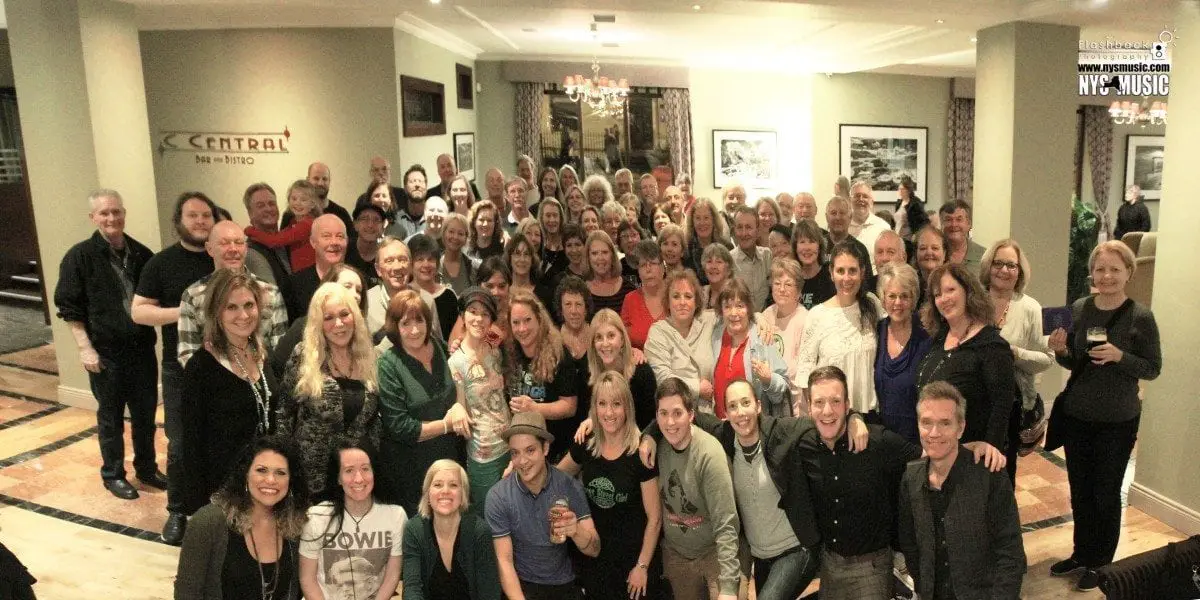 For those who may not be familiar with them, The Elders are a Celtic rock band based out of Kansas City, MO who constantly set the bar higher with the quality of music on each album they write and produce. The Moxies, who hail from Michigan, blend an edgy sound to your traditional strings and percussion, growing a new generation of musicians and Celtic music lovers.  These two bands meld together perfectly and offer a rock and bluegrass edge to the regular traditional Celtic sound.  Amassing fans all over America, it's never difficult for them to fill a few buses to take the journey annually. So off I went.
Hopping the pond, we made our way across the country, stopping to play in the cities of Sligo, Galway, Cork, Arklow and Dublin. At the first stop in Sligo, the bands took to the stage at 5th on Teeling, a small local pub that usually began hopping later in the evening.  They had no issues filling the venue quickly with the fans from America and those locals that made their way in from the streets as the music filtered out,  luring them inside. After a riveting set from both bands, the bar was set high to achieve a more electric set as they continued on their tour.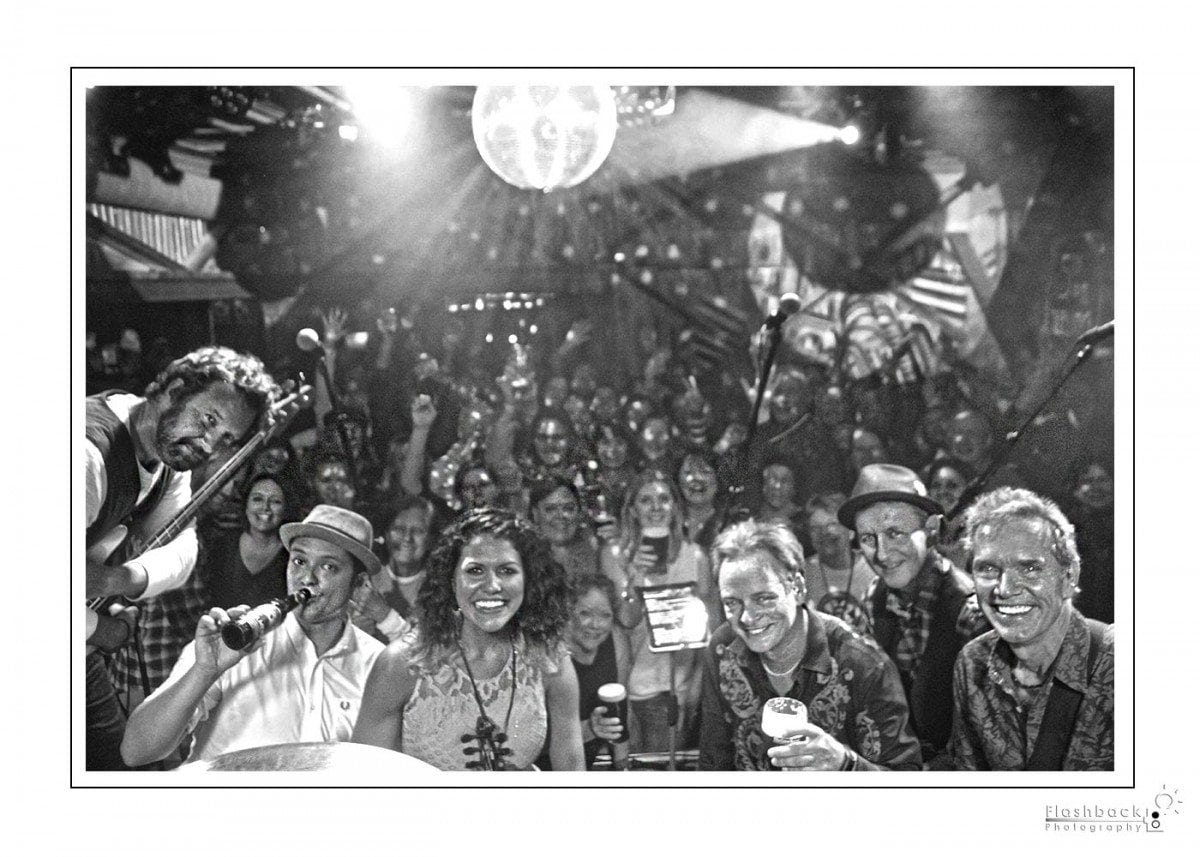 As we began to make our way south, next on the map was the bustling city of Galway where the bands were scheduled to perform at the amazing Quays the following night, located in the heart of the city. As we arrived in Galway, we set out to explore the area and happened into a small pub called the  Tig Cóilí which was only a few doors down from The Quays.  Best known for it's Traditional Irish Session, musicians and patrons often crowd this pub to partake in ongoing music sessions.  Finding a spot in the front window amongst the other musicians, they join in and play whatever tune is being played at that moment. As quietly as they arrive, they depart when they need to go while not disrupting the sound in the least.  This introduction to a true Irish session was refreshing and special as that is what music is all about – the blending of talents and sounds to make the tune.  Although this was only my first session, it would be a foreshadowing of what I was to experience as the trip unfolded.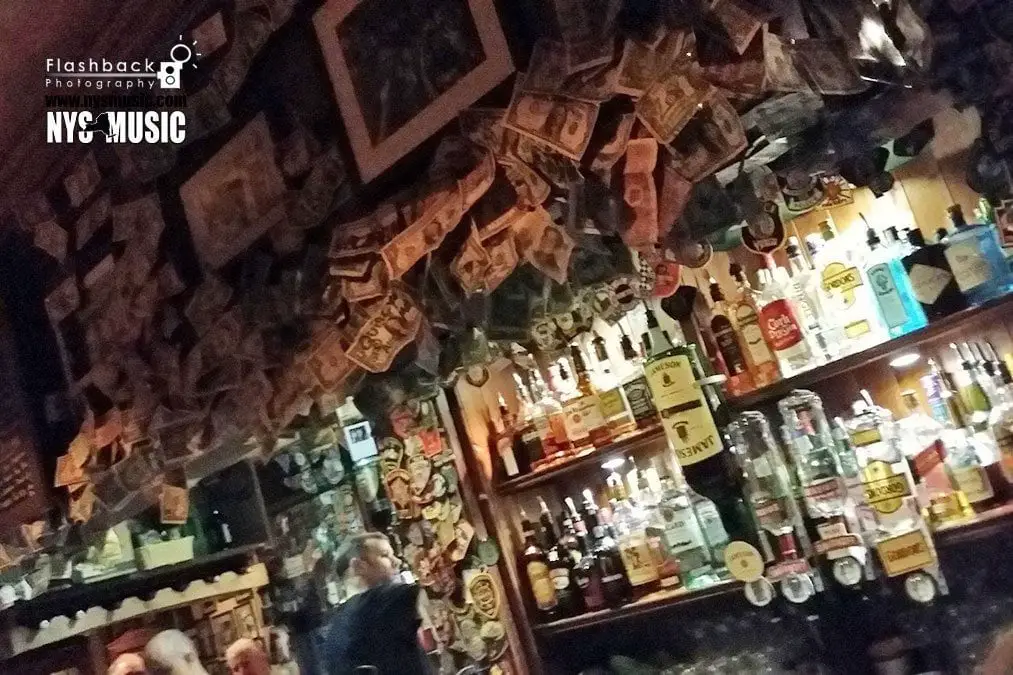 As the sunrise came up, our troops dispersed on adventures to many a site within the area, however, they later came back together to The Quays that evening for what was a memorable night of music.  This venue, one of many in and amongst the pedestrian walkway, adjacent to Eyre Square (aka John F. Kennedy Memorial Park), offered passers by a unique experience inside.  Whether it was the sights and touches of the venue, the smells and tastes of delicious food and beverages being served or sounds coming from this venue, The Quays offered patrons something to tantalize each of their senses.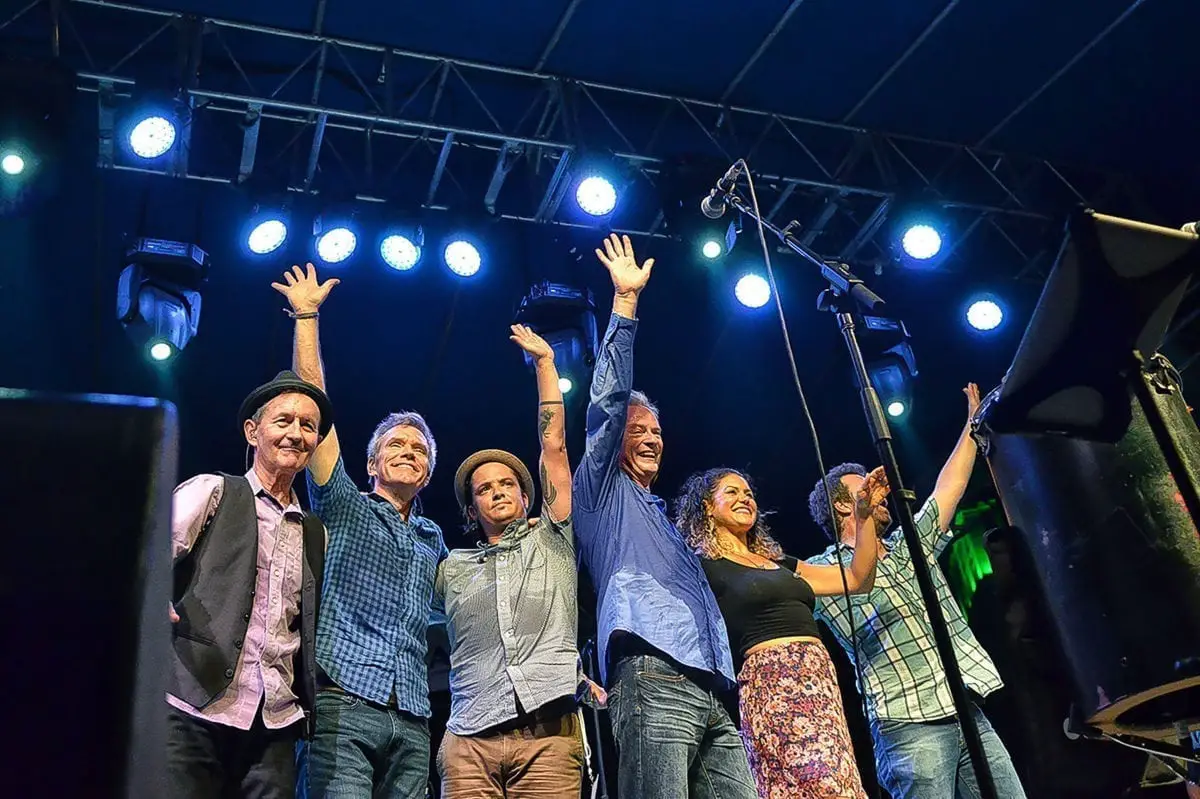 This, hands down, was the coolest venue the bands had an opportunity to play in my opinion.  The stage, set on three alternating tiers, offered a backdrop of old organ pipes and stained glass that had one time been in a French church.  Filled to the brim with American tour mates and college students that seemed to overtake the area on this evening, The Elders and Moxies were once again able to top the performances of the previous gig. Whether it was the Moxie's rendition of Ah Ha's "Take On Me" or The Elders singing my favorites,  "Galway Girl" and then closing with "Message In A Bottle", they definitely left their mark on this city.
As we set on to the next stop on our journey, the city of Cork, it seemed almost impossible to live up to the prior shows as they began their set at Cyprus Avenue.  Another cool city with a bustling night life, it was a shame that this venue rushed us in and out as they had a tech show immediately following our sets. Being rushed and poorly lit to boot, this venue was not one of my favorites but of course, in true Elders/Moxie fashion, they put on a show that made those awaiting outside wish they had arrived earlier to enjoy their set as well. It didn't go unnoticed that while we Americans were there craving everything Celtic, they were there craving everything American. Karmic as it was, it was also here that we welcomed our new friend, a student from Buffalo studying abroad, as she started her first night working at the venue. Go n-éirí an t-ádh leat! Amber.
The following day we embarked to Arklow, hometown of Ian Byrne, lead singer of The Elders, which is located in the eastern part of the country and within the county of Wicklow. These two days in Arklow were my most favorite for several reasons.  First, the area was absolutely beautiful.  It was as though the Adirondacks of NY and all the best of Ireland merged to become this beautiful lush region with rolling green hills, mountains, waterways and oceanfront.  It truly felt like home to me and the welcome we were given was heartwarming and most meaningful.  Secondly, surrounded by family and friends who welcomed us as though they had known us for years, we all gathered that first evening to the Harbour Bar in Arklow to a small room above the pub where we were met by some amazing local musicians.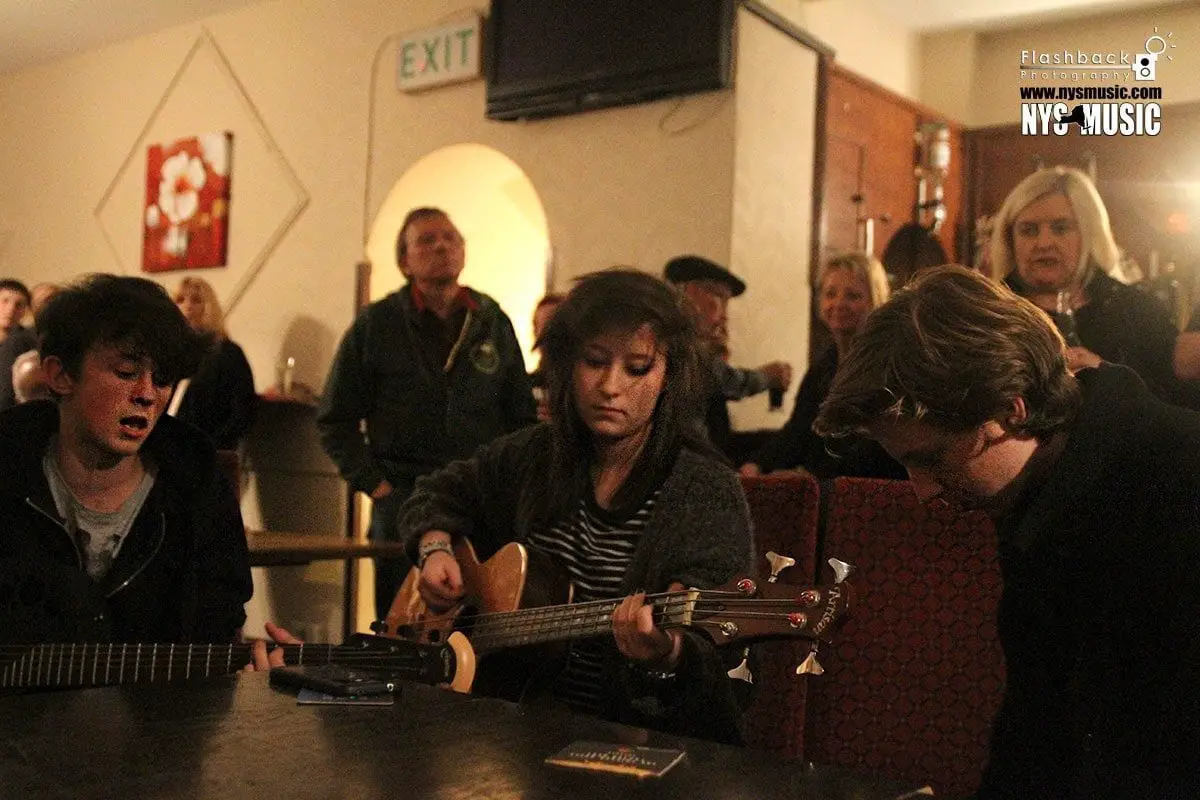 At an extremely long table, we were joined by young and old who would treat us to a true Irish session.  To begin the evening, three of the five musicians that are known as Small Town Crisis (Sean Fox,  Jack Hanlon & Cat Leibowitz) began their acoustic set with amazing performances of original work. They were extremely talented and joined in a few more times throughout the night before exiting to go home and get ready for school the following day.  Meeting  Denis Nolan, the 2015 All Ireland Fleadh Ceoil Champion, was truly a treat as well as he serenaded us with his award winning harmonica playing.  John Stafford joined in with moving vocals and, my favorite, the banjo on several numbers while Aoibhinn Redmond added her melodic touches to tunes throughout the night.  Gabriel Brady, who I believe just released an album, gave a whimsical spin on folky tunes throughout the night leaving us all in stitches while Denis New brought out the bagpipes and filled the room with traditional Celtic tunes.
Yvonne Kenny, who orchestrated this amazing evening for us, sang and played the bodhran while Chris Steele played some classical violin, moving us almost to tears!  Playing traditional Celtic tunes throughout the night, each performer added yet another highlight to a trip that I couldn't imagine ever to get better.  To say that the voices of both Naoimh Penston and Denise Brennan (who is known as one of the leads in the Women of Ireland Tour & Riverdance) were angelic is an understatement.  Their beautiful harmonies captivated us all night long.
Playing and singing, Naoimh also joined in with Ian and longtime friend Fran Harper as they played and sang Men of Erin, a song we all knew and love so much.  Invited to play and sing were we Americans as we vied for the coveted title of the year. Elliott Phillips played and sang while Tim Braun and Isaac and Keenan Reilly joined in with guitar/percussion on a few tunes. Defending her title from last year, Caity Reilly once again set the bar high with a very moving song, while David Sizer swiped the title with his rendition of "Allelujah".  I really thought it was a tie myself; both pieces were amazing and yet so different. And of course, The Elders and Moxies joined in with bluegrass tunes, traditional Celtic tunes and shared some new music yet to be recorded.  All in all, it was fun, it was spontaneous, it was more than I ever imagined and truly was my favorite part of the whole trip. Thank you, Arklow for such a great evening.
As this night long session went well into the wee hours, it was only a few hours later that the bands would be hitting the airwaves to the local radio station while The Moxies would be joining Chris Steele and her students at St. Mary's College to practice for a very special performance that evening.  The next gig would be right there at the Arklow Bay Hotel, and all proceeds from this show would be donated towards Nolan House, Rathdrum and Arklow Music and Arts campaign to secure the provision of a Music and Arts center in Arklow.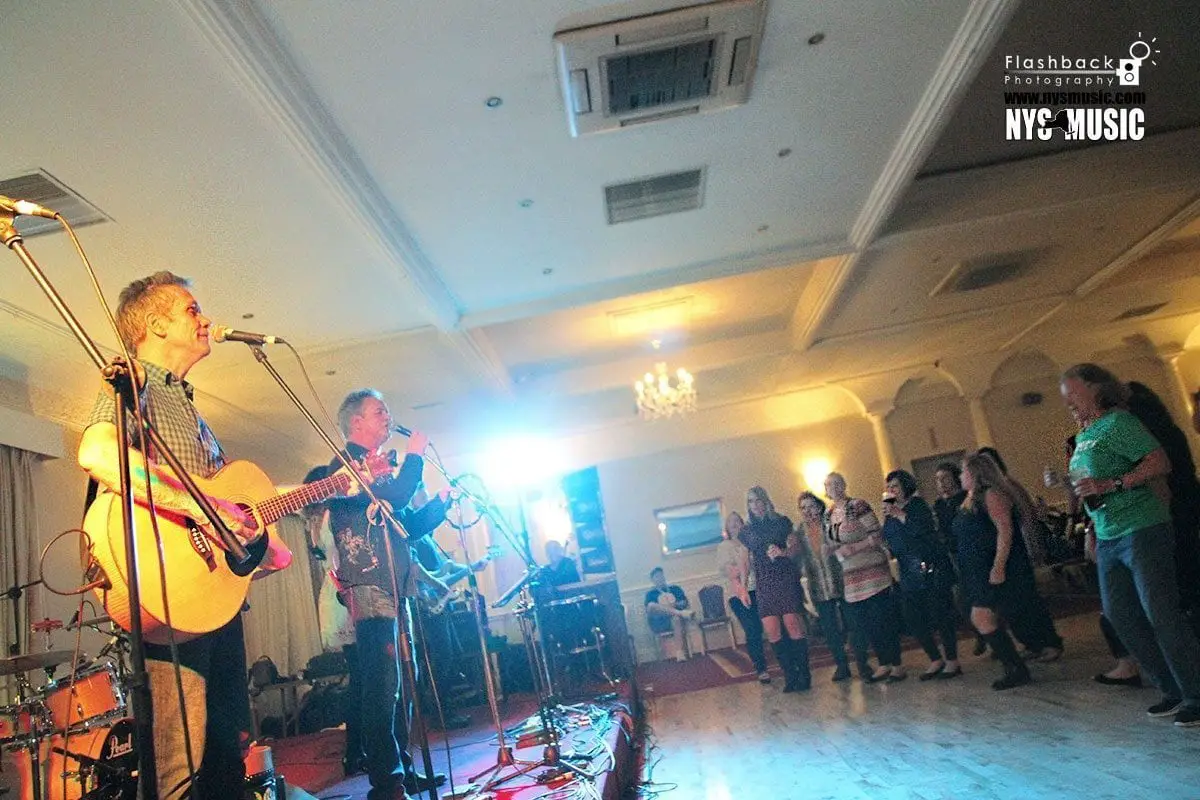 As the banquet room began filling up, it was apparent how truly loved the bands and the causes were to the town. And, although I'm sure a bit apprehensive, the orchestra from St. Mary's College nailed their performances and the night was a smashing success as Arklow celebrated with the Americans. It was the cherry on top as Denis New once again joined the bands on the bagpipes in full attire.
As the tour headed out and left the hometown and headed north, it would be on the top of the hill in Glencullen at Johnnie Foxes where the final show would occur. I could think of no better place either than this whimsical pub for the final setting as a wonderful, fun filled two weeks of music in Ireland came to a close.  With delicious food, Guiness, and the most whimsical decor ever, it just seemed fitting to end on such a high note, literally.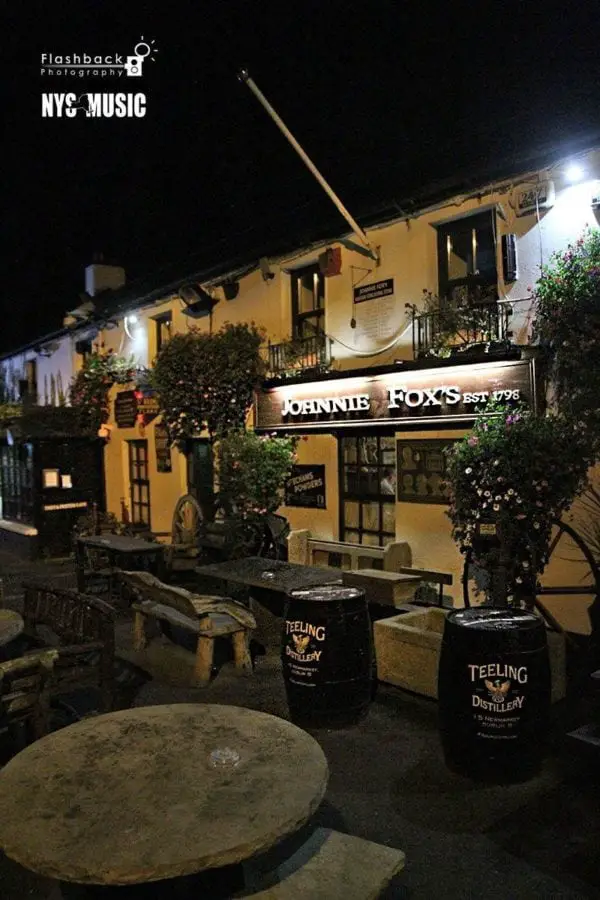 As the buses made their way up the steep hill, overlooking Dublin at night with its twinkling lights, it was probably a good thing we couldn't see the drop off on the side of the road.  We arrived, were seated and fed, and somehow found a square of real estate to dance along with the bands.  The party was complete,  the music a hit, and with family and friends from all over the world, this hop across the pond definitely left an impression on this journalist, leaving her longing for more very soon.