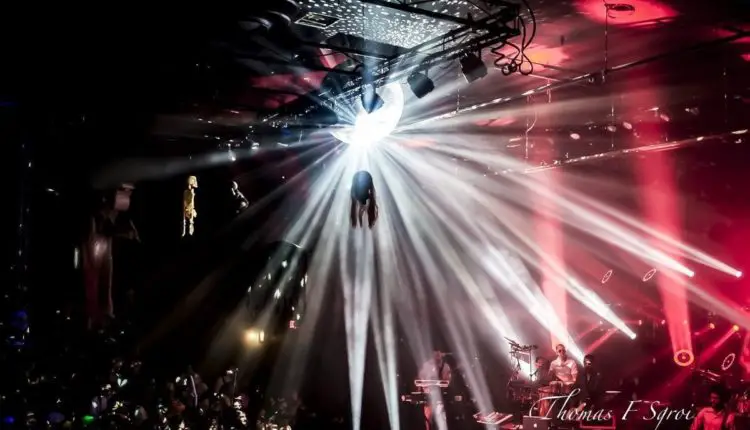 Lotus completed a two night run in Buffalo October 29-30 with a Space Disco Theme, complete with the Town Ballroom's giant Disco Ball shining on a crowd who were dressed to impress. The room filled in shortly after Jimkata took the stage to a sold out show. Lotus followed and absolutely crushed the room and blew the roof off the place.
October 29 Setlist
Set 1: Middle Road, I've Been a Fool (Toy Guns), Uffi, Destroyer, Bubonic Tonic>In the Bliss>Bellwether
Set 2: Fearless, Ashcon, 128>Philly Hit>Did Fatt>128, Turquoise, Greet the Mind
Encore: Sodium Vapor, Age of Inexperience
October 30 Setlist
Set 1: Nematode, Opo, Arupa>Sift>Mikesnack>Hammerstrike, Eats the Light
Space Disco Set: Space Disco Intro Story>Snooze 4 Love>Stellar Triangulation*>Bizarre Love Triangle>Giffards Airship*, Sextant*, Ra Ako St>Life on Mars>Like a Prayer>Get Lucky
Encore: Jump Off, Disappear in a Blood-Red Sky
*original music written for Space Disco Set
Check out live download here for night 1 and night 2.
[ngg_images source="galleries" container_ids="206″ display_type="photocrati-nextgen_pro_slideshow" image_crop="0″ image_pan="1″ show_playback_controls="1″ show_captions="0″ caption_class="caption_overlay_bottom" caption_height="70″ aspect_ratio="1.5″ width="100″ width_unit="%" transition="fade" transition_speed="1″ slideshow_speed="5″ border_size="0″ border_color="#ffffff" ngg_triggers_display="always" order_by="pid" order_direction="ASC" returns="included" maximum_entity_count="500″]