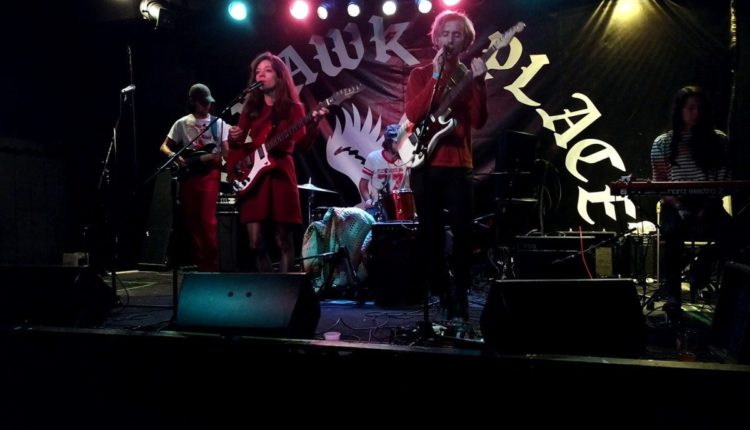 Two underappreciated indie-rock bands made a stop at Mohawk Place in Buffalo on Saturday night. Mutual Benefit opened the evening with the ambient instrumental "Madrugada," also the lead track off of their latest release, Skip a Sinking Stone. Members switched between guitars, keys, flute and melodica to create the soundscape that served as the perfect introduction to their set, a pleasant drift into the dream state. As it dissolved into "Skipping Stones" (as it does on the album), the opening lyrics, "You are the first thing I see / When I open my eyes when I wake from a dream" reinforced the dream-like quality of the music that would envelope the room for the next 40 minutes. It was two guitars, bass and drums. Nothing too unusual, save some flute here and banjo there and a drum kit composed mostly of hand drums, but together they formed a blanket of sound, soothing, mellow and beautiful. It was the soundtrack of your most pleasant and colorful dreams. The songs drifted in and out of nothing, and like your subconscious thoughts, once the next began the last became a distant nearly forgotten memory. Each song existed wholly in the moment. 
"What's today, is it Thursday?" asked lead man Jordan Lee. It was Saturday. "For us, every day is Thursday, it's a blessing and a curse." The set closed with their most energetic number, "Golden Wake," again with the all too appropriate line, "We woke for golden morning hours / Just to soak in all the power."
With our minds sufficiently relaxed and pliable, Boston's Quilt emerged to knead and massage our mental state into the trippiness of 60's psychedelia. There is a sound that resides in the musical real estate between "Taxman" and "Crimson and Clover." They find plenty of room to explore the landscape therein though, showing their influences but sounding fresh and original all the same.
The quartet that started as a trio had grown to a quintet, with keyboardist June West joining guitarist Shane Butler, guitarist Anna Fox Rochinski, drummer John Andrews and bassist Keven Lareau. They opened with the enchanting "Passersby" off of their early 2016 release Plaza. Throughout the set, composed fairly democratically between their three albums, it was apparent that what set them apart was the incredible songwriting and unique and various vocals. They have a knack for "discovering" new music that seems to have existed forever. Familiar, yet exciting and new. Rochinski, Andrews and Butler all shared vocal duties, harmonizing in pairs and altogether, both syncopated and out-of-sync, injecting a variety of different elements and surprises through their voices alone.
During extended improvisations, notably the early set "Saturday Bride" and late set "Secondary Swan," like oil in a lava lamp, the music oozed slowly up and around themes, collapsing into itself and reforming into something different but similar. The environs did nothing to aid in this mental transportation, a dive bar with limited lighting, dark and overpowering backdrop, and disappointing crowd threatened to cut off the escape. But the music powered through.
"Is it Sunday?" Rochinski inquired. "No? Well it feels like Sunday." It was in fact, most definitely still Saturday. It must be tough to keep track though, whether touring in a dream state or a time warp. No matter, that night was the right time to partake in a little bit of both, via Quilt and Mutual Benefit.
Setlists
Mutual Benefit: Madrugada > Skipping Stones > Closer Still, Let's Play / Statue of a Man, Lost Dreamers, ?, Strong Swimmer, ?, Advanced Falconry, Golden Wake
Quilt: Passersby, Young Gold, Saturday Bride, Eliot St., Roller, Searching For, Arctic Shark, Hissing My Plea, Penobska Oakwalk, Secondary Swan, Talking Trains