"Color War XI: The Aquatic Ape," went over quite swimmingly during Camp Bisco's triumphant return to Montage Mountain this past month. Sporting a cornucopia of new water themed events, Color War gained an interest from passers-by unmatched in previous years.  Unlike most organized sporting events, participants were allowed to walk on and off the field more or less at will; providing for a wonderfully laid back environment that everyone enjoyed.  The Pink Hydra Squad took home the gold, with Purple Reign and the Green Mutant Ninja Turtles in a stalemate for second, and last but certainly not least came New World Orange.  An absolute favorite of the roster was Wook Fishing next to the lazy river.
Events began at noon, with the Montage Highwire Marathon, You & I Arm Wrestling, Shave the Hot Air Balloon, and a rather high stakes game of Spacebird Volleyball.  It's pure synchronicity that all of those Disco Biscuits song titles fit so cleverly, I'll tell ya that.
Scheduled to begin at 1pm on that lovely Friday was the Aceetobee Spelling Bee, some good old fashioned Disco Biscuits trivia, as well as Little Shimmy in a Limbo Line.
Wrapping the day up at 2 o'clock was my favorite event, Barfly Best Drink, followed by the Bernstein & Bacon-Off bacon frying competition.  The Confrontation Tug-o-War was a necessary act, and the I Want to be Barber look-alike contest was certainly a welcome edition to the Color War repertoire.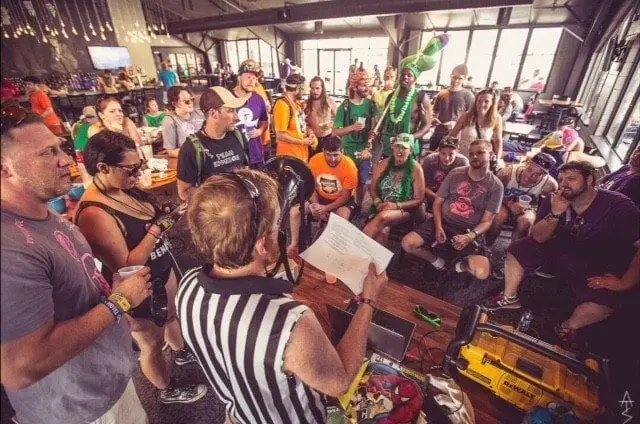 In fact, Color War caused such a big wave this year that even Lorin (more popularly known by his stage alias "Bassnectar") took notice.  Promising his own version of Color War during his new festival, "Bass Center", which took place the weekend after Camp Bisco.  When asked if he thought his Color War was better than Bisco's, Lorin declined to comment.
This got original Color War guru Amanda Rivera thinking; what if there was a Color War at every major festival?  What if good, wholesome, physical fun wasn't the only goal of Color War, but working as a team toward a broader common goal?  These are some of the subjects we discussed in a telephone conversation earlier this week, and she seems to think it possible.  "If everyone were to make a small donation as requirement for entry, whether towards a team specific charity or one of their choice, it would add an entirely new aspect to Color War.  The amount of money donated may even determine the weekend's winner in the future."  Amanda said during the conversation.  One thing's for sure, the aquatic ape is out of the barrel, and Color War may just be coming to a lot near you!