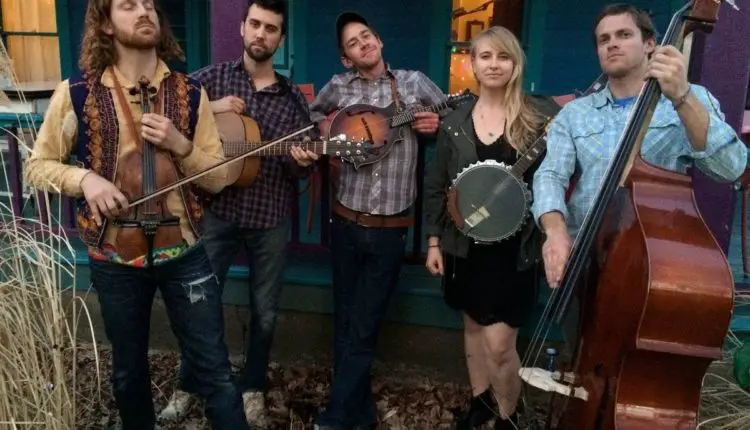 It's been interesting to watch bluegrass music evolve the past couple of years to expand the definition of bluegrass sound, instruments and style. Talented new musicians are emerging continuously, creating their own original sounds, and garnering the interest of new followers. A band rising with potential, Mulberry Soul, spices the traditional barn burnin' bluegrass we're used to with their original songs.
Mulberry Soul formed at the Rochester Folk Art Guild, an art community outside of Naples, NY. Their self-titled album will be released on May 19, featuring their beautiful, harmonizing tones, progressive bluegrass and their soul-stirring songwriting. Band members Gabriel Schliffer (fiddle), Scott Calpin (mandolin), Chris Machanoff (acoustic guitar), Aaron Oldweiler (bass) and Cordelia Hall (banjo) all bring something different into the concoction.
Mulberry Soul, a 10 track album, begins with a dramatic and eloquent "Lincoln Town," which dips you in with Schliffer's fiddle, weaving your soul into the music, while the bands' skillful polyphony stitches the beat. The fourth track, "Peace Like A River," surprises with a foot-tapping rhythm and a catchy tune that tempts you to whistle along. A personal favorite, the unforgettable "Mulberry Jam" haunts you with its poignant sound. The "Wilding Grove" stands out from the rest of the album with a different, fervent sound. Fittingly, the album ends with "What We're Made Of," a slow, sing-song ditty featuring Hall on vocals.
After four years of developing their sound through various live shows around NY, Mulberry Soul has grown in popularity, performing around artists like Donna the Buffalo and Scott Regan.
The band will kick off an album-release tour at Nietzsche's in Buffalo on Thursday May 19, moving to the Naples Hotel on the 20th and Flour City Station on the 21st. You can catch the band at various festivals this summer such as, The Great Blue Heron Festival, Sterling Stage Folkfest and more. The band will also perform live cuts from their new album on WRUR's Open Tunings on May 16th.
Be sure to catch Mulberry Soul at one of their gigs this summer, so that you can experience the high-energy artistry that these musicians spark for yourself.
Key Tracks: Harlem Blues, Peace Like A River, Mulberry Jam, What We're Made Of