Many of us have been there. Ticketmaster queued up, ready to click "buy tickets" as soon as sales begin. You're sure you're going to get quality seats for the show; after all, you clicked on that "buy" button the second the clock struck 10. Alas, you discover you're in the nosebleeds once the purchase is complete.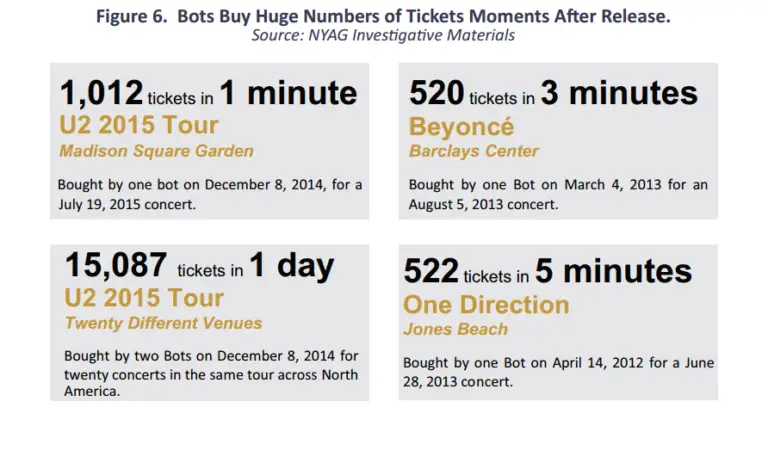 How does this happen so regularly to concert goers? New York State Attorney General Eric Shneiderman had the same question, and his office conducted a three-year investigation into the ticketing industry and Thursday issued a report on the findings.
The report details results of his office's investigation into online ticketing and the practices of third-party ticket resale sites such as StubHub and TicketsNow.
The 44-page report cited numerous complaints the AG's office has fielded concerning "price gouging," "scalping," "outrageous fees" and "immediate sell outs." One consumer quoted in the report stated, "The average fan has no chance to buy tickets at face value…this is a disgrace."
The AG confirmed this concerned consumer's remarks, finding:
The majority of tickets for the most popular concerts are not reserved
for the general public at least in the first instance. Rather, before a member of the public can buy
a single ticket for a major entertainment event, over half of the available tickets are either put on
"hold" and reserved for a variety of industry insiders including the venues, artists or promoters,
or are reserved for "pre-sale" events and made available to non-public groups, such as those
who carry particular credit cards.
The figure below illustrates New York-area shows between 2012-2013 for which tickets were held from general sale for pre-sale insiders. An "insider" can be classified as a holder of a sponsoring credit card, a member of a fan club, members of social media sites or shopping sites. The consumer who is not a member of any of the above mentioned groups is immediately at a disadvantage once tickets are officially on sale to the general public.
In addition to tickets being held in advance of an on-sale date, brokers use bot software to purchase hundreds of tickets at a time using a four-step process. In December of 2014, ticket sales for a June U2 show at Madison Square Garden saw one broker, using ticket bot software, purchase 1,102 tickets within the first minute of sale. The report defines a ticket bot as:
Software that automates ticket-buying on platforms such as ticketmaster.com. Automation lets the Bot (1) perform each transaction at lightning speed, and (2) perform hundreds or thousands of transactions simultaneously. As a result, in the first moments after tickets to a top show go on sale, Bots crowd out human purchasers and can snap up most of the good seats.
Bot programs allow brokers access to hundreds of tickets which are then immediately placed for sale on third-party sites. Frustrated consumers still wishing to attend a concert or sporting event are then left with only the ticket resellers as an option to buy, and at a markup anywhere from 15 percent to 118 percent of face value.
As illustrated in the figure above, brokers using bot programs are able circumvent any prevention methods instituted by ticket sellers such as Ticketmaster and Live Nation.
Several startups, such as Cash or Trade, are becoming more popular among savvy ticket buyers. Cash or Trade touts itself as the "World's first social ticketing platform." There, members have the ability to sell tickets at face value or in trade among themselves [Cash or Trade is a partner of NYS Music].
While bots and pre-sale events comprised the majority of the AG's report, one complaint that has been fielded repeatedly for years is that of "convenience" or "handling" fees on the part of the ticket agency. One complaint stated, "I purchased a 30 dollar ticket to see A View From A Bridge. During the transaction I saw that a ten dollar fee would be added for handling. Handling what? I am using my own printer to print my own ticket!"
Ticketmaster often takes blame for many of the added charges, but the report states that some of the blame can also be given to the venues as well.
In its final recommendation, the report calls for the state legislature to conduct hearings challenging the key players to level the field for everyday fans to be able to get their hands on tickets to even the most high-profile events. The call for ticket resale platforms to comply with the law, greater transparency in regards to allocations and limits, and addressing what the AG termed the "Bot Epidemic" are steps the state legislature needs to take. "A longer-term solution must include improvements in Bot detection and prevention methods. While the industry works on long-term technological solutions, steps can be taken to reduce Bot use in the near term," the report states.
In the meantime, keep your mouse finger at the ready for the next big show you hope to attend.