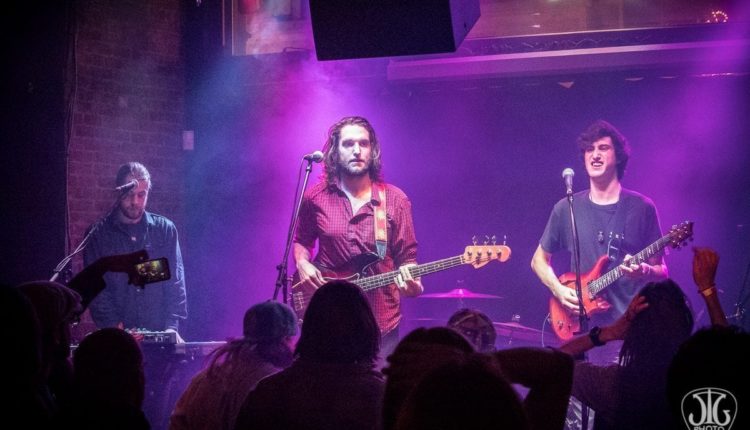 As the year begins to draw to a close, local and regional acts may stick closer to home, bringing out friends and fans to end of the year celebrations and final shows before a break around the holidays. December in Upstate New York in particular leads to a great number of bands playing club shows for one last hurrah before starting anew in January.
Starting out this evening was Space Carnival, a four piece band from Oneonta. With a flowing vibe through their set and command of the audience's energy, they wove in and out of originals and covers with smooth transitions and improvisation with a balanced approach. Opening with a flowing and spacey "2001", the segue into original "Filth" made it tough to discern where "2001" began and "Filth" began, as the songs crossed over musically with finesse. Bassist Chris Meier is a next generation Jesse Miller (Lotus) even though he admits to not having drawn any influence from him; the high pluck of his bass marked the start of a transition into four-on-the-floor dance propulsion at multiple occurrances throughout the set
"Uh Oh I Slipped My Disco" found guitarist Jeremy Kraus and keyboardist Cameron Fitch syncing up for a deep groove that transitioned smoothly into "Shakedown Street", a choice cover on the 50th anniversary of the first ever Grateful Dead show. "Moonboots" had a feel of Ominous Seapods mixed with a dash of Disco Biscuits as they shifted seamlessly into progressive sections. "Entre the Giants" features a Talking Heads vibe, which aided in the build towards the Heads' "Stay Hungry", where Meier set the tone with assurance, Kraus dropped an "Inspector Gadget" tease, with various eruptions out of each shift, using the bursts of energy towards a strong build. With an IndieGoGo campaign for their first studio album, Space Carnival is an exciting live show from start to finish.
Setlist: 2001 -> Filth, Uh Oh I Slipped My Disco > Shakedown Street > Moonboots, Entre the Giants > Stay Hungry > Regal Krad
Kings of the North Country, Lucid, gave The Hollow crowd two musical cornucopia sets that covered all the bases of blues, rock, jam, soul and funk. "Bangers and Hash" kicked the night off with speedy soul and dips of reggae, followed by "San Pedro," with Lowell Wurster's vocals driven in step by the beat from the wooden blocks. Meadow Eliz, who has performed with Lucid on a few occasions, and is quite an accomplished artist, joined the group for a pair of songs, "Despots" and "Gemini Eye," adding quite impressive vocals to familiar tunes.
"Po Man's Blues" kicked off Set 2 and things kept rocking with "Blessed and Cursed" and the fan favorite "Whisky Dreams." A cover of the Clash's "Clampdown" took a few by surprise, while "Dirt", off their latest album of the same name balanced out the Brit Rock. Among the many highlights in this set was the stand out performance of "Silhouettes," featuring Jamie Armstrong on saxaphone, a full rocker with strong keys. Bassist Chris Shacklett took to the mic for the penultimate song of the evening, the always enjoyable "Debra," with Chris hitting every high note seemingly effortlessly. There was little left to ask for on this incredible evening of music from New York bands both new and old.
Set 1: 4 Bangers and Hash, San Pedro, Miles Deep, Psychedelic Circus, Lucky Dice, Mind Trippin, Despots*, Gemini Eye* > Ancient Incantations, Ground on up, Whoa Mamma, On My Knees
Set 2: Po Man's Blues, Blessed and Cursed, Whiskey Dreams, Black Smoke, Clampdown (Clash Cover), Dirt, Came and Went > Silhouettes, Boats, Backwoods, ***Debra (Beck Cover), Crazy Fucked up World***
* with Meadow Eliz