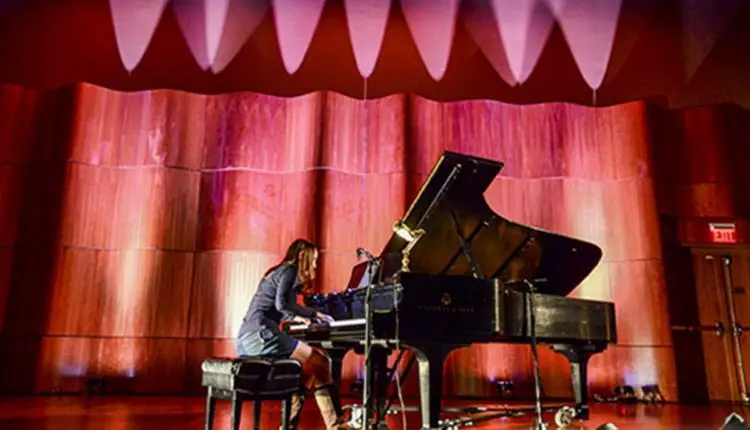 Though she plays their music, it was not your typical Phish crowd Wednesday night at the Massry Center for an intimate performance by Holly Bowling. While the theater was dotted with flatbrims, the crowd looked to be more NPR listener than lot vagabond. The majority of the crowd was nicely dressed and seemed to be over 40.
The Massry Center has a true orchestral feel complete with ushers clad in black directing people to their seats and 10 minute intermissions between sets. The stage was sparsely furnished with only a Steinway & Sons piano, an old fashioned reading lamp, microphone, and iPad on which Bowling used to read her music.
When Bowling came out to applause, I wasn't sure what to expect. The classically trained pianist transcribes the music of Phish and arranges it for solo piano and the end result is quite moving. The first set opened with "The Curtain With," a slow and pretty introduction to this new take on Phish's music.
The highlights included "Silent in the Morning," ethereal sounds with teal lights glowing behind Bowling, making it seem as though she were playing underwater.
The first set also saw the first jam transcription arranged for piano. A local pick, she chose "Twist" from October 23, 2013 at the Glens Falls Civic Center. This song displayed Bowling's range from her slower tempo into a funky jam that had the audience shouting out "Woo!" amidst giggles of laughter.
At some points during the performance Bowling would roll her body back and forth like she was in a trance. Between songs Bowling would speak, injecting her bubbly personality into her act. She dedicated several songs to her friends, one for a friends' anniversary ("Waste") another for a friend who had just lost someone ("Dirt").
For the second set Bowling played a stripped down version of "Fire on the Mountain" by the Grateful Dead, amid a inside of a sequence that featured "It's Ice" and "Steam", which really highlighted the compositional nature of the song. In true Phish fashion she closed the second set with "Squirming Coil" which was truly impressive.
Though it wasn't the typical Phish crowd at Bowling's performance, it was certainly the length of a typical jam band show. Her performance consisted of three sets and an encore, the last set being a transcription of the infamous "Tahoe Tweezer."
Bowling seamlessly blends the worlds of improvisation and careful composition together into something truly thought provoking. Whether or not you call yourself a Phish fan, Bowling's unique approach to this type of music is a sight to be seen.
Set 1: The Curtain With, Talk, The Horse > Silent in the Morning, Glens Falls Twist, Tela, Wingsuit > Randall's Chalkdust jam > Wingsuit, Waste*
Set 2: Scents & Subtle Sounds, Cassidy** > Dirt > Cassidy*** > If I Could, The Inlaw Josie Wales, It's Ice > Fire on the Mountain# > Steam > It's Ice, Horn, Squirming Coil
Set 3: Tahoe Tweezer
Encore: Harry Hood****
# first time performed by Holly
* Dedicated to Bryon & Holly
** Dedicated to a friend who recently lost someone
*** w/ Dirt mashup ending
****w/ Lizards, Cassidy, Tweezer Reprise teases