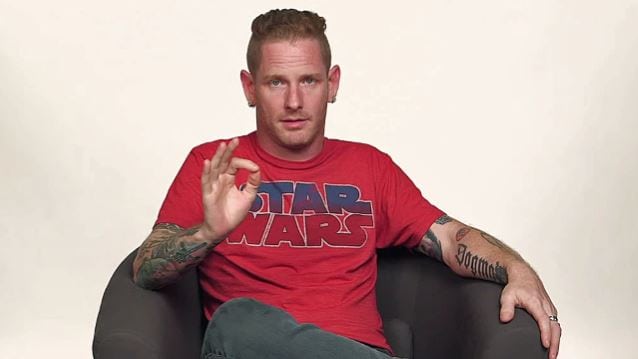 In a recent interview with Zippo Encore Artist Spotlight during Slipknot's Summer's Last Stand tour, Slipknot and Stone Sour frontman Corey Taylor enlightened everyone about performing live, Slipknot fans and what he would do for a day job if he didn't find music.
Corey Taylor on performing live:
"Getting fired up for stage is pretty easy, um cause I love to play."

"Put the stuff on, um you know, you know touchin' base with all the guys, ah comin' together for the huddle. You know going back stage and waiting for the audience to pop, I mean that gets the adrenaline going like nobody's business and just the fact that knowing you're gonna play songs that you absolutely love."

"It's a lot of little things that, just make every show not only unique, but vital for me."

"I'm not one of these guys who waits 3 hours to go on stage, I can't wait, and if we're late going on I'm losing my mind so I, I just love playing live."
Corey Taylor on Slipknot fans:
"I love our fans, you know I mean the fans are the whole reason we have this. The fans are the whole reason we get up in the morning. There the whole reason why we strap this stuff on every night and then the whole reason that we kill each other on stage Every Single Time."

"Some of the most passionate, intelligent, crazy fans on the planet and ah were very, very lucky to have them."
Corey Taylor on music possible different career:
"Music is everything. I mean music is so important to me that, if I didn't have it , I would not be the same person and for the longest time I dint know that  I wanted to do music, I mean I wanted to be a teacher, I wanted to be a history teacher. um but I kinda just kept coming back to music."

"The music is probably the last "Vital", emotion that we all have in common and it doesn't have to be the same style, but its the one thing that ties us all together."

"Clown said it best, every show is a war, every song is a battle and If you're not trying to win, there's no point to it."
Corey and the boys from Slipknot are about to close their current Summer's Last Stand tour on Sept. 5 at the Gexa Energy Pavilion in Dallas, Texas.