Spending an early July sunset at an amphitheater resting on an island nestled in the Seneca River as adoring fans tirelessly swing and twirl to American roots music sets the stage for a picturesque evening. That was the setting Friday night at Paper Mill Island Amphitheater in Baldwinsville, NY as Blind Owl Band and Yonder Mountain String Band took the stage to woo the audience with earthy vocals and strings.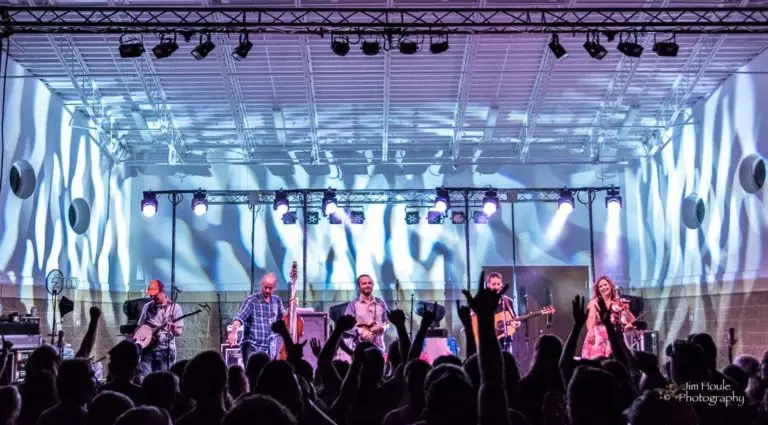 The casual, backcountry grunge of Blind Owl Band suggests a certain comfort level they feel even when performing for a crowd. Guitarist and vocalist Arthur Buezo sported a pair of paint splattered overalls tucked into cowboy boots while barefoot bassist Christian Cardiello donned a pastel purple tie dye T-shirt with a prancing unicorn emblazoned across the front. Along with banjo player and vocalist James Ford and mandolinist and vocalist Eric Munley, the four musicians all let their wavy brown locks blow in the breeze, closing out their set with a powerful performance of "Whipping Post" by The Allman Brothers Band. With Buezo growling into the mic, they authentically captured the tortured nature of the rock ballad with a bluegrass twist.
As the sun continued to set, the fading daylight drenched Yonder Mountain String Band in a sea of gold as fans applauded their arrival on stage. The five-piece group confidently emanated a calm and collected demeanor, defying the unrelenting UV rays with an assortment of aviator sunglasses. Early into their performance, a remarkably rambunctious fan explosively dropped his beer on the paved ground, grasping his head in disbelief. Mandolinist and vocalist Jake Jolliff shot guitarist and vocalist Adam Aijala a wry smile, slightly amused by the small tragedy. Jolliff standing, center stage between his four band mates, scanned the crowd, often flaunting a euphoric smile in between mandolin breakdowns. Everyone in the band was afforded moments to display their skill both instrumentally and vocally. With Dave Johnston on banjo, Ben Kaufmann on bass, and Allie Kral on violin, and all contributing vocally, they harmonized effortlessly but also shining individually with a mix of voices evoking that country twang.
The give-and-take between musicians on stage was matched by the dosey doe and swing dance maneuvers of audience members as they took turns spinning each other around, enamored by the music. The high energy on stage and in the crowd was going strong during a bouncy performance of "All Around," a song off their new album Black Sheep, which was released earlier this year. The full-length studio album represents the influx and evolution of talented artists that have coalesced over a seventeen-year period, culminating in the five-person powerhouse touring today. Yonder Mountain String Band closed out the evening with Kral taking the lead on vocals, exclaiming, "Time to bust out your 'Pulp Fiction' dance moves," before sliding into a playful yet sultry rendition of Chuck Berry's "You Never Can Tell."