After two days filled with incredible live performances by some of country music's biggest stars, Taste of Country was set to close out it's third annual festival at Hunter Mountain with one last day of music, food and fun. A lineup of Sasha McVeigh, Western Underground, Josh Abbott Band, Sara Evans, Jerrod Niemann and Toby Keith were set to bring the festival to a rousing finish. Despite the slight weather issues that once again plagued the mountain, the festival's third day ran smoothly for the most part.
They only ran into a few issues towards the end of the night when an impending storm forced Niemann to shorten his set and Keith to move the time of his set up, to ensure all performers were finished before the increment weather set in. Outside of the storm issues towards the end of the night, the rest of the day may have been the hottest out of all three, which is saying something since day two was a scorcher in it's own right.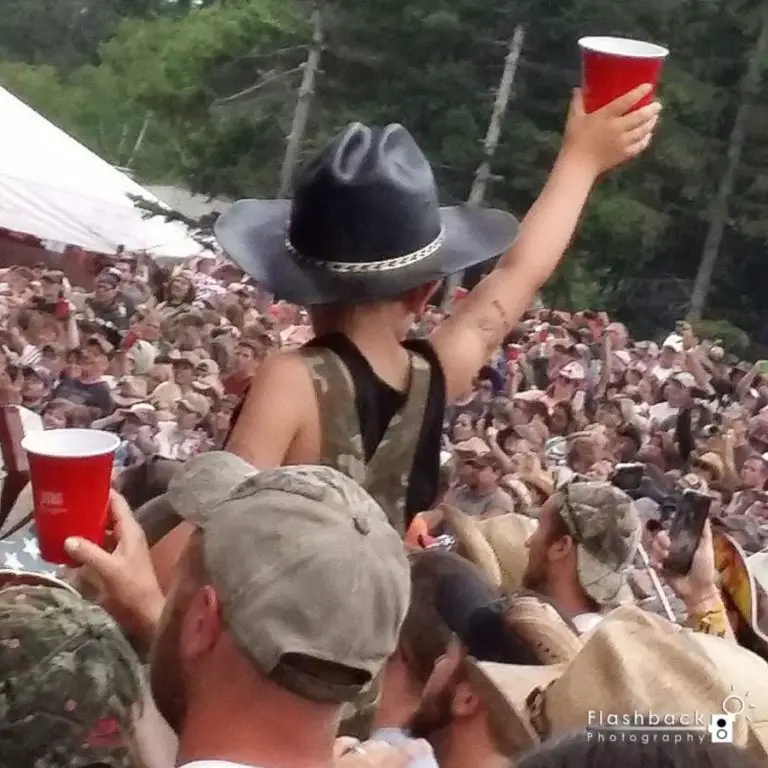 Around 3:00 p.m., the Texas based Josh Abbott Band, a lesser known group of the weekends performers at Hunter Mountain, took the stage for their set. Although they may not have been a household name, they did a wonderful job of introducing many new fans to their music, and by the end of their set the band fulfilled their promise that fans that were not familiar with them, would know their songs by the end of their set. The group often highlights some more traditional county instruments such as the fiddle and the banjo, and many of the songs that they performed Sunday, especially the more blue grass influenced, twangy "Brushy Creek" gave those instruments ample time to shine.
"Road Trippin'" was a carefree song about a group of friends getting away for a long weekend and having a crazy fun time along the way, while lead singer Josh Abbott's vocals were stellar on the slower paced "She Will Be Free." Abbott also humorously informed the already inherently rowdy crowd that both line dancing and beer pong were more than welcome and even encouraged during his band's set. The group then jumped into the fiddle infused "Oh Tonight," a collaboration with fellow country artist Kacey Musgraves that was a romantic and charming track, while "Where's The Party" from their 2014 EP Tuesday Night was a wild crowd pleaser. The band poignantly illustrated their love for their home town with "My Texas" before closing their hour long set with their more mainstream sounding single from Tuesday Night, the laid back "Hanging Around."
Sara Evans was the next performer of the day, and if her outfit was any indication, she was ready to help close out the last day of the festival in style. Evans, who has proven longevity in the country music work with her continued success since her debut album in 1997, has been one of country music's most popular and successful female artists. As a talented vocalist with numerous hits, and awards under her belt, Evans is a confident and experienced live performer. She kept the energy going during the hot weather at Hunter Mountain with classic hits like the uptempo "Suds In The Bucket," which inspired an abundance of singing and dancing throughout the crowd, and opener "Born To Fly," a country classic with an distinguishable chorus that tends to hook fans more and more with each listen.
Recent hit "A Little Bit Stronger" is an inspiring track that was well known and was a certainly a fan favorite, before the soaring "As If" and one of her older tracks "Perfect" took center stage. Evans dedicated her twangy hit "Coalmine" to all of the attractive men in the crowd at Hunter Mountain, which earned her a loud applause and cheer, and "Slow Me Down" with it's clean, modern production and flowy hooks delighted the crowd. She also took the time to inform fans of her soft spot for sad songs, demonstrating her love for them with a heartfelt performance of "My Heart Can't Tell You." As her set was coming to an end, Evans played her romantic hit "I Could Not Ask For More," before closing with her gigantic #1 hit from 2005 "A Real Fine Place To Start."
Jerrod Nieman was the second to last performer of the night, and even though the impending storm cut his time on stage short, his set still rocked fans all over Hunter Mountain. He kicked off his set with "We Know How To Rock" a banjo infused tune of southern pride, before slowing the pace down a bit with the more intimate "Lover, Lover," a #1 hit he scored as his debut single back in 2010 (and a cover originally recorded by folk music group Sonia Dada).
The Kansas native also broke out another one of his #1 singles, the upbeat party song "Drink To That All Night" which got the thousands in attendance up on their feet, as well as honkey tonk anthem "One More Drinkin' Song" which had fans singing along enthusiastically. Niemann notably played a new song that he said is to be released in the coming weeks. The track features lyrics that mention many top festivals around the country, as well as ones that show appreciation to a specific type of country girl that you are likely to see at country music festivals and shows. Niemann showed off his silly side to the delight of the crowd when his banjo player wore a giant donkey head mask on stage during the performance of his very strange song "Donkey."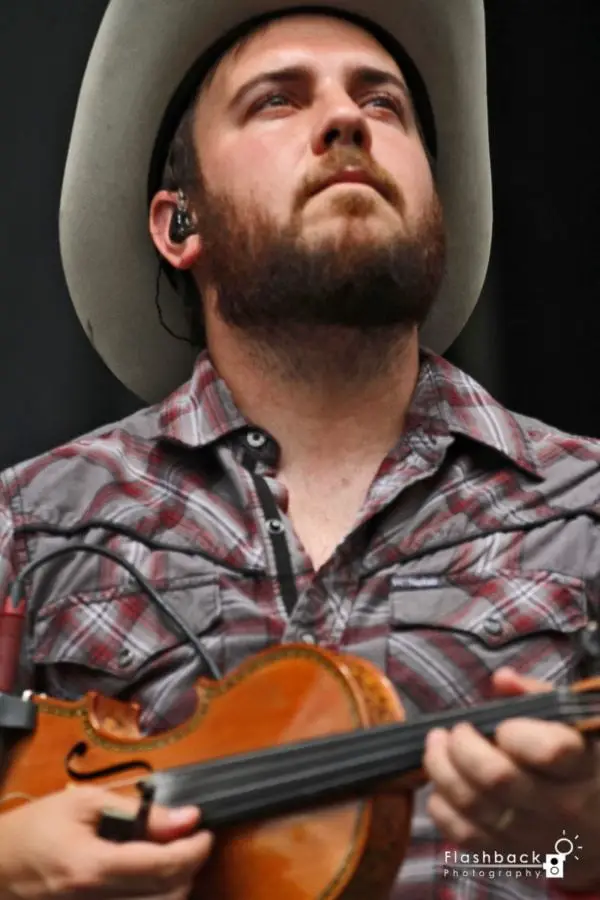 He busted out some fun covers as well, one of Alabama's "Louisiana Saturday Night," and another of Stevie Ray Vaughn's "Pride and Joy," a song that allowed his band to jam out during it's tail end. Though his set was cut short, Neimann put on an exciting and uptempo show for the Hunter Mountain audience, proving to be strong direct support for upcoming headliner Toby Keith.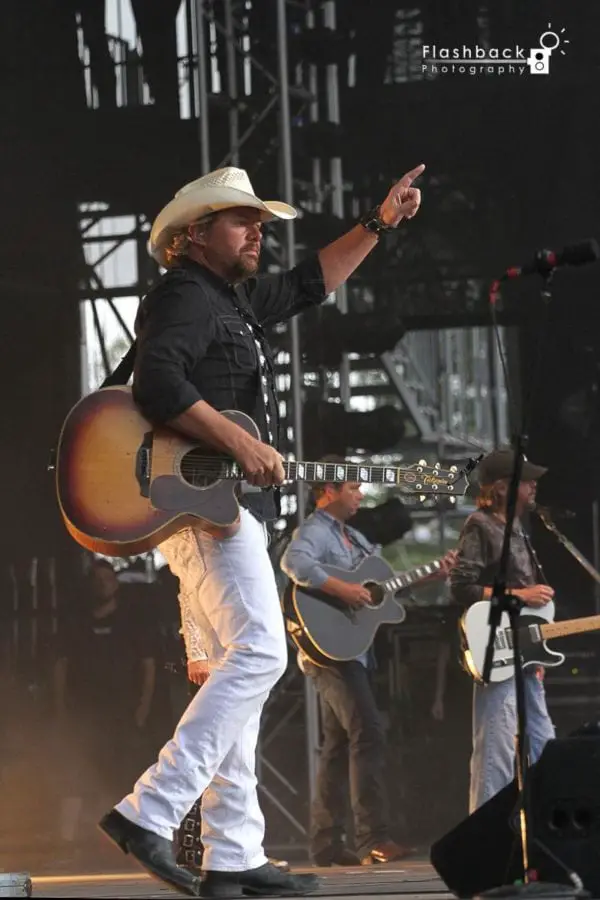 Keith's set, like Neimann's, was affected by the threat of an incoming storm looming over the mountain, though his set was moved forward rather than cut short. Although a light but steady drizzle persisted throughout his time on stage, it didn't put a damper on the party that Keith unleashed on the rowdy and invigorated New York crowd. Since 1993, Keith has created and released 17 studio albums, scored 20 #1 hit singles (with 60 total singles on the Billboard Hot Country charts), sold over 40 million albums worldwide and won a myriad of country music awards, making him undoubtedly one of the most recognizable and successful artists in country music. Known not only for his music but his vibrant and humorous personality, Keith was the perfect choice to close out a wildly entertaining and successful 2015 Taste of Country Music Festival.
Unsurprisingly, Keith brought his usual emphatic and unapologetic brand of patriotism with him to Hunter Mountain, with American flags about and the screens around/behind the stage flashing pictures iconic American images and moments. The production throughout his set was flawless, at time featuring fire shooting out of the floor, fireworks and gorgeous lighting. His set started out with hits like the appropriately themed "American Ride," and "Beer For My Horses" which featured a really cool moment when Willie Nelson joined him in the performance via video recording. Before the latter song, Keith made a point to salute New York firemen and police officers, and thank them for their service and sacrifices.
His sense of humor made an appearance when outrageous, eclectic hit "Red Solo Cup" a fan favorite, was performed alongside giant red cup props on stage which got a big laugh from the crowd. Keith's set on this night included "I'll Never Smoke Weed With Willy Again," a song that he performed with Scotty Emerick, who was on the road with him. Hits like "Who's Your Daddy" that featured a notable guitar introduction, "A Little Less Talk and A Lot More Action," and a cover of Ted Nugent's "Stranglehold." After leaving the stage briefly, the Oklahoma native returned for an encore performance. It was a special moment when Keith closed with an impassioned performance that included "American Soldier" and "Courtesy of the Red White and Blue," two songs that once again hammer home the themes of patriotism and love of country. It was incredible to see fans all the way up the mountain shouting the lyrics to this anthemic classic as the rain fell down around them. There is no doubt that this was one moment that fans would bring home with them, and remember for the rest of their lives.
Actually, that same sentiment can be said for the entirety of the 2015 Taste of Country Music Festival, as this years star studded lineup of performers and the wonderful environment that Hunter Mountain provided raised the bar for the future. Country music fans on the East coast should take note, if it's first three years are any indication, the Taste Of Country Music Festival is set to be one of the premier country festivals in the East for a long time to come.