The second day of Hunter Mountain's Taste Of Country Music Festival began with clear blue skies, and scorching summer heat as the sun beat down heavily on the venue and fairgrounds. Although it was hot, the weather was still great for a festival atmosphere, and definitely beat the rain and lightening that had caused delays during day one.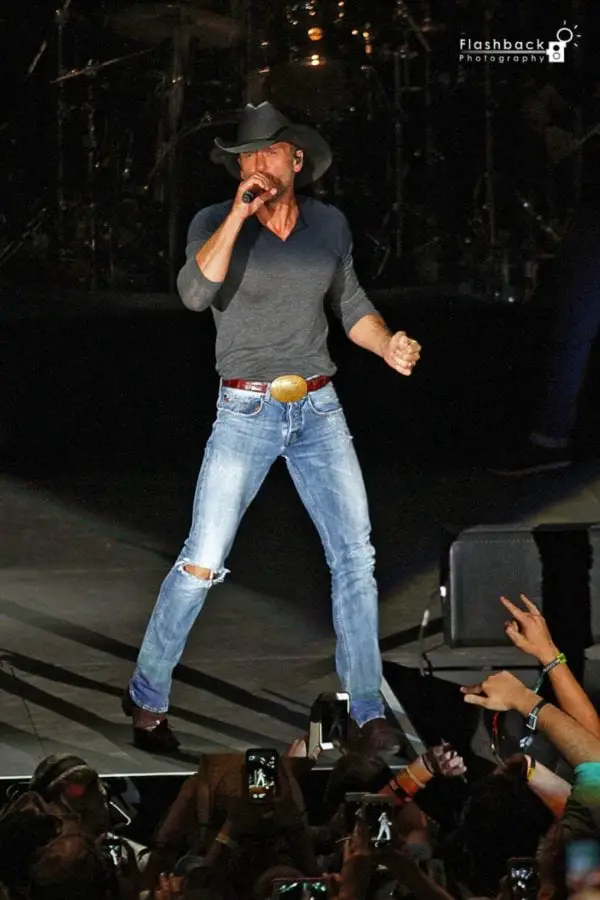 Fans in attendance flocked to the food stands for delicious cold ice cream, beer and lemonade that provided a refreshing reprieve from the hot weather. While some quickly found and claimed spots in the venue that provided both shade and a decent view of the stage, others embraced the heat, laying out blankets and beach chairs along the  rolling hills of the mountain to bask in the sun and listen to an incredible lineup of country music stars. The ski lift was also up and running, carrying fans up and down the mountain to admire the beautiful views, stunning landscapes of the Catskill Mountains. A second day lineup that included Amanda Watkins, Jackson Michelson, Chase Bryant, Tracy Lawrence, Easton Corbin, Billy Currington, and headliner Tim McGraw had Hunter Mountain rocking from noon until well into the night.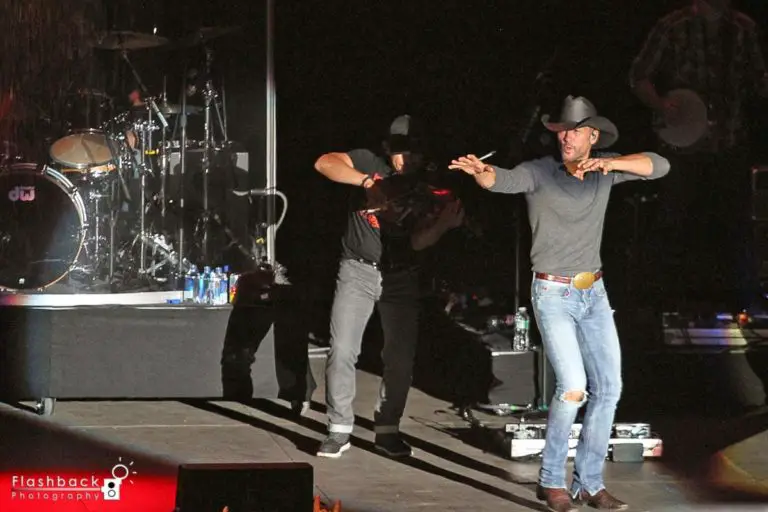 Newcomer Chase Bryant's set came around 3:00pm right in the peak of the day's heat, but that didn't stop from putting on a high energy set, or the fans from showing up in droves to enjoy it. Though has only released one project so far in his burgeoning career, Bryant is gaining momentum in the industry with his stylish good looks, skill on the guitar and unique vocals. With his perfectly styled hair, Ray Bans, and undeniable confidence, Bryant certianly made an impact on the festival goers at Hunter Mountain. Fans broke out the beach balls, bouncing them throughout the crowd as Bryant performed songs from his self-titled debut EP as well as several notable covers. From his EP, the carefree "Jet Black Pontiac" was a definite crowd pleaser, and the romantic "Change Your Name" delighted many of the female fans in the audience in particular, while "Wayfarer Weather" was incredibly appropriate relatable on this sunny day. The yearning and heartfelt "Little Bit Of You" had a sound reminiscent to a past Rascal Flatts song, (especially at the beginning of the chorus) and was released as his second single. The track is enjoyable as a love song that is still uptempo and fun.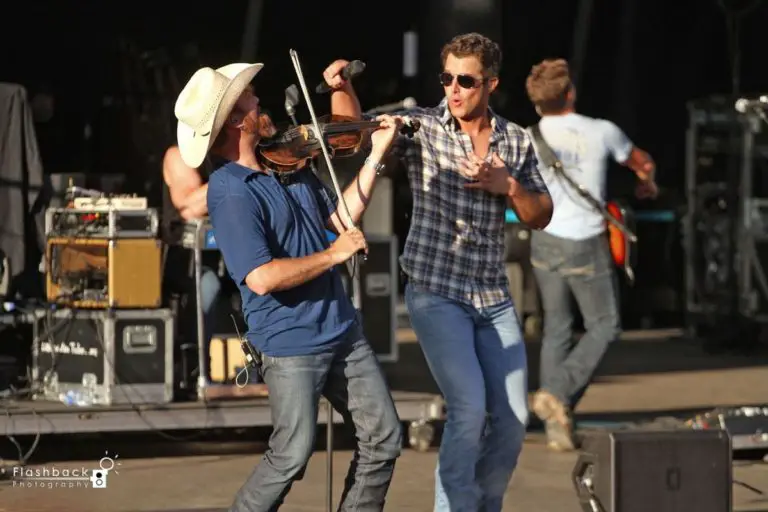 Bryant also took the time to cover Steve Miller Band's well known song "The Joker," as as well as The Doobie Brothers "Takin It To The Streets." Throughout his time on stage, Bryant continually made time for several of his shredding guitar solos to take center stage, proving himself as a talented instrumentalist and performer. He closed his set with his well known debut single and top ten hit "Take It On Back" a nostalgic and hook driven track that evokes memories of a lost, whirlwind love of the past.Fans couldn't help but belt out the chorus of this catchy tune that was the perfect closer to Bryant's impressive set.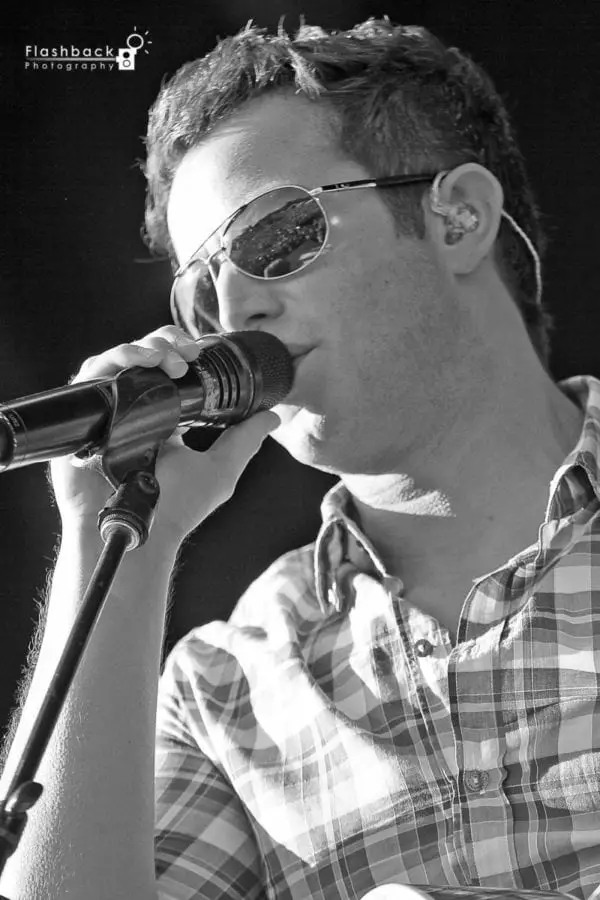 Easton Corbin was next to take the stage. With his abundant charm, country boy good looks and deep vocals featuring a classic country twang, Corbin had no problem captivating the crowd with a more traditional country sound than many of his peers in the industry. Armed with a variety of hits, Corbin came on stage to the narration of the "So God Made A Farmer Commercial" a nod to all of the work he has done to support small, family owned farms and farmers. He opened with "Clockwork" an honest relatable track that was the debut single from his upcoming album About To Get Real, which comes out on June 30th. The lighthearted "Loving You Is Fun" refreshingly featured a fiddle, as do many of Corbin's songs. Covers of Toby Keith's "Should've Been a Cowboy, and Kenny Chesney's "She Think's My Tractor's Sexy" followed snippets of Michael Jackson, Metallica and TLC songs, as Corbin demonstrated to the crowd the the difference in musical taste had from many of his friends while growing up. As you can probably guess, Corbin was influenced by many traditional country artists, songs, instruments and sounds, and that influence is readily apparent in his music today, planting him firmly in juxtaposition with many other, modern artists in mainstream country music and radio. As yet another demonstration of those who influenced his sound Corbin performed a cover of Merle Haggard's "I Think I'll Just Stay Here And Drink."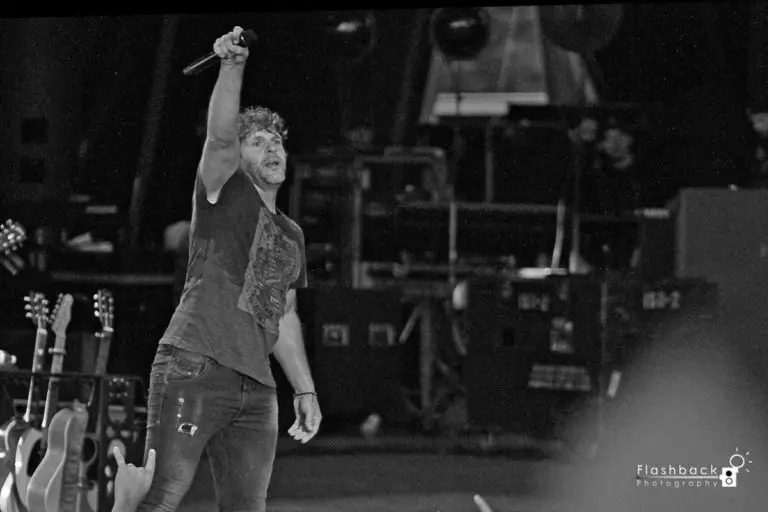 Corbin slowed things down with the title track from his upcoming album, and his first #1 hit and fan favorite "A Little More Country Than That." He picked up the pace a bit with performances of laid back jam and hit single "Roll With It" and current single "Baby Be My Love Song," a surefire future hit that is already gaining momentum fast. Corbin closed his set with the feel good "All Over The Road," letting delighted fans carry the chorus towards the end of the song.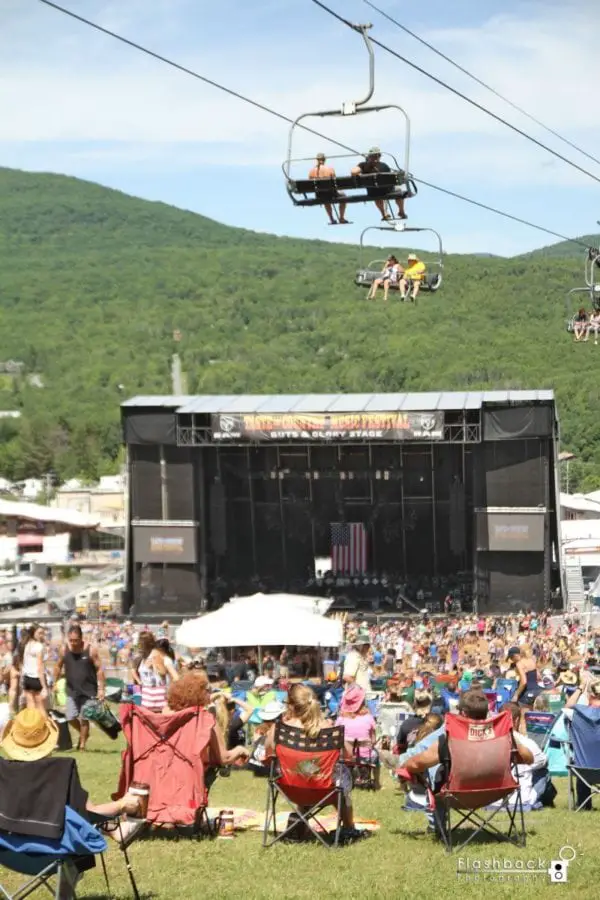 Billy Currington was the second to last performer of the night, providing direct support for Tim McGraw's headlining set. As his set began, so did the sunset, creating a watercolor painted sky against as a backdrop for the stage and the surrounding mountains. With nine #1 hits (and a total of 17 top 40 singles) in his back pocket, Currington has been a consistent hit-maker and popular artist in the country genre since his self-titled debut album in 2003. With a very "down home", and relatable style, Currinton's music resonates with a wide range of fans, and avoids alienating different demographics of listeners. Currington opened with "I Got A Feeling" before really getting the crowd involved with fan favorites "That's How Country Boys Roll," and the humorous "Pretty Good At Drinking Beer."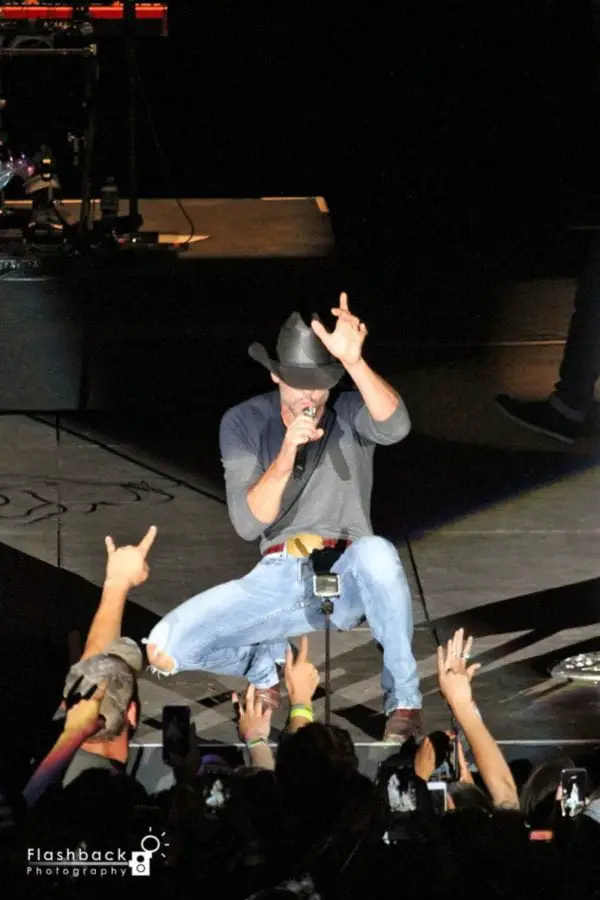 Currington kept the party going with "Hey Girl' a #1 hits from his 2013 album, We Are Tonight. He also featured several songs from his new album Sumer Forever, including #1 debut single "Don't It," and current single "Drinkin' Town With A Football Problem." He rounded out his set with a pair of sexy #1 singles "Must Be Doing Something Right" and "Let Me Down Easy." He closed his set with anthemic, carefree #1 single "We Are Tonight," a track that was penned by fellow country artist Sam Hunt. Fans bellowed the chorus out excitedly as Currington left the stage. The curly haired hit-maker returned to the stage with an an "Uptown Funk" (Mark Ronson and Bruno Mars) cover for an encore, which had fans from the bottom of the stage to the top of the mountain on their feet singing and dancing along.
When darkness had finally fallen upon Hunter Mountain, it was time for headliner Tim McGraw, one of the biggest names in music to take the stage for his set. It doesn't matter if you listen to country music or not, if you don't know of McGraw, you might be living under a rock.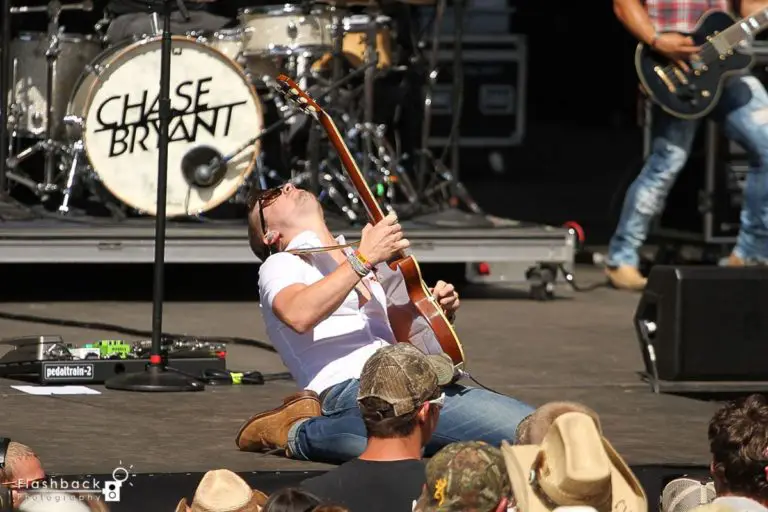 With ten #1 albums, twenty-seven #1 singles, three Grammy Awards, the highest grossing tour in the history of country music (and top 5 all genre), McGraw is one of the most successful artists in all of music. His signature cowboy hat tight t-shirt look, deep and relatable songs, distinguishable vocals and out of this world charisma have gained McGraw legions on loyal fans who flock to his concerts all around the country and world, and eat up whatever music that he releases. The atmosphere for McGraw's set was unbelievable. With rowdy and loud fans packed from right in front of the stage to up the sloping hills of the mountain as far as the eye can see, the view from the stage must have been an incredible sight. I somehow found a spot pretty close to the front with a food view of the stage, and along with everyone else, I was packed in like a sardine. McGraw played hit after hit after hit for a thunderous, loud and enthusiastic crowd who knew every song word for word.
Opening with a humorous redneck anthem "Truck Yeah" McGraw riled up the already rowdy crowd from the first song. Older classics like "Where The Green Grass Grows," "Down On The Farm," and the rousing "I Like It, I Love It" which garnered some of the loudest fan sing-a-long sections of the night during the choruses, reminded the crowd of McGraw's incredible longevity in the entertainment industry and the timelessness of his music. His songs, lyrics and artistic style, both new and old continue to resonate with fans, radio and critics even after more than three decades of success. The sweet and nostalgic "Something Like That" and "Southern Girl" a recent hit that drips with southern pride, are both hook driven fan favorites that thrilled those in attendance as they bellowed out the lyrics along with McGraw. Two more recent and well known hits "One of Those Nights" and "Felt Good On My Lips" enticed the crowd before slower tracks "Diamond Rings and Old Barstools," and "Shotgun Rider" took center stage. He cranked the guitars up once again with the cheeky "Real Good Man."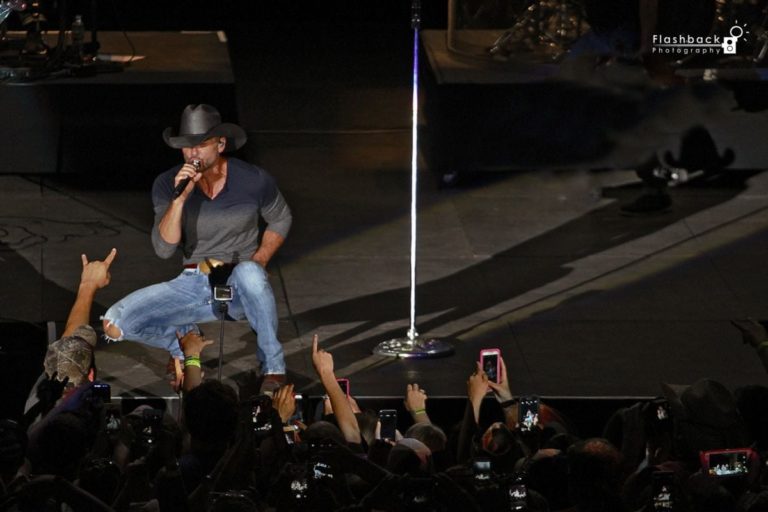 McGraw praised his backing band early and often, stating that one could travel all over the world and still not discover a group as talented and dependable as his. It is wonderful to see a star of his level appreciate the musicians that have his back night in and night out on the road, and allow him to find success in job that he loves every day. After a brief exit, McGraw returned to the stage for an encore, where he performed a notable cover of Elton John's "Tiny Dancer," and his ow hit "Mexicoma." With the mountain at a fever pitch, McGraw closed his set with the timeless classic "Live Like You Were Dying" which had fans in a frenzy from those packed in front of the stage to the thousands spread out among the hills behind them. As it turned out, McGraw's headline performance the festival in it's entirety both set attendance records for the Taste of Country Music Festival at Hunter Mountain, an impressive feat considering the superstars who have graced the same stage before him.
As an incredible Saturday of country music came to a close, fans streamed out of the venue still with much to look forward to on Sunday, with a lineup featuring headliner Toby Keith.