Taste of Country 2015 kicked off its third annual country music festival at Hunter Mountain on Friday afternoon with a bang and a star-studded lineup. Set in the gorgeous Catskill mountains in Upstate New York, legions of East coast country fans packed the mountain ready for great country music, delicious food and drink and myriad of other activities and attractions carefully designed to create an exciting and unforgettable summer festival experience.
Although a ski resort during the winter months, it's scenic mountain views framing the main stage, sprawling hills for fans to spread out on and numerous camping areas make Hunter's transformation into a music festival venue in the summer, a seamless one. As usual, fans arrived at the show enthusiastic, animated and ready for a party.
Friday, Day 1: Fans crammed the venue and fair ground area for a highly anticipated opening day lineup of Rachel Lipsky, Logan Mize, LOCASH, Colt Form Eli Young Band and Keith Urban. They were also able to enjoy a bunch of delicious food choices, plenty of drinks and various shopping, where anything from cowboy boots to band merch was available. The food stands, despite having been good from the first year of the festival definitely took a step up this year, providing a wider variety of food and more choices than ever. When in search of lunch I found myself wandering through the grounds unable to decide what to get because there were so many delicious options!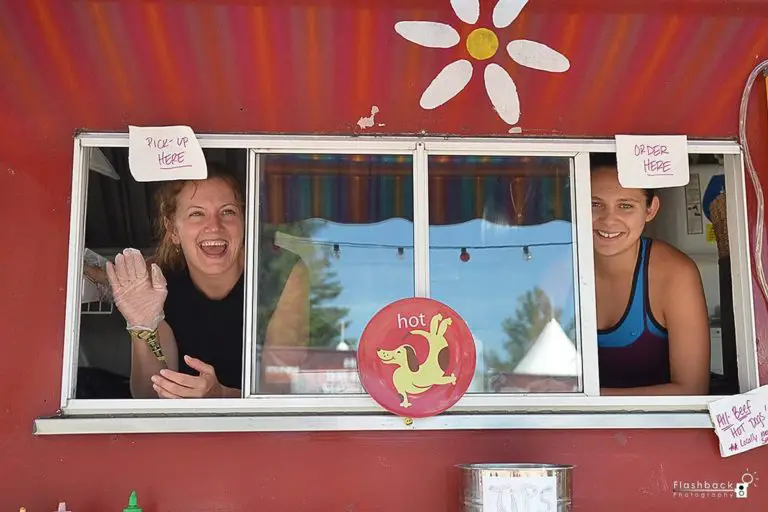 Although the forecast predicted that a massive thunder storm was looming, the weather throughout much of Friday at Hunter Mountain was clear, sunny and hot, albeit very humid. It was only around 9 p.m. when Eli Young Band (whose set had already been move up 15 minutes due to the impending lightening) finished their set that the festival announced a delay for headliner Keith Urban's set. Fans were directed to quickly and calmly leave the mountain and take cover in their cars until the festival deemed it was safe for them to return. Fans were kept updated on weather conditions and the delay through both the Taste Of Country Festival app and through social media such as Twitter and Facebook. Thankfully, venue announced that it was safe for fans to return at 10:24 p.m., and after some stage cleanup and giving fans time to return, Urban was finally able to take the stage around 11 p.m. Outside of weather issues at the end of the night, the festival ran very smoothly throughout most of the day.
As the day of music began, Rachel Lipsky was the first to take the stage.  This young lady has one heck of a voice and a "hell ya" attitude that captured the audience immediately and reeled them in and amped them up, setting the stage on fire from the get go.  Singing both originals and covers, this young lady owns the stage and gathers fans everywhere she goes. Whether it's overseas to perform for the troops or at the next Nascar Race, Rachel's a fan favorite and a veteran to the Taste of Country stages being her second year performing at the festival.
Next up was Logan Mize.  This young man, with his wholesome good looks and amazing voice owns both stage and screen when he performs.  Fans adore him, and music lovers can't get enough.  Keeping up the momentum, Logan continued to engage the audience and by the end of his set, the party was well under way.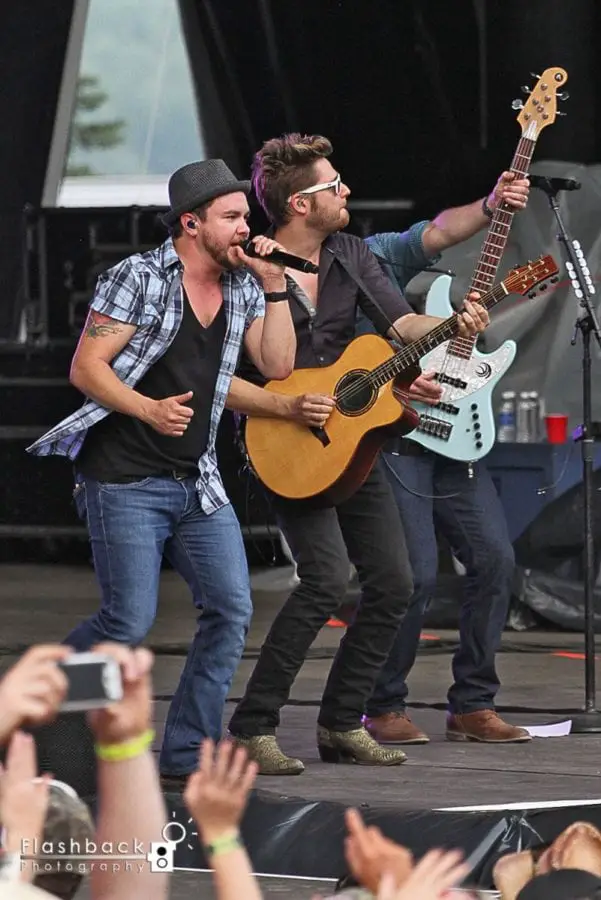 LOCASH was the third act to take stage on Day 1. Anyone who has seen this duo before knows that they are the life of the party on stage, and aways know how have a good time while putting on an amazing show. Comprised of Chris Lucas and Preston Brust, the duo is down to earth, funny, patriotic and always vibrant on stage. It is truly hard not to like LOCASH, and the pair is easily able to connect with the crowd in live settings because of their engaging nature and the relatable subject matter of their songs. Although I arrived about 10 minutes late, I was still able to catch most of their set. The duo was just about to begin playing a new song called "I Know Somebody" as I arrived. The song was undeniably catchy and featured pleasant harmonies between Lucas and Brust. It should be a good track or even a single on a future album or EP.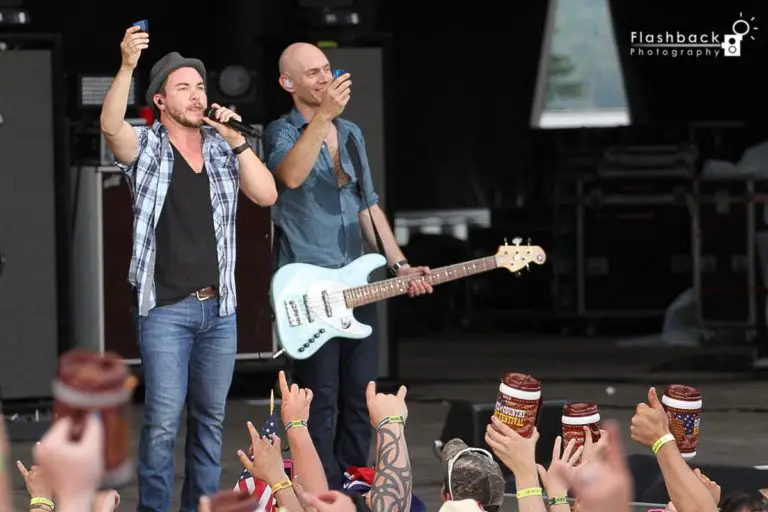 The pair delighted a predictably intoxicated crowd with their fun and carefree song "Drunk Drunk," which to no surprise, they wrote when they were drunk one night. LOCASH's set also featured another new song, "What We Got", a romantic and charming track about being thankful for the love in their life. The duo also performed some notable covers; "Truck Yeah" which the pair wrote with fellow country artist Chris Janson, and was recorded by Tim McGraw.  This number was a huge crowd pleaser as the lyrics are fun and easy to sing out loud. LOCASH briefly went out of genre with covers, of Bruno Mars' "The Lazy Song" and a rousing version of Def Leppard's "Pour Some Sugar On Me." They rounded out their setlist with self-proclaimed redneck anthem "Hey, Hey, Hey", and a track they called a "meat and potatoes, knockout punch" song that they plan to be their next single, called "All I Need Is You." LOCASH closed with their current hit single and fan favorite "I Love This Life," an anthemic track that details the simple pleasures of living a country lifestyle. Before performing the song, they informed the audience that New York is the No. 1-selling market for LOCASH, and thanked fans for their support, dedication and for buying their songs.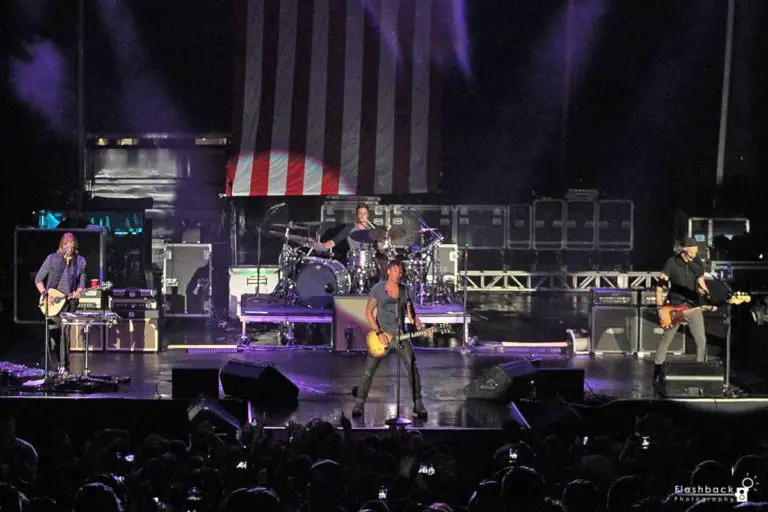 Country rapper Colt Ford followed LOCASH. Known for his patriotism and high profile collaborations with some of country music's biggest stars, Ford's setlist contained an abundance of popular and well known songs. The always aware and generous Ford is also heavily involved in various charity projects to aid current soldiers as well as veterans suffering from PTSD, noting how important it is to support those who fight and sacrifice every day for our country and our freedom. A prime example of the entertainers desire to help others, all of the proceeds of one of his current songs that he performed called "Workin On" will go to help soldiers with PTSD. He also mentioned that he always performs with an American flag attached to his microphone stand, a tribute to soldiers and first responders. Ford performed his infectious party song single "Crank It Up" a track with a dance beat and killer hook, as as well as "Country Thang" recorded with Eric Church, "Driving Around Song" recorded with Jason Aldean, "The High Life" recorded with Chase Rice and even covered Eminem song "Lose Yourself" which the crowd got a kick out of.
Although he is known as a country rapper of sorts, Ford kept his music grounded in country with plenty of fiddle during his time on stage. He ended his set with "Dirt Road Anthem" a game changing, massively popular song he wrote with Brantley Gilbert that was taken to No. 1 on the country charts by Jason Aldean. LOCASH joined him on stage to perform the song, adding camaraderie to an already fun set.
Eli Young Band was the fourth act to take the stage, but the last before the festival issued it's weather delay. Known for their vocals, songwriting and the pleasant overall sound of their music, Eli Young Band has been able to accomplish the often rare feat of finding critical, commercial and radio success during their time together. They opened their set with a song called "Revelations" an emphatic rock influenced track from their most recent album 1000 Towns, which were followed by the album's title track, previous single "Dust" and three songs from their new Turn It Up EP, "Drink You Up" and "Plastic" and it's title track (also the band's most recent single). Self-proclaimed "bonfire tune" "Always The Love Songs" soon followed. The four man band kept the patriotism going as well, leading several enthusiastic USA chants with the pack out crowd and like Ford, keeping an American flag on stage at all times. They also took the time to dedicate their touching and heartfelt song "Prayer For The Road" to members of the military and first responders. Eli Young band made sure to express how lucky they knew they were to be able to play music for a living, and how thankful the were for the fans that have continued to support them throughout their career.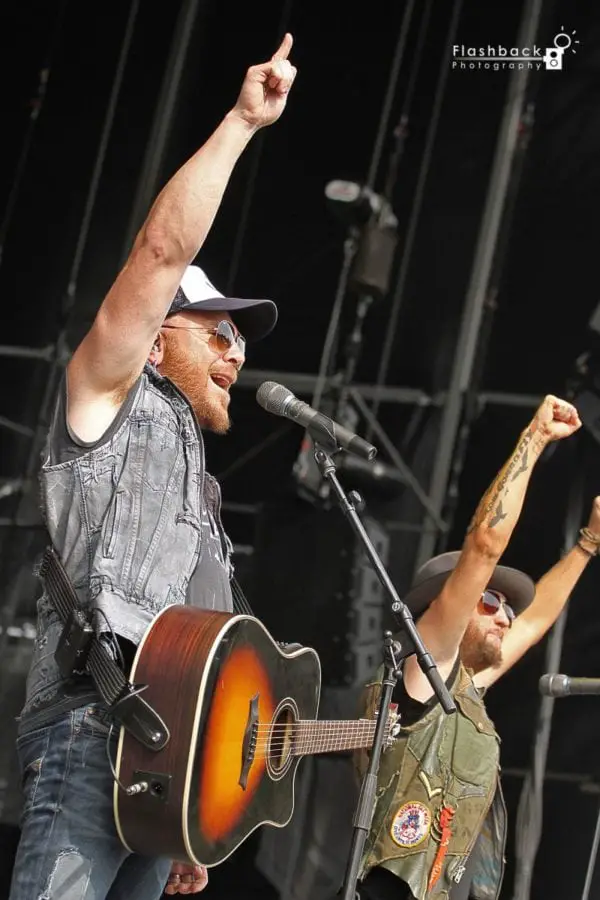 The group chose to perform several well known covers, including David Lee Murphy's crowd pleasing "Dust On The Bottle," Tom Petty's "Learning To Fly" and Garth Brooks' "The Thunder Rolls" which was unfortunately a very appropriate prediction of the weather that was soon strike the mountain. Radio hits and Eli Young Band staples "Drunk Last Night," "Even If It Breaks Your Heart" and "Crazy Girl" came at the back half of the band's set, delighting the thousands of fans in attendance with their relatable lyrics, catchy hooks and deep content. Even though a nasty storm was soon to come, Eli Young Band's set definitely rocked the thousands sprawled out on the hills of Hunter Mountain before the thunder, rain and lightening could ruin the party.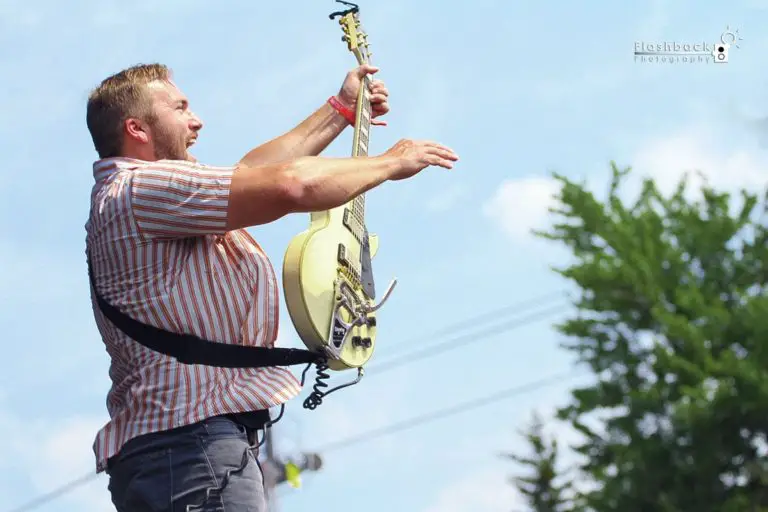 Not 10 minutes after Eli Young Band's set (around 8:50 p.m.), the festival announced the temporary delay of Keith Urban's set, and informed fans that for their own safety, they would have to leave the mountain until the weather improved. Although disappointing, the festival officials always maintained that they believed the show would be able to go on after the delay. Sure enough, around 10:20 p.m. they announced via Twitter and the Taste of Country Festival app that the venue had re-opened and that headliner and worldwide superstar Keith Urban would finally be able to perform after the stage was cleaned and fans had returned.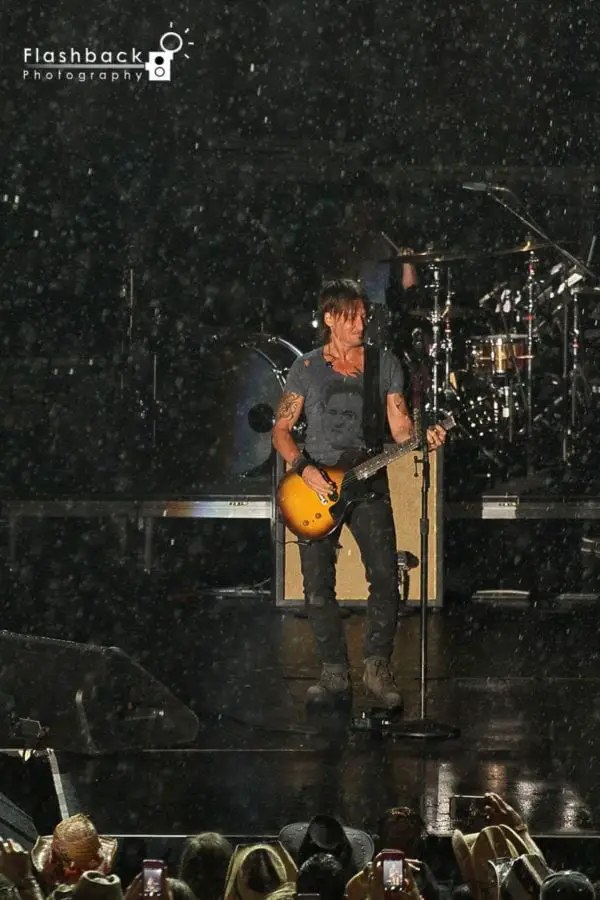 Urban, who has been a titan in the music industry for decades has drawn millions of fans to his concerts and music though his perfect pop-country formula, movie star good looks, sweet personality world renowned skill on the guitar, and distinguishable voice and musical sound. The Australian native's illustrious career beginning in 1991 includes 10 wildly successful headlining tours starting in 2004, 18 No. 1 songs, three Grammys and numerous country music awards.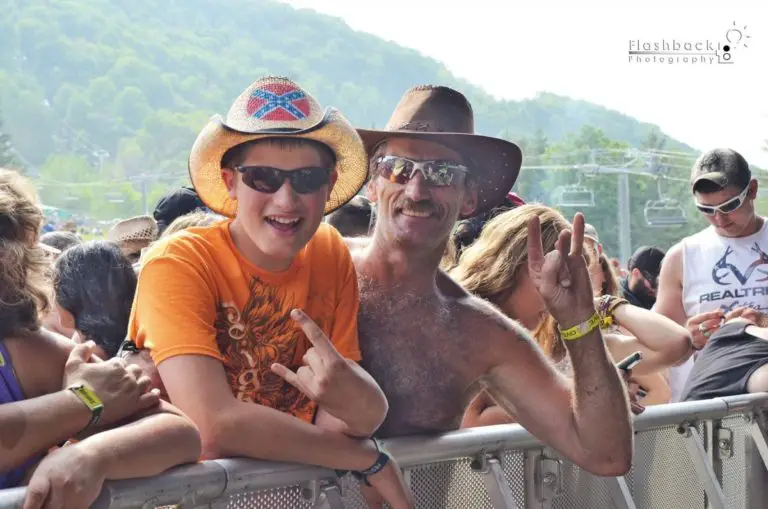 Fans were relieved and thankful to see Urban take the stage. The continuing rain, and substantial pools mud that were a result did nothing to deter fans from flocking excitedly back to the mountain for his set. While the guitar is nothing more than a prop for many musicians on stage, for Urban it is like an extension of his arms, and at times can be just as poignant and affective as his vocals or lyrics. He often delights the crowd in live performances, showing off his extensive shredding ability with long, emphatic and complicated guitar solos at the end of many of his songs that leave fans wondering how he has enough fingers to hit each note and this night was no different. Urban also has a fully stocked stable of well known hits that he trots out confidently each show, often having to trim down the list to fit his set into the allotted time frame. He began his set with the upbeat "You're Gonna Fly," the catchy "Put You In A Song," followed by "Somewhere In My Car" a No. 1-hit from his most recent album Fuse, and irresistible summer jam "Long Hot Summer." Urban then brought talented singer and fan from Saratoga Spring Kayla Saris, who won a fan contest on stage to help him perform his hit song "We Were Us" a duet he recorded with fellow country artist Miranda Lambert. Also from Fuse, Urban performed popular singles "Little Bit of Everything" and "Cop Car" before the romantic, fan favorite "Sweet Thing" which included an extended guitar solo to close out the song and an acoustic rendition of "Making Memories of Us."
Urban also broke out his brand new lead single "John Cougar, John Deer, John 3:16" an easygoing, laid back, easy to jam out to track that is sure to become another hit for the talented singer, and the last single from Fuse, "Raise Em Up," a star-studded collaboration with Eric Church that also included a thrashing guitar solo at it's conclusion. The audience enthusiastically screamed back the lyrics of sweet, fan favorite "Kiss A Girl." He closed the show and brought down the house with performances of massive hits the cheeky and anthemic "You Look Good In My Shirt" and the the uplifting " Someone Like You."
By the end of the show Urban had proven yet again why is a must see performer for all casual and serious music lovers and showed that even a storm couldn't stop the thousands of loyal country music fans in attendance from, showing up in droves to enjoy their favorite performers. Urban's headlining set was the cornerstone to an incredible day full of great music, delicious food, eclectic festival environment and beautiful views at Hunter Mountain. The best part was that there were still two more exciting days of the festival to look forward to.