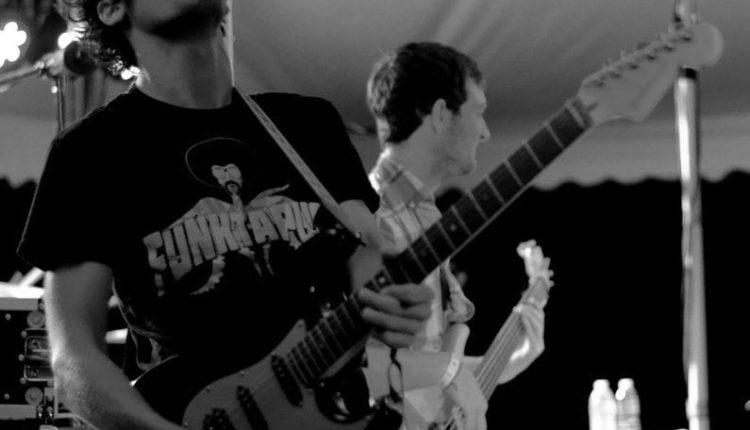 On Tuesday, June 30, The Forvm was treated to the spectacular show from The Ataris from Indiana. On tour promoting their 1999 classic album "Blue Skies, Broken Hearts…Next 12 Exits," they will be singing the album in its entirety while on tour. The Ataris are currently finishing their long-awaited new album The Graveyard of the Atlantic, which will be their first since 2007′s Welcome the Night.
As I arrived to the Forvm approximately an hour before the show started I realized there were only a small handful of people waiting to get in. Upon arrival I realized that The Ataris were running a little late which is perfectly fine and normal considering they were coming from NYC which on a good traffic free day is a six hour drive at a minimum. As I looked to the stage I seen that The Home Crowd was already sound checked and ready to go. They waited patiently and I was anxious to see them because I have heard nothing but great things about these guys.
So as the time seemed to slowly pass I caught wind from the promoter that Ataris finally arrived approximately 15 minutes before the first band went on. So I went outside to say hello and introduce myself. In all honesty I didn't know anything about the band besides the song called "Boys of Summer" which wasn't even their own song. The first thing that caught my eye was the sound of a barking dog coming from the beat up eight passenger van. Being an animal lover I had to investigate. Kris Roe singer from The Ataris told me he brings his dog along on tour all the time.
Back inside it was time for The Home Crowd to take the stage. They are back after being on a hiatus and changing members, so I wanted to see how the new line up was. I was immediately impressed by their stage performance. They have a high energy on stage and its quite vivant that they put their heart and soul into the music. As they played I noticed they almost had a cult like following. People had homemade shirts of the Home Crowd and were singing along to every word of every song. They made quite an impression on me that night. I hope to see them headlining some big acts.
Then what the crowded room and gathered there for, The Ataris. In the beginning they gave off great vibes from the stage and the fans were holding on to every last word he sung. Though I was disappointed with some of the fans, Kris had clearly stated that they were singing their 1999 Album "Blue Skies, Broken Hearts…Next 12 Exits" in its entirety. disrespectful fans decided to continue shouting out songs for him to sing and he had to repeat himself a couple times. Just as quickly as it started it stopped, their momentum and stage performance that is, the show became quite dull and they seemed rather tired. To close the night out the sang with the only song I ever knew by them, "The Boys of Summer" by Eagles singer Don Henley. Overall I'd have to say is that while The Atari's lacked a lot of energy in the set, I felt with the proper guidance and discipline they can make a strong worth while comeback.
[FinalTilesGallery id='292′]