The Grateful Dead is an iconic piece of American musical history.  It could not have been more fitting to have their second show of the three-night run on the 4th of July in Chicago.  The evening opened appropriately with "Shakedown Street", which was loaded with extended jams.  "Liberty" followed, fitting perfectly in tandem with the holiday theme.  Bob Weir had strong vocals while the band gracefully provided a flawless backing.
Trey Anastasio delivered a tender "Standing on the Moon" before the band picked things up again with "Me and My Uncle."  The band strolled into a lazy "Tennessee Jed." There was a relaxed vibe in the air and the band was super tight. "Little Red Rooster" slowed things down before closing the set with "Friend of the Devil" and an energy packed "Deal."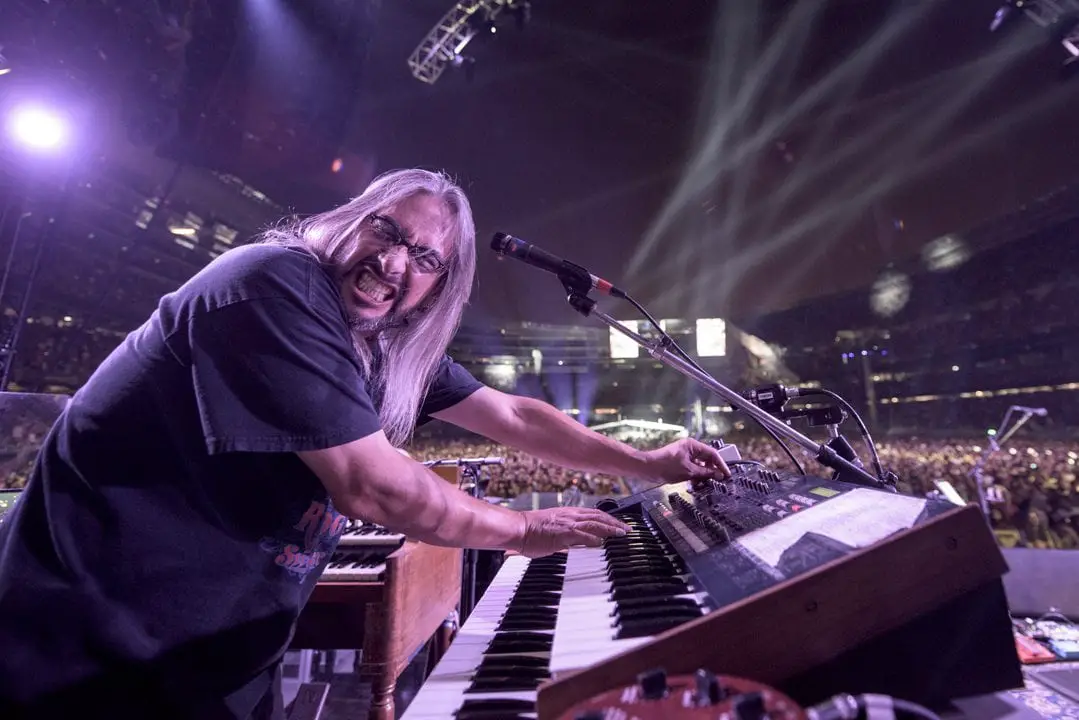 After an hour long break, set two opened with a fifteen minute "Bird Song." The energy took off with the classic "Golden Road."  The crowd went crazy with their dancing shoes.  No matter where fans were in the stadium, from the pit to behind the stage, the suites, or the very top row, people were enjoying the show full of energy and bone shaking vibes.
Mickey Hart donned a sailor cap during the gentle "Lost Sailor" but then removed it before heading into an energetic "Saint of Circumstance".  "West LA Fadeaway" fully came onto the set, as they were dropping teases of this tune the previous night.
Once again, the Rhythm Devils blew the crowd away with a mind blowing "Drums."  The huge screens at Soldier Field pulsed with flashes of colorful swirls and psychedelic images as the duo created otherworldly sounds.  It felt like thunder throbbing through the stadium as they pounded on the giant drums before moving into a trippy "Space."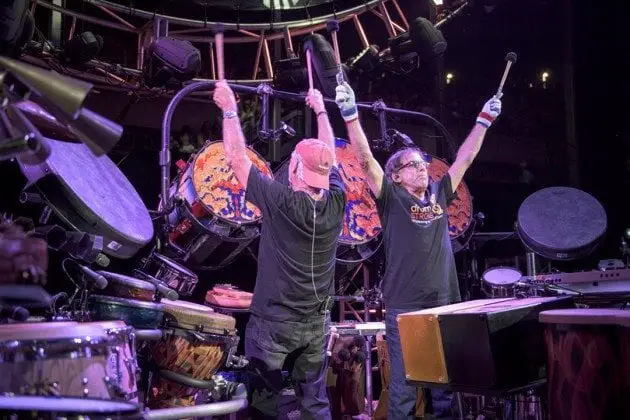 The set ended with a heartfelt "Stella Blue" before finishing with the appropriately placed "One More Saturday Night."  With two nights of dancing  in a row, this song had the crowd jumping out of their seats and dancing their asses off.
The show closed with a hot "U.S. Blues".  Anything other than this song to end the night would have been a wrong choice.  Images of the Empire State Building were shown on the giant screens.  It was later learned that a light show was created in honor of the band and set to the arrangement of "U.S. Blues."  The show ended on a glorious note with incredible fireworks going off over the stadium for all to enjoy in honor of the 4th of July.
Set 1: Shakedown Street, Liberty, Standing on the Moon, Me and My Uncle, Tennessee Jed, Cumberland Blues, Little Red, Rooster, Friend of the Devil>Deal
Set 2: Bird Song, Golden Road, Lost Sailor>Saint of Circumstance, West LA Fadeaway, Foolish Heart, Drums>Space, Stella Blue, One More Saturday Night
Encore: U.S. Blues