Chicago has turned into Deadheadland.
Fans have descended upon the city from all over the world to see the last three performances from the "core four" members of the Grateful Dead. Since Jerry Garcia's death, the band stopped playing as a unit and have branched off into other directions.  The 50th Fare Thee Well opened with two performances in Santa Clara last weekend and those shows paled in comparison to last night's three-day run opener.
After a few minutes of the band noodling around, the show opened with Phil Lesh singing "Box of Rain."  The evening took off from there.  The energy in Soldier Field was off the charts.  Fans have been waiting for these performances since the announcement of the run earlier this year.   Trying to get tickets put many on emotional roller coasters, as they were in high demand and extremely hard to find.  The first note that dropped finally released all that pent up anticipated energy from the crowd.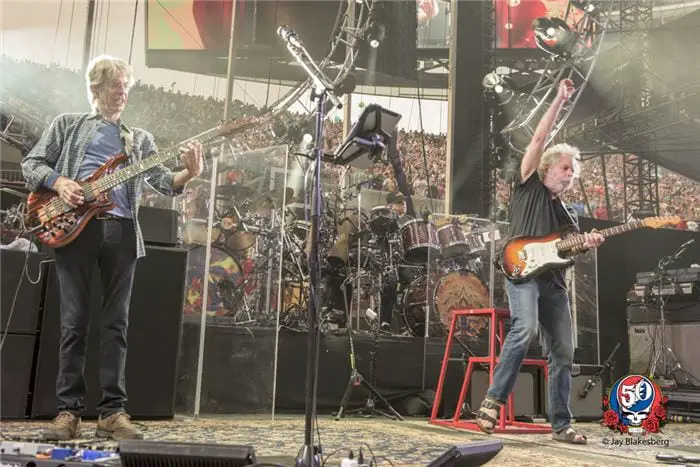 The band grooved right into "Jack Straw" followed by a surprisingly early appearance of "Bertha."  Trey Anastasio took the lead on vocals and nailed it, as the crowd went into a dancing frenzy.  The notes rolled right into "Passenger" followed by an improvisational extended jam of "Wheel>Crazy Fingers."  The first set ended on an appropriate note with Bob Weir on vocals to "The Music Never Stopped."
After an hour-long set break, second set opened with "Mason's Children" followed by the powerhouse fan favorite duo of "Scarlet Begonias>Fire on the Mountain."   When "Drums" pops its head, many make a beeline for the bathroom, however, this psychedelic version had many running back to their seats.  The Rhythm Devils really pulled out all the stops for this arrangement.  Words can't describe how blown away the crowd was when this flowed onto the set.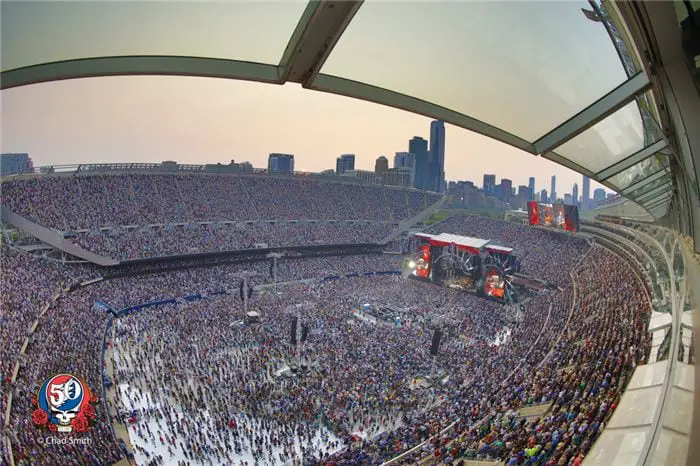 Second set was heavy with fan-favorite jams, including "Playing in the Band" and teases of "West LA Fadeaway." The set closed with an impressive "Help on the Way>Slipknot>Franklin's Tower."  Encore of "Ripple" had fans shedding tears of joy across the stadium.  Night one was just the beginning, but the three day run is off to a incredible start.
Set One: Box Of Rain, Jack Straw, Bertha > Passenger, The Wheel > Crazy Fingers > The Music Never Stopped
Set Two: Mason's Children, Scarlet Begonias > Fire On The Mountain, Drums > Space > New Potato Caboose, Playing In The Band > Let It Grow, Help On The Way > Slipknot! > Franklin's Tower
Encore: Ripple