Heading into 2015, Trey Anastasio had 32 years of accomplishments on his rock and roll resume. Fronting the most successful touring band of the last 20 years, Anastasio really had nothing to prove to fans and naysayers alike, yet Big Red barreled forth into possibly the most demanding year of his life.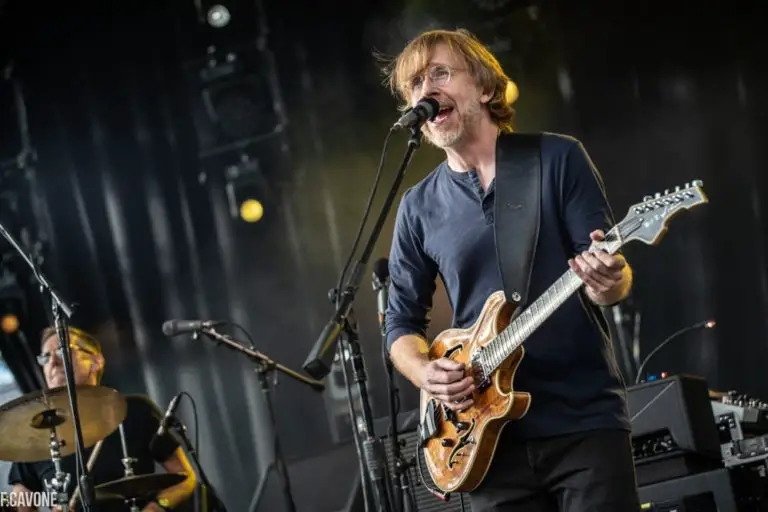 Fresh off a well-received New Year's run in Miami with Phish, Anastasio didn't take any time off, as a letter from Grateful Dead bassist Phil Lesh had requested the then-50-year-old step in to handle the role this scene was built upon: Playing lead guitar at a string of concerts celebrating the Dead's 50th anniversary, essentially filling the shoes of a guy named Jerry Garcia.
The Grateful Dead formed a massive traveling family built around improvisational music and the most dedicated fans on earth from 1965 until the band's final show at Soldier Field in Chicago on July 9, 1995. Garcia would pass away one month later, and the Dead would go on in various incarnations since.
While the Dead were ruling the hippie world, Phish was honing their craft, relentlessly playing the bar scene in Vermont, before spreading to a Northeast band in the late 1980s. By 1994, Phish had arrived and had a head of steam that just wouldn't let up. On December 30, 1994, Phish headlined a venue that the Dead made into a second home: Madison Square Garden.
In the clip above, Anastasio commands the biggest stage in music with authority, head held high, strutting around and picking his Languedoc while brandishing a huge grin. After more than a decade of incessant honing of their craft, Phish — undoubtedly Anastasio's band at the time — had arrived.
There is so much debate about which year of Phish is "best" among the fan base, and the correct answer is that there isn't a wrong answer. Phish fans cannot be objective, since the band and its catalog are highly subjective. Experiencing Phish is a purely personal thing. That's why there is endless internet discussion on everything the band has ever done.
I would argue that 1995 was the most transitional year in the band's history, as it signaled a full shift from playing medium-sized theaters to headlining the biggest venues in the country on a consistent basis. Their sound, and notably Anastasio's, shifted for the bigger rooms and sheds.
Then, in the summer, Garcia passed away, leaving an asteroid-sized hole in rock music. The Deadheads that planned their lives around when their band was touring suddenly had nothing to look forward to. Every music critic, journalist, writer and pundit have argued every angle since, some saying Phish only got so big because the Dead went away, others saying their fresh sound gave birth to a new generation of fans.
Whatever the case, the two bands were completely different in every way aside from the ethos of what they did: The live show is why both groups have their respective followings. Outside of that, Phish and the Dead couldn't be more different, but I will let you all continue that discussion.
For the remainder of the 1990s, Phish was the biggest band in America that nobody knew. Anastasio was a guitar god, with his ability to play complex songs without error or hesitation. In 1999, Lesh returned to the stage after some health issues in San Francisco with a band that included Anastasio on guitar and Page McConnell on keyboards. The three shows performed are some of the most highly regarded post-Jerry Dead music, and for good reason. Everyone was in fine form and the music felt inspired and not stale.
Skip to 2000, and the rigors of the road had burned the band out. Anastasio has admitted that the backstage party that was once an intimate setting for Phish in the early years had become an out-of-control animal. Often erratic playing by the band, which in a band like Phish is highly amplified when its leader flubs a composed section of a song he has nailed hundreds of times, led fans to speculate on the guitarist's health and state of mind.
The final two shows before the break were at Shoreline Amphitheater in California. The first night featured a sit-in by Bob Weir for takes on "Chalk Dust Torture," "West L.A. Fadeaway" and "El Paso."
The Dark Days?
Following a 15-month break, Phish returned for a triumphant 2003. The next year, however, spelled doom for the band, as Anastasio announced in a letter on Phish.com that the band "had run its course" and they were breaking up after the Coventry Festival in August, 2004.
Anastasio looked and sounded like a man who needed a break. The guy who used to practice hours every day appeared to be uninspired, aside from a few magical moments, in 2004.
It was an up-and-down 2006 for Anastasio, who formed a group with Mike Gordon, Marco Benevento and Joe Russo, and co-headlined a summer tour with Phil and Friends. Many of those shows featured Anastasio sitting in with Lesh, and speaking as someone who saw the majority of them, I can say it was magical. My favorite guitarist playing my favorite songs was the highlight of my music-going life.
Later that year, in December, Anastasio was pulled over in Whitehall, N.Y., and arrested for possessing prescription drugs including painkillers. Fans' worst fears were validated: Anastasio wasn't doing well.
I will call that the turning point, because since then, Anastasio hasn't missed a beat. He successfully completed Drug Court and stayed out of the public eye for a while. Fans wondered if Anastasio would come back, and if so, how would he be? A healthy Anastasio, though, was all we really wanted.
Then, BAM. October 20, 2007 happened, at the Glens Falls Civic Center in Glens Falls, N.Y., just a few minutes from where his arrest happened. Phil and Friends had a show that night. I just had a deep feeling that we would see Anastasio that night, in one way or another. All of my friends told me I was nuts, that he wasn't playing with Lesh that night. I was convinced, and to this day, it is one of the only concerts I went in as early as I could.
As I ran down the steps of the bowl, I could see a familiar sight directly in front of me: Anastasio's unmistakable Languedoc sitting on its stand in the middle of the stage. Throughout the night, Anastasio and Lesh were all smiles, tearing through favorites such as "Help on the Way>Slipknot!>Franklin's Tower," "Bertha" and a magnificent "Unbroken Chain."
That was when I became convinced not only that Phish would one day return, but that Anastasio was a different person. He looked relaxed on stage, he had an enlightened look on his face and he was simply happy to be doing what he was born to do.
The Rebirth
In 2008, Phish announced they were playing three shows in Hampton, Va., in early March, 2009, nearly five years after Coventry. The subsequent seven years have been thoroughly documented and Phish has played better and better with each passing tour.
In 2013, the band broke their Halloween tradition by performing their new album in its entirety instead of choosing a classic record to cover. Last year, they took creativity to another level with Chilling, Thrilling Sounds of the Haunted House.
When it was announced early this year that Anastasio would be playing guitar with the Dead in Santa Clara and Chicago, I was among the absolutely elated. Others were skeptical, and a six-month internet board argument ensued between those who thought he was the right choice, and those who didn't want him there.
Anastasio entered what he called Dead Camp, where he basically dropped everything he was working on and spent months learning the ways of the Grateful Dead (even though he had years of experience under his belt.) He told veteran journalist David Fricke, in an interview for Relix Magazine, that he basically set out to help the Dead, a band he envied so much growing up, be happy.
With all eyes on him heading into the Santa Clara shows, Anastasio hit a grand slam. His tone, which he spent so much time working on, was immaculate and Jerry-like, but you still couldn't mistake it for anyone but Anastasio.
It didn't take long at all until Deadheads were clamoring to the idea that Anastasio was, hands down, the only person to play Garcia's parts for these shows.
The Chicago run was even more magical, as Anastasio stepped to the lead for a majority of the jams and was the driving force behind, and connective tissue of the band onstage. For me, Anastasio singing "Standing on the Moon" and "Althea" were the highlights, along with his reinvigorated guitar playing.
"I just loved it, absolutely loved it. All this planning and rehearsing, back and forth, tempos and all this shit, arguing about where you're going to set up, and we walked onstage, and then it was the Grateful Dead. It was amazing. I was freaking out. I loved it."
— Anastasio, Relix Magazine, October/November 2015
The five GD50 shows did something special to Anastasio. On July 21, in Bend, Ore., Phish opened their tour and Anastasio immediately turned heads. His guitar playing had something that seemed to be lacking in previous years. He wasn't taking a backseat the majority of the time; he was back to leading his band, with those fun microbursts of notes and flurries of scales that had propelled him to Guitar God many years prior.
"When Trey is leading on guitar, that is when we are at our best."
— Page McConnell, Relix Magazine, October/November 2015
He even wrote a handful of new songs that Phish would go on to perform (Mike Gordon gave NYSMusic a little preview back in July), songs like "Blaze On," "No Men in No Man's Land," "Shade" and "Mercury," among others, that have already become fan favorites and jam vehicles.
This 2015 Summer Tour was the best Phish has sounded in a very long time and you can thank Anastasio for that. At the Mann Center for the Performing Arts on August 12, Phish played one of its best sets in years, with highly notable versions of "NMINML," "Twist" and "Bathtub Gin," as well as a personal favorite bustout of "Scents and Subtle Sounds."
In the Relix article, Anastasio even references that show as being a highlight of the summer, saying how free-flowing and easy-going of a set it was.
Then, Magnaball. Phish's 10th festival is already highly regarded among fans. Tickets sold out in advance. There was a serious buzz in the community. The band, and Anastasio, delivered one of the most memorable weekends of my life. For an idea of just how great Anastasio has been, take a listen to the "Run Like an Antelope" from Magnaball. It's a throwback to the mid-90s, and Anastasio rips his guitar to shreds while building to a manic peak that I cannot get enough of.
Vintage Trey, if you will.
That's a pretty successful year, right? Anastasio isn't done, as he's about to embark on a tour in support of his new album, Paper Wheels, with the Trey Anastasio Band this weekend.
This year isn't over, but it's already Anastasio's most successful. Thirty-two years ago, he and some guys in a band called Phish were playing Grateful Dead covers in the basement of some building on the University of Vermont campus at an ROTC dance.
In 2015, Anastasio was the leader of the Grateful Dead for five nights in front of millions of fans.
In 2015, Anastasio led Phish on one of their best tours in years.
In 2015, Anastasio came full circle.