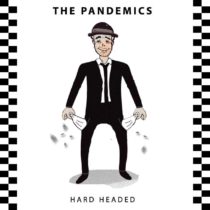 The Pandemics just released a new EP called Hard Headed. This band of musicians is a relatively new force in New York. Debuting in 2010 and having previously released another EP and an album, The Pandemics are an eight piece band spreading through New York State with a recognizably robust sound.  The sounds of trumpets and drums open up the EP with an initial jam that is slower and one of the key songs on the EP to check out. The second song to be check out is "Change Your Mind." This song is a head full of upbeat punk music with sarcastic humor on one shoulder and the combination of bad words on the other shoulder.
"Stop and Get Frisky" is a very relevant tune. This number is all about police violence. This past year the murder of Mike Brown and Eric Garner as well as other murders received a lot of well deserved attention and sparked a movement called Black Lives Matter.  Cops are recurring themes in Ska and punk music, however, the lyrics in "Stop and Get Frisky," – "The stopping for white is nearly six times for blacks," make it clear that the song is specifically addressing the issue of racial profiling.
The Pandemics are bringing up important issues of police profiling in their new EP Hard Headed. Check it out and catch The Pandemics on tour in New York State this summer! 
Key Tracks: Change Your Mind, Stop and Get Frisky