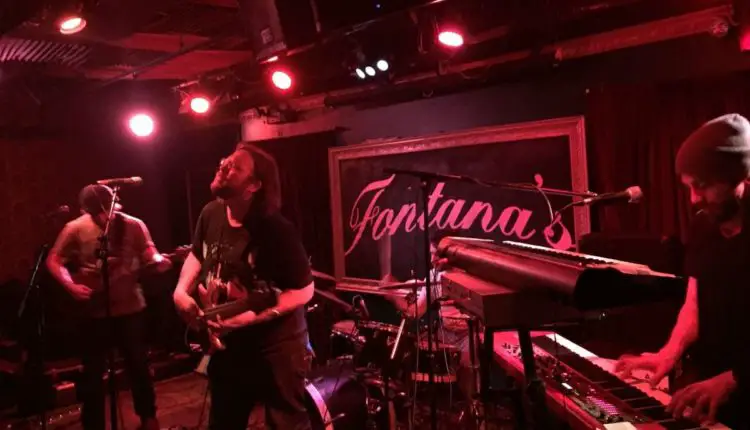 On a Saturday night in New York City your music choices seem to be endless. Do I go see Galactic at Best Buy? Budos Band at Brooklyn Bowl? Or do you go see Sprocket? One of NYC's fasted rising jam bands, Sprocket is a classic four piece featuring Thomas Thompkins (guitar), Dan Haller (bass), Nate Rosler (drums), and Angelo Milliano (keyboards). Sprocket came out jamming on the melodic original tune "What You Heard," before tearing into "Headway" off their 2014 debut album Tropical Bushwick. The title track off of their album "Tropical Bushwick" begins as a classically composed song before breaking out into funky upbeat jam.
Sprocket jumped into a full blown jam segueing from originals "Shroud > POW" before breaking out their first cover of the night Phish's "Wombat" which lived in a space between a tease and a jam before completing the unfinished "Shroud." Haller and Milliano took the lead on Bob Dylan's "Don't Think Twice It's Alright" before Rosler drove the set to a close with "Womp" another Sprocket penned track. For an encore the band pulled one more selection off of Tropical Bushwick the hard rocking "Trucks" brought the night to a close and left the crowd wanting more. You can see Sprocket next at Brooklyn Bowl April 21 or in Chicago on July 4 at the Hard Rock.
Tickets available for both shows, 4/21 Brooklyn Bowl here and for 7/4 Hard Rock Chicago here.
Setlist:  What You Heard, Headway, Tropical Bushwick, Shroud > POW > Wombat >Shroud, Don't Think Twice > Womp
Encore: Trucks