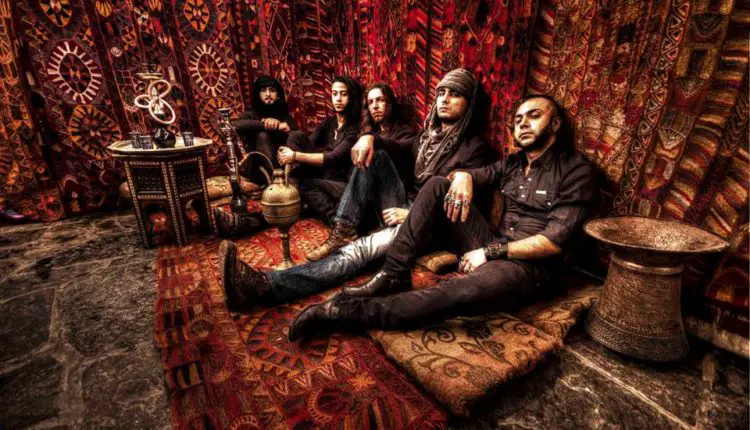 Acrassicauda, Derived from a Latin word for a species of black scorpion commonly found in the Middle East, originally hails from Baghdad, Iraq. Formed in 2001, they are often hailed as being the first heavy metal band to emerge from Iraq and were made famous in 2007, when they became the basis for the internationally acclaimed documentary, Heavy Metal In Baghdad. Back in those days, the band was persecuted to no end by Islamic militants operating under the Saddam Hussein regime and condemned as Satan worshipers. They had to sneak in and out of their well-concealed basement practice space, while under the constant threat of attack, only to find it destroyed by a missile during an insurgency uprising one day. All of their equipment was destroyed.
Heavily influenced by western bands like, Slipknot, Slayer and Metallica, they were only able to play two or three shows during the entire time they were still based in their homeland and in the midst of being seemingly hunted for playing heavy metal, some of their fans died for having listened to it. One of their first performances included a song called "The Youth of Iraq" which the band was forced to write in support of Saddam Hussein. Headbanging was banned, because it was considered to be too similar to the head movements of Jews during prayer.
But all of that is behind them now. Acrassicauda applied for asylum in the United States shortly after the taping of Heavy Metal in Baghdad and were granted green cards one year after that. In fact, on their second day in the US, the band was able to watch their oldest musical influence, Metallica, perform at the Prudential Center in Newark, NJ. Afterwards, they were allowed to go backstage and meet their idols.
The band currently resides in Brooklyn, New York and has an EP under their belts called Only the Dead See the End of the War, released by Vice Records in 2010. They followed up that release with a performance at the Scion Rock Fest in Columbus, Ohio, where they played with Cannibal Corpse, Voivod and others. A few national tours came later and in 2012, when they opened for Ministry, Ministry's frontman, Al Jourgensen was quoted saying, "Acrassicauda is my favorite band."
Furthermore, after 14 long arduous years, the band is finally on the verge of releasing their first full length album, called Gilgamesh, to be released on April 4, 2015.
All this being said, any struggling band with talent who's thinking about calling it quits because of monetary setbacks, scheduling conflicts, high school drama or a general lack of productivity, perhaps all of the above, needs to take a hard look at Acrassicauda's career and rethink things. This band is the physical embodiment of perseverance, and after only having seen Heavy Metal in Baghdad just recently, I'm already so proud of these brave guys and their accomplishments.
Check out the links below and support this great metal act, who clawed their way out of hell and lived to tell the tale.
https://www.kickstarter.com/projects/acrassicauda/acrassicaudas-official-first-full-length-album