OK Go, the American alternative rock group, performed in Upstate New York on Tuesday Oct 14th in support of their new album, Hungry Ghosts. Upstate Concert Hall was their only stop in New York and was lucky enough to host their unofficial release party as their new album launched that same day. The Capital District crowd was eager to hear the alternative rock pop group as cheers started with the lights dimming on two huge screens on stage. Short video clips of famous pop culture scenes were cast on the screens with the only words being said: 'OK', 'Go' and the musicians names, frontman and guitarist Damian Kulash, bassist Tim Nordwind, drummer Dan Konopka and keyboardist/guitarist Andy Ross.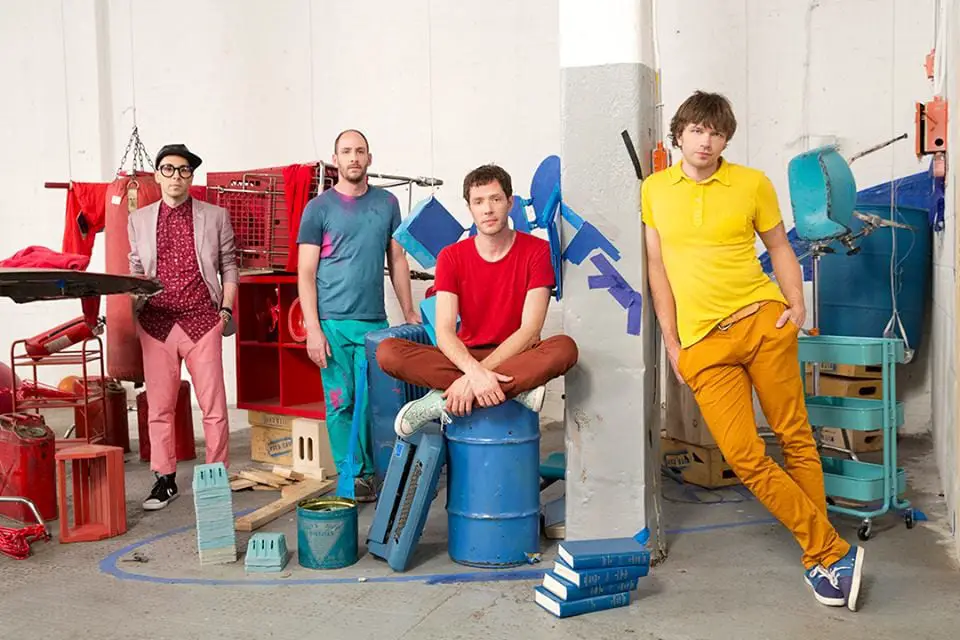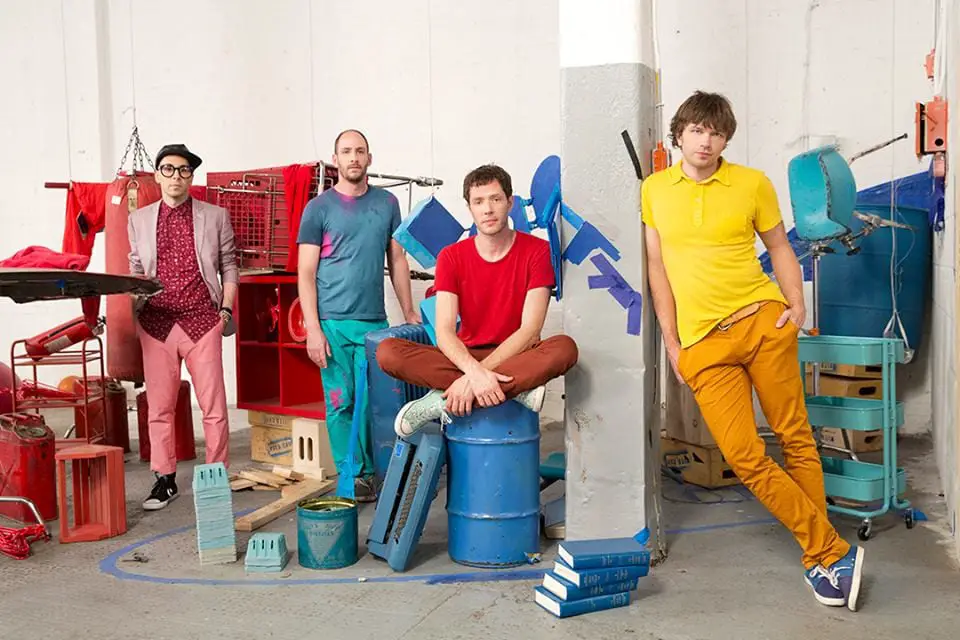 The quartet started the night with "Upside Down & Inside Out", a slamming song that channels everyone's inner Miley Cyrus with screaming lyrics "Can't stop, won't stop" with a massive rainstorm of confetti and smoke. Tuning into their classic surfer punk song, "You're So Damn Hot" before smashing into "Writings on the Wall", an upbeat groove with a build up of explosive laser sounds and steady vocals. OK Go celebrated hosts WEQX on their 30th anniversary and gave thanks by performing the electrifying cosmic funky song "I Won't Let You Down" which can often be heard on their station. New song, "Obsession", is more of a dark pop with hushed vocals, deep bass and lighthearted cowbell. The bright and colorful melody of "This Too Shall Pass" caused a crowd singalong reminding those of their past performance at Tulip Fest 2010.
"This next song requires my phone cause we are nerds like that" Kulash said as he began to record the crowds various orchestrated stomps and claps to create a unique beat box breakdown. OK Go and guests didn't prepare to blow out the PA system but that didn't stop Kulash from diving into the middle of the crowd with his acoustic guitar for a cutesy ballad surrounded by the glow of cell phones. With everything back up and running, OK Go wasted no time gearing up the crowd again with "Get Over It" and "Skyscraper". The set ended with sincere harmonies and classic rock guitar solos from "Turn Up The Radio". The crowd demanded more and OK Go quickly returned for a humorous acoustic performance of "The Confrontation" from Les Miserables. The night ended with their original hit and climactic "Here We Go Again", aka 'The Treadmill Song' as fans were invited on stage for a organized mess of a closer.

An OK Go show is just as entertaining and unpredictable as their music videos if not more. My new dream job is to be the person controlling the nonstop confetti storm throughout the entire night, which is also biodegradable. These musicians are scientists of sound, using every physical object to create original and fresh music. They are very personable, taking breaks between each song to tell jokes, stories, beard advice, pose for pictures, etc… OK Go put a tremendous amount of effort into their show performances with big smiles on their faces. You can stream their new album, Hungry Ghosts for free on YouTube, Spotify or Soundcloud. CD's are $13 and vinyl is $25 on their website, with instant MP3 downloads included.
Check out OK Go's latest music video, "The Writings On The Wall" from their new album, Hungry Ghosts.