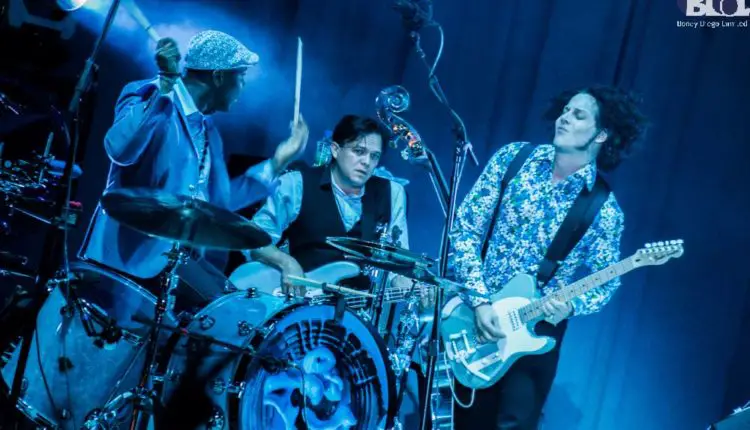 Jack White has announced a headline concert on January 30 at Madison Square Garden. This will be the first time White has played the venue since 2007 with his band The White Stripes. Jack White is touring behind is latest release Lazaretto, which came out earlier this year to rave reviews from around the country. Throughout this past summer he has headlined many festivals, including Governors Ball, Bonnaroo, and Osheaga, as well as his own shows around the world.
White has also announced that this past summer's show from Bonnaroo will be released in a deluxe package from Third Man Records as the latest in from their "Vault Package" series. Included is the entire performance, that stretched an extra 45 minutes past its scheduled end, on a 3 LP vinyl set, a DVD of the performance, a poster, 4 pictures, and a custom television usb stick. The performance was streamed live as hit happened and right away was hailed as one of the greatest performances in Bonnaroo history. White always has a knack for giving it all to an audience that gives it right back to him. If an audience isn't to his liking though he has cut the show short on occasions, including a show at Radio City Music Hall in 2012 after about an hour.
At every show this summer he has not only covered his solo catalog, but also tackled songs from his other bands The White Stripes, The Dead Weather, and The Raconteurs. His backing band is tremendous and they go into each show without a set list so the show can be produced on the fly. Although White has admitted that certain songs will be performed at each show, he has said there is no plan on stage. Be prepared to be wowed by White and his band this January. Tickets will be going on a pre-sale tomorrow at 10AM for Vault members, followed by a another pre-sale Thursday at 10AM for venue and Chase and Amex cardholders. Finally the public on-sale will be Friday October 10 at noon.