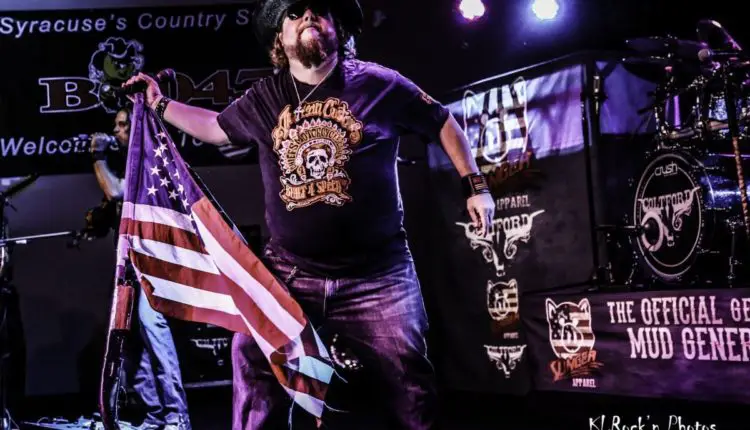 Syracuse's own Country Swagg Band, opened for Colt Ford at Toby Keith's Syracuse, Friday night September 26. Performing covers of big stars such as Jason Aldean and Luke Bryan, Country Swagg brought their "A" game to get the party started. As always, they did not disappoint. The show was packed with high intensity and yes, lots of fun too.
Lead guitarist, Tim Horst, just amazes me with that guitar. It's hard enough playing it while in front of you, but he plays it backwards and up behind his head. During a sweet sentimental moment just after singing "Say Yes" written by lead vocalist Mike Johnson, he professed his love for his new bride of two weeks to the crowd. The fans, of course, just ate it up. Nothing like a country fairytale. The crowd sang along to every song and showed their support for this local country group; several Country Swagg T-shirts were even seen in the sea of people.
Country Swagg Band
Georgia native, Colt Ford hit the stage with his bass thumping mix of country/rock and hip hop to a huge crowd of fans ready to bring down the house. Colt Ford and his guys showed their love of the USA through some of their music and of course the American flag that hung from Colt's shotgun mic stand. They saluted our veterans and troops with heartfelt lyrics that brought a few tears to the fans. Then it was back to the high energy, chest thumping bass that just takes control of your body and you're unconsciously dancing away. He was set to party all night. Ford rocked the stage all while showing the crowd his fancy footwork and shaking his hips – reaching into the crowd grabbing cell phones to take selfies, handing  them back to aw struck fans was the highlight of the evening.

Another highlight of this performance was when he asked the drummer for a stick and reached out into the crowd handing it to a young boy. Following that, one of the crew members approached the boy with a stack of picks. The smile on his face was priceless. Such a class act;
Ford sang of everything country, farmers to home cooked meals and truckers and hot country girls. They knew how to party and strike a chord in every fan there. The guys left the stage only to come back out to a chanting crowd to perform a cover of Eminem's song "Lose Yourself". Then they saluted the crows and America, all bowing together while Colt Fold raised his mic stand and waved the American Flag.
Colt Ford