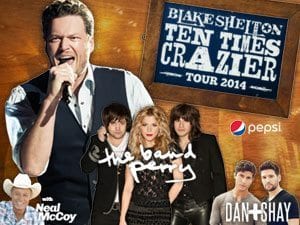 Blake Shelton, country mega-star, and star of the hit TV show The Voice, brings his current tour, Ten Times Crazier Tour 2014 to Darien Lakes Performing Arts Center on August 2.
When Blake Shelton isn't working on America's next big thing with The Voice he is doing his day job, being a large part of the country music scene. Shelton has been nominated five times for a Grammy and since his debut album in 2001 he has been on top of the charts.
The Ten Times Crazier Tour has played the biggest venues and is supported by Neal McCoy, Dan + Shay, and The Band Perry.
Neal McCoy has seven Top 10 hits. And, in contrast to his more than 20 years of touring under his belt, Dan + Shay will be featured as the up and comers to see. The Band Perry have been putting out some solid Top 10 titles since 2005.
Make your plans on heading out to Darien Lake on Saturday for some great music and great times. Tickets can be purchased through Live Nation.
Blake Shelton – "Doin' What She Likes"
Neal McCoy – " A-OK"